HSU STF-2 Subwoofer
Technical Specifications:
Woofer size: 10 inches
Bass extension +/- 2 dB: 25 Hz
Crossover: Continuously variable 30-90 Hz, defeatable, 24 dB/Oct
Phase switch: 0/180°
Finish: matte black
Dimensions: 19"(h)/14"(w)/18"(d)
Ship-weight: 44 lbs
120/240 V Capable: Switchable at the factory with internal jumper
Amplifier Power: 200 Watts
Warranty: 7 years on the woofer, 2 years on the electronics, parts and labor included
Factory direct pricing to the public: $399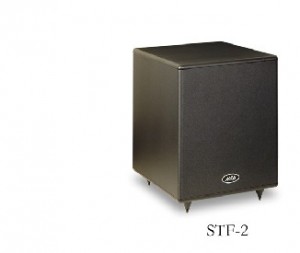 HSU STF-2 Review
Misconceptions about subwoofers are plentiful. The biggest is that the (usually black) box roosting there in the corner is supposed to shake and boom all the time – that the "best" subs are the ones that bring on the most frequent complaints from neighbors.
There is an element of truth to this, of course, when it comes to action-type movies played through a home-theater setup. You want the explosions and car crashes to be felt squarely in the solar plexus as well as heard through the ear canal.
Never fear – the Hsu STF-2 will rattle the walls with the best of medium-priced subs when a soundtrack calls for it. We gave an audition to "Master And Commander The Far Side Of The World" (albeit on our two-channel rig), and there was never any doubt that cannons were being fired. Duck and cover!
But Dr. Poh Ser Hsu, the brilliant audio designer and founder of HSU Research in Anaheim, Calif., has more than just explosions on his mind. It's all about the music, and HSU subs have a legendary (and impeccable) reputation for being musical.
When it comes to music, the truth is that a sub isn't supposed to be "noticed" at all. Seen, maybe, but not heard. It is there to fill in the blanks, doing what the main speakers can't (or can't do well) and, in the process, freeing
them from making that effort in the first place.
In that context, the STF-2 is a stellar and indefatigable performer, never calling attention to itself but always there in time of need. For this review, we replaced our daily-driver Polk Monitor 70 towers (not exactly bass-shy creatures) with the diminutive Paradigm Mini Monitors. These little guys pump out a fair amount of bass sans sub, but always seem like they could use a little help. And that's what they got via the STF-2.
Listening HSU STF-2
We set up the sub by ear, using instructions in its manual as well those that came with our Outlaw RR2150 receiver. There didn't seem to be much substantive difference between switching the sub's crossover to "out" and setting the receiver' bass-management control at 100 Hz, or, for that matter, switching it to "in" and setting the crossover at 90 Hz, for example. The Minis sounded smoother and more refined in the midrange as the sub was given more of the low-end duty, and that's par for the audio course. We found that the HSU blended well with the bookshelves – and our room –with its volume control set straight up at 12 o'clock.
Firing up our digital-cable music channels, we marveled, for example, at the oomph of the kettle-drum accents in the Cincinnati Pops (Kunzel) performance of Waldteufel's "Les Sirènes Waltz." More off- the-wall music? Ralph Vaughan Williams' quirky "March Past of the Kitchen Utensils,"courtesy of Norman del Mar and the Bournemouth Sinfonietta, boasted incredibly lifelike, deep-down accents from the array of percussion.
On the more staid side, we found that a perpetual favorite, the Jacques Loussier Trio rendition of Ravel's "Bolero" (Telarc), exhibited precisely what a properly restrained sub should do. The upright bass sounded firm and natural, not at all bloated, and the lower octaves of the piano took on a rich, solid feel, obviously well beyond the capability of the main speakers. Pop music? Whatever happens to be your cup of tea will percolate nicely. And what better than a drum solo? Carl Palmer's drumming on Emerson, Lake and Palmer's "Tank" – from the band's debut album – was perfect for this audition. Tested both on a (rather compressed) CD and the original vinyl, the bass drum was punchy and potent, and could be felt viscerally. The final, electronically enhanced BOOMS were a marvel. Maybe music can bring calls from the neighbors!
Final Thoughts about HSU STF-2 subwoofer
In short, the marketplace boasts cheaper (and severely fat and boomy) subs galore, as well as far more expensive and exotic units (Hsu has its own higher-scale line). But, at this price point, the STF-2 and its 10 inches of well-crafted, down-firing bass will give an average-size room the absolute lowdown.
Associated equipment:
Paradigm Mini Monitors (v4),
Canare 4S11 cable,
Panasonic RV-32 CD/DVD player,
NAD 533 turntable,
Rega Super Elys cartridge.