Several months ago I decided to sell off my 2-channel system and invest most of the proceeds in my home theater system by replacing the receiver with separates. This decision was based on simple mathematics. I asked myself -"How much time do you spend watching movies and listening to music?" The answer was quite revealing, and so I invested the money accordingly.
I had always wanted to try home theater separates, but didn't pull the trigger because of the high costs of the components. That is – until I learned about Emotiva Audio. After doing some research, I purchased the Emotiva Ultra Theater series package (LMC-1 pre/pro and LPA-1 multi-channel amp) since it appeared to be a ridiculously incredible value.
My thought was to use the Emotiva gear temporarily as a 2-channel system until I purchased a preamp/amp combo or integrated amp later this year. I'm in no hurry, though, because I have been extremely impressed with 2-channel playback. In fact, it rivals my previous 2-channel system. So no more upgrades, I thought to myself, until I read about the forthcoming Emotiva XPA-5. More power, more weight, XLR connections, and higher quality binding posts for only $799? You had me at more power.
So naturally, I jumped at the chance to review the XPA-5. The XPA-5 is a 5-channel amplifier with 200 watts per channel into 8 ohms. In addition to the specs listed above, it sports glass epoxy pc boards, 1% resistors, metal film capacitors, and soft start circuitry. The unit also has switches for turning the status LED's on or off and an external trigger on. The XPA-5 uses the same stylish chassis as the LPA-1. Emotiva is currently accepting pre-orders and the XPA-5 is scheduled to be available by mid-March (www.emotiva.com).
Specifications:
5 – independent mono blocks @ 200 wpc into 8 ohms; 350 wpc into 4 ohms
Class A/B design with short signal path
Triple Darlington with Toshiba output stages
Dual Differential input
Balanced (XLR) and Un-balanced (RCA)
Audiophile quality 5 way binding post
THD+N at rated power output: 0.007%
S/N ratio: >100db
10 to 120Khz (-3db) and 20 to 20 (with less than .15db deviation)
32db gain structure
1600VA toroidal transformer
60,000uF secondary capacitance
70 pounds
17" W x 7.75" H x 19" D
Price $799
Emotiva XPA-5 review
When the XPA-5 arrived, I nearly broke a clavicle trying to lift it. At 78 pounds in the box, it's no lightweight. Of course, the build quality is exceptional in this price range. I like the high quality binding posts and dual power switches (one in the front and the other in the back). There was no owner's manual included in the reviewer's version of this amp, but I suspect it will be consistent with Emotiva's other manuals which are very well written and easy to understand. Likewise, I'm assuming the warranty will be 5 years.
My system currently consists of the Emotiva LMC-1, Emotiva LPA-1, Toshiba HD-A2 DVD player, modified Bada HD-22 tube CD player, VMPS Tower II SE front speakers, VMPS LCR center channel, Wharfedale Opus Tri-surrounds, and VMPS 215 subwoofer. Cables are mostly MAC and DH Labs.
As a basis for comparison, the LPA-1 is a wonderful amplifier with sound quality that, in my opinion, exceeds the mid-fi Rotel, Parasound and Outlaw amps, all of which I have owned. The LPA-1 is rated at 125 watts x 5 channels + 2 x 50 watts into 8 ohms and 225 watts x 5 channels + 95 watts x 2 at 4 ohms. The LPA-1 is fully discrete, high current amplifier and features a massive low noise toroid power transformer and large storage capacitors. I have owned it for several months and have been so impressed that I have decided to forego the purchase of a 2-channel amp for music. I believe it sounds just as good as any 2-channel amp I'll find in my price range and beyond.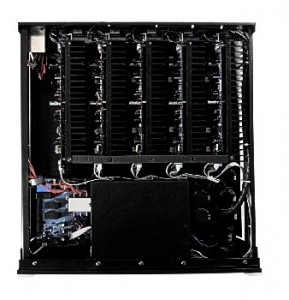 Since the XPA-5 is based on the same topology as the LPA-1, one would expect the amps to sound the same. The two amps should differ only at high volume levels; the XPA-5 should be able to play louder than the LPA-1 without distorting.
Well, just throw those assumptions out of the window because the LPA-1 and the XPA-5 do not sound the same. The XPA-5 is more dynamic. The sound has more authority to it. For instance, the bass is tighter, kick drums have more kick, and the pluck of upright bass strings have more "pluckiness." Other differences include greater refinement which offers a bit more detail and clarity. It is as though a thin layer of skin has been peeled back from my CDs to reveal more music embedded on them. All of these differences are subtle, but clearly noticeable to the critical listener.
Of course, these differences are more or less discernible depending on the recording and type of music. The biggest differences can be heard from dynamic passages. On the other hand, the vocals, soundstage, and imaging are the same as the LPA-1. As expected, the XPA-5 can play louder and cleaner than the LPA-1. I didn't fiddle with the XLR connections because the LMC-1 pre/pro doesn't accommodate balanced outputs.
Next up was testing the XPA-5 with home theater. Frankly, I didn't notice any sound quality differences from the LPA-1 when playing my demo DVDs. I cranked up the volume, but quickly turned it down for fear of blowing my center channel speaker which was being run at full range. 'Nuff said.
The comparison between the XPA-5 and LPA-1 reminded me of an upgrade I made a year ago from my Marsh A200 (125 wpc) to the Marsh A400 (200 wpc). Same design, but the A400 sounded more powerful and imposing than its little brother.
I love my LPA-1 and the XPA-5 is even better. For these reasons, I'm confident that the XPA-5 will exceed the reputation garnered by its predecessors. Emotiva has proven itself to be a stellar company that offers incredible bangfor-buck and excellent customer service. They have single-handedly re-written the handbook on high quality audio gear at prices that are a fraction of their competitors.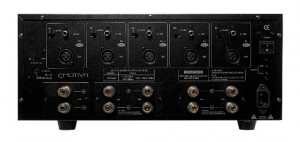 So do I recommend that current owners of the LPA-1 upgrade to the XPA-5? Absolutely, especially for music. I prefer the extra muscle of the XPA-5. Besides, if I ever decide to invest in low sensitivity speakers, I don't have to worry whether or not the XPA-5 can handle the load.
I also highly recommend the XPA-5 to anyone who is either contemplating home theater separates or is looking to upgrade his existing multi-channel amplifier. Even if you can afford much more expensive components, you should check out the XPA-5. At only $799, there is no competition. Hell, even high powered, multi-channel amps costing two or three times more will have a very difficult time outperforming the XPA-5 in any category – price, sound quality, build quality, customer service, warranty, or aesthetics. The way I see it Emotiva can teach a master class for all other audio companies on how to raise the bar!
external link: emotiva xpa-5 amplifier @ emotiva official store
from affordableaudio,  by Brad Mitchell