Specifications
Inputs: optical and coaxial S/PDIF
Outputs: balanced XLR to XLR, or unbalanced XLR to RCA Frequency Response: 20Hz – 20kHz (+0 -0.10dB); 3Hz – 22kHz
(-3dB) @ 44.1kHz
(-3dB) @ 96kHz
20Hz – 20kHz (+0 -0.05dB); 3Hz – 31kHz
THD+N: <0.020% @ 20Hz -0dBFS
<0.005% typical -0dBFS
16-bit and 24-bit, 44.1kHz – 192kHz audio. Optical and transformer isolated coaxial inputs. Dual PCM1794 chips in mono configuration. Passive transformer-based analog output stage. Tantalum capacitors, 0.1% output resistors.
Gold plated input and output connectors. High quality steel enclosure.
Toroidal power transformer in separate shielded compartment. Price: $1295
The World of DAC
In an ideal world, the digital to analog converter that you have connected to your digital source would not matter. Since digital information can ideally be read as perfectly as it was written, all it takes is a little converter to read the information and turn the stream into something more than a protocol droid can understand. In fact, since some protocol droids are fluent in over six-million forms of communication, getting one might be the ideal DAC; but that is for a different article. However, we all know that nothing is perfect in this world, high-fidelity audio included. There are little things called jitter, distortion, etc, and all of these nuisances can make the read digital data not true to the source. This is one reason that we have literally a boat load of different DACs on the market, each one reading and interpreting that digital data a little differently. As this truly is a nuisance, it also make the sampling and use of digital audio equipment fun as you try different units and decide what subtleties and sound best fit you and your rig. Neko Audio now offers one of those pieces of equipment that is worth trying.
Neko Audio D100 reivew
Black Beauty
As the Neko Audio D100 digital to analog converter slinked its way out of the shipping box, I knew I had something special. It all started as I pulled the white cotton sleeve off of the unit and the smooth, black finish gleamed in the sun. The unit was smaller than I expected, measuring in at 10.5″ (W) x 2.5″ (H) x 6.5″ (D), and a respectable 5 lbs, 10oz. This size is not your standard 17″ x 3″ audio component, but I actually like the smaller size and slimmer body. It tells me that thought went into designing the entire DAC, not just sticking the necessary circuit board into a one-size fits all enclosure.
The front of the D100 features only a few items, but I felt that no others were necessary; and in fact more would detract from the use and look of this amazingly simple piece of audio equipment. With a two way selector knob front and center on the steel enclosure, the only other items are two blue LEDs; one in the upper left corner that is a power indicator and one centered to the right of the knob which is a usable signal lock indicator. Flip around the D100 to its back panel and this sexy little beast reveals a pair of L/R balanced outputs, one each digital coaxial and optical inputs that accept an S/PDIF signal, and an IEC power connector with power switch. All of the connectors are well spaced out for easy use and access.
Moving to the internals of the unit, the D100 boasts a Wolfson WM8804 digital transceiver which keeps the jitters in check, along with a pair of Burr-Brown PCM1794 chips operating in mono mode for what Neko Audio claim provide the "greatest dynamic range, highest signal-to-noise ratio, and complete channel separation". Toss in a completely passive output stage and you may have the recipe for a very low noise and high accuracy DAC. The D100 does not provide an XLR AES/EBU connection, but I would assume they were hedging their bets as it is the less used digital format for home audio.
Lately, one of trends in audio equipment has been integrated/preamp style DACs that have volume controls, accepts an analog signal or two, and provides input selecting; as highlighted in the April 2009 issue thanks to Lorin. This is not one of those units. However, as I tube guy, that is just fine with me as I like the ability to choose my own preamp instead of being limited to the functions in my DAC. What the D100 may or may-not lack in preamp type controls or connections, it makes up for ten fold in being what it was created for; a digital to analog converter.
New School
Let's not mess around here; I'm a new school guy. I could have done this review off of a CD player, but since my PC is my favored rig right now, why not let the lossless audio files fly! After looking over the inputs on the rear panel, I decided to try both the digital coaxial and optical as the front panel has an input selector switch. Neko Audio enabled the D100 to be able to select the input on the fly which is a great feature if you are comparing inputs, cable types, or just feel too lazy to power cycle the unit every time.
Classically, I have preferred the digital coaxial connection to the optical as I feel it supplies a bit more musical sound, but since an optical connection has the ability to separate the two electronic devices, it can also have its benefits. Upon connection and firing up the old personal computer, the little blue Lock LED came right on; I'm in business with no trouble at all! I selected one of my Chesky demo albums and clicked play to start the music streaming. Listening to a mix of music and test sounds while flipping back and forth between to the two inputs, I noticed very little difference. I strained and might have heard a hint of organic on the coaxial side, but I truly would be happy listening to either connector. That is a big check in the plus column in my DAC score book for Neko Audio.
The Sound
As soon as I settled down to listen and played the first track off of Jack Johnson's On and On, my mouth dropped opened with the sound; WOW. The sound was so clear and defined. But I'm getting a head of myself. The DAC that I was previously using was the trusty AMC 8; and it has long been time for an upgrade; the DAC had been something that I was unfortunately overlooking in my upgradeidis. My computer rig for this review was quiet over the top with the large CRS+ speakers mounted on my desktop and loads of electronics shoved under the desk. Those speakers in a near-field set-up was not what the Polk manual calls ideal, but it allowed for a very overwhelming sound stage and the ability to hear every detail; just what I needed for my time with Neko Audio's D100. For this session, I decided to try the DAC with two different amplifiers, my S5 Electronics K16LS tube amplifier that has unbalanced connections and a Carver PM1201 solid-state amplifier with balanced connections to provide two different perspectives. I also decided to leave the volume controls up to you PC and wired either amp directly to the DAC to remove any chance of preamp coloration. Even though the PC volume controls are a little more jumpy than that of a traditional preamp, this method will allow me to have the most pure sound from the D100.
I started with the heavily modified K16LS to see how that tubey sound jives with the D100. Since the K16LS only has unbalanced inputs, Neko Audio was very nice in supplying me with a custom pair of their XLR to RCA interconnects made of Belden 1800F cable which has an amazingly low capacitance of 13 PF/FT and were terminated with Canare F-10 RCA and Neutrik XLR connectors. Neko Audio also makes these cables in an XLR to XLR version with the same Neutrik connectors, and both cables start at a very reasonable $22.00 each for three feet. Both kinds of cables are very high quality, very well terminated, and are the perfect match to the D100. The combination of the digital converter with the analog tubes was a great match; a magical mix of warmth and detail. At the beginning of Jack Johnson's "Taylor" when he is playing the guitar solo, I can almost see his fingers sliding over the guitar strings while the wood of the guitar body radiates the muted sound of the notes. The sound is very organic and makes me feel like Jack is in the room with me. The same is true with the track "Holes to Heaven". His acoustic guitar is placed front and center in the sound stage and resonates through the entire room. When his voice comes in, it is placed right over his guitar, right where I would expect it to be. The Neko Audio D100 DAC created music that matched my sonic memory in the best ways possible.
As I changed amps to the solid state Carver, I wondered what the differences would be between the two units. As I played through a few more songs off On and On, I realized that most of the differences I was hearing, I could attribute to the amplifier, not the DAC. The bass was much stronger in the recording with the Carver, but that attribute is a tube vs SS characteristic. I also noticed that the highs were a little more extended and less warm, but that would also be caused by the change in amplifiers. What did surprise me was the sound of the D100 combined with the Carver didn't sound any more digital than the sound of the D100 combined with the K16LS! A digital recording cannot have the clicks and pops of a record, but the D100 DAC does not impart a sterile, digital sound on the music played through it. It also does not over reach and try to sound like tube gear by adding artificial warmth or fuzz to the sound. It just does its job very well without listening fatigue or annoying your ears like a protocol droid. When I switched over to the Carver amplifier, the XLR interconnects from Neko Audio were very easily and solidly connected. One of the benefits of having a completely balanced audio rig is lower ground noise, but I'm not sure if I heard lower noise connecting the D100 to the solid state amp. Granted, the ground noise was very low, but just about as low as it was with the unbalanced amplifier. For me, this is not a bad thing and actually stands out in my mind as a very good design. If this DAC can sound equally good with both balanced or unbalanced connections, what can't it sound good doing?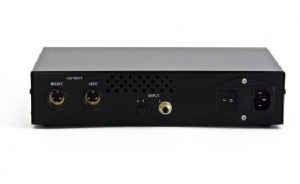 The End?
I truly hope not. I would be completely satisfied having this high quality DAC in my system for years to come. When I usually think of the word digital in association with audio, listening fatigue come to mind; but not a hint of fatigue with this unit. The fit and finish of the DAC is impeccable, while the look of the unit is classic black and would match any sound system perfectly. The Neko Audio D100 is a very revealing, yet sonically delightful digital to analog converter that helps my system sing; the best DAC I've used to date.
Associated Equipment 
Polk Audio CRS+ Speakers
K16LS Amplifier
Carver PM1201 Amplifier
Adcom ACE-515 Power Center
PS Audio Punch Power Cable Canare 4S11
Speaker Cables Monoprice Premium optical cable
Acoustic Research AP071 digital coaxial cable
from affordableaudio, By Jake Montzingo