Philips HTS3151D/37 Home Theater System Review-Great On The Wallet And The Ear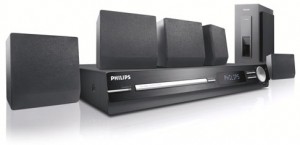 It's back to the home theater sound systems for us this week, folks, and as we all know, great audio is easily one of the most important parts of any properly realized sound system. Will the Philips HTS3151d/37 provide?  The answer may surprise you.
First, though, the rundown: the Philips HTS3151D/37 home theater system is a three hundred watt, 5.1 channel home theater system that offers an iPod dock so you can patch in and listen to the music on your iPod without having to plug in your earphones, Dolby decoders, Pro Logic II decoders, USB direct to play the contents of your USB drive (including photos and music), MP3 line in port for your other MP3 players, and playback compatibility for a variety of other media types, including DVD-RW and even DivX. It also offers Divx Ultra certification for better playback of Divx titles.
The sound quality on this one sounds pretty nice, especially with the variety of decoders it's bringing along for the ride. And it certainly helps that you have plenty of playback options here–it adds a note of enhanced value to the proceedings.  Not that you really need a whole lot of added inducement to get interested in this system–you'll be able to get your hands on this one for two hundred and thirty dollars.
Fairly decent sound with good options at a price that doesn't actively hurt the wallet makes the Philips HTS3151D/37 one to check out.