Jbl hti-55 5″ dual 2-way 120 watt in-wall speaker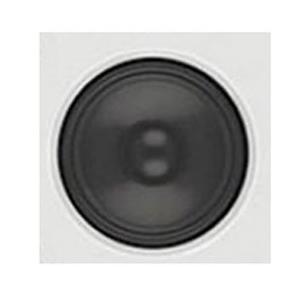 IN-WALL SPEAKER THAT ROUND OUT SOUND WELL

This is a clean, rich and clear sounding speaker that works well in any room and is great for using with a home theater system. You can install the speaker vertically or horizontally for convenience. Overall, this is a good quality speaker. If only it matched other JBL's!
– Check the Amazon website here for more information on this product.
---
JBL HTI-55 5" Dual 2-WAY 120 Watt In-wall Speaker
The JBL HTI-55 speaker sounds good and rich but it doesn't match other JBL in-wall speakers in color.

I opened up the box and noticed right off the bat this isn't going to match the other JBL speakers I had. They are all supposed to be off-white in color and they are, just not the same off-white. The others I have are HTI-6C round speakers and they are significantly lighter in color. This put me off right away. I know they can all be painted but I hadn't planned on bothering. I thought they'd all match so I wouldn't have to. They're all from the same company so you would assume they would match.
Unfortunately that is just not the case so keep this in mind if you were buying this solely because you thought it'd blend well with your other JBL in-wall speakers.
All that aside, the sound from the JBL HTI-55 speaker is very good. You can use this for left, center, right or surround channels. It's a quality speaker that can be used to round off the sound of your theater system, it can give you that extra little oomph your system needs to be really over the top in terms of power and realistic sound.
I have always liked how in-wall speakers save space. I'm a sucker for the minimal look so the less clutter in a room, the better. When you install these, you'll see they're level against the wall, so there's nothing taking up space on your shelves or your floor. I got two of these and they look really good. I'm sure they will look even better once they're painted.
The cones are polymer coated aluminum and they have tough rubber surrounds that give the bass that thump you like to hear. There is no distortion to worry about. The sound is rich and clear even when the volume is turned way up.
It's also pretty cool how this JBL in-wall speaker can be installed either horizontally or vertically. This gives you some options when it comes to decorating the room. In places where you just can't fit it in horizontally, you may be able to get it in vertically and still get the rich sound that you need for your system.
I like the JBL HTI-55 speaker. It just irritates me that the color doesn't match other JBL's!
Technical Info:
Woofers: Aluminum cone 5"
Tweeter: Swivel-mount 1" pure titanium-dome with EOS waveguide
Model: HTI-55
Item Package Quantity: 1
Speaker type: Speaker
Speakers maximum output power:120 Watts
Speakers response bandwidth: 40 – 20000 Hz
Depth: 3.9 inches
Height: 6 inches
Width: 14 inches
Weight: 5.7 pounds
Speaker amplification type: Passive
Speaker connectivity: Wired
Speakers crossover channel quantity: 2-way
MSRP: $299
See the Amazon page for JBL HTI-55 5" DUAL 2-WAY 120 WATT IN-WALL SPEAKER Review here