SPECIFICATIONS:
Dimensions: 39 1/2″ H BY 16″ W BY 12″ D Shipping Weight: 80 lbs. each
Drivers: 1″ Soft Dome tweeter; 6 1/2″ mid-woofers; 12″ passive radiator speaker
Mirror imaged pairs
Tweeter is fused-protected
Frequency Response: 16-26,000 Hz. (no tolerance given)
Sensitivity: 92 dB / w / m Nominal Impedence: 4 ohms Suggested Amplification: 10-500 watts continuous;common ground amplifiers only
Price: $1,200.00 (1984 Cost) ~$300.00 (Current Used Cost)
Polk Audio speakers have a long-standing reputation for providing very good sound quality at very reasonable prices. They may lack a certain "cache" in the high-end audio press but their owners are as passionately enthusiastic as any I've encountered surfing the various web sites. The wildest enthusiasm is reserved for the SDA models, the subject of this review.
Technical
The SDA series was Polk's first attempt at expanding the state of the art in loudspeakers. The SDA-2 was just below the top of the line SDA-1, which added an extra mid-woofer, a larger cabinet and a few hundred dollars to the price, along with slightly more bass extension. The SDA-2 is no slouch and many over they years felt it superior to its big brother.
SDA stands for Stereo Dimensional Array, and its goal is much the same as what Bob Carver was after with his Sonic Holography: to cancel the aural crosstalk which smears the imaging clues and confuses the ear. In the Polk version, an umbilical cord connects the left and right speakers and feeds the left channel signal to the right speaker's SDA array and vice versa. This has the effect of canceling the crosstalk, making the left ear hear the left speaker only and the right ear the right speaker only (in theory). In practice, it is far more effective than one might think.
The SDA-2 speakers are mirror-imaged pairs, with the driver compliment as follows: two 1″ soft dome tweeters horizontally arrayed near the top of the front baffle; below the tweeters are a pair of mid-woofers, also horizontally arrayed. On each speaker the inner tweeter and mid-woofer are the SDA drivers; the outer pair work conventionally. Below the two horizontal arrays is another mid-woofer in line with the outer woofer above it, and below that is a 12″ diameter passive radiator, which takes the place of a conventional port. A black cloth grill covers all of the drivers. On the back panel, there is a tweeter-protection fuse above the single set of 5-way binding posts. Below the fuse is a socket for the umbilical cord connecting each speaker.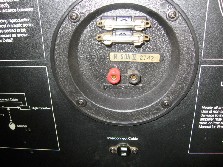 Polk SDA speakers are picky about amplifiers. According to Polk the amplifier used with these speakers must be a common ground design. An inverting amp, like a Carver M400, for example, would go into thermal runaway and start blowing things (According to Polk.). Also, despite a 92 dB sensitivity rating, the Polks like a lot of current. While they are rated at 4 ohms, the impedance curve drops below 3 ohms. (According to the test measurements taken at the time these were being marketed).
I have successfully run mine using a Yamaha RX-495 receiver rated at 70 watts per channel into 8 ohms, the speakers are happier with my current amp, a Yamaha A1000 rated at 120 watts per channel into 8 ohms. This amp is rated at 320 watts per channel of dynamic power into 4 ohms or 340 watts per channel into 3 ohms. The RX-495 receiver would play plenty loud but the added power of the A1000 integrated exhibited more bass extension and control.
The Sound
One does not think of tower speakers that are nearly refrigerator size as being able to "disappear" but the SDA-2's do it as well as any speakers I've ever heard. They don't call attention to themselves; they just allow the music to create a huge soundstage in your room. The sound is warm, smooth and seemingly effortless, regardless of the volume level. In fact, one of their considerable charms is that the music sounds so fullbodied at low volumes not thin and anemic as it does with a lot of speakers. These are very, very musical speakers and completely non-fatiguing at all volume levels below Pete Townshend's "hope I go deaf before I get old."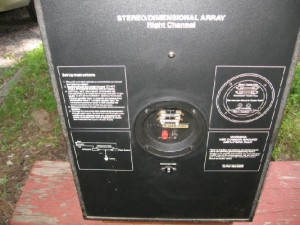 The bottom end is tight and seriously deep, with extension to the middle 20 Hz. range. I can't imagine needing a sub woofer unless you entertain in an airplane hanger. The sense of warmth I mentioned may well be a function of my room and setup; I have the speakers about 15″ out from the wall and it's possible that they could use a bit more space around them but even so the bass is always tight and accurate never either flabby or boomy.
In my room, the SDA designs primary virtue is the expansion the "sweet spot" considerably. This is great for entertaining or listening while sitting well off axis. The ability to sound good over a wide area may be their biggest strength.
25 years later there are definitely speakers with better detail retrieval and more sparkle and air on top but the overall musicality and bass extension are hard to beat today and especially for anywhere near this price (and a used pair of SDA-2's would only cost around $300 or so). The SDA technology is the finishing icing on an already tasty cake.
A quarter-century later I'm still enchanted and I recommend these highly if you come across a pair. They were a landmark product when they were introduced and are still competitive with speakers of greater cost today. The magic hasn't faded, believe me.
from affordableaudio, By Bill Tweed