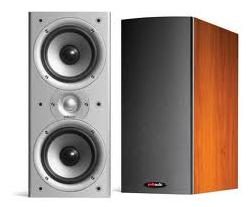 OUTSTANDING, QUALITY SOUND BOOKSHELF SPEAKERS

The Polk 40 bookshelf speakers offer amazing clarity and sound quality that's expected from larger floor models. The compact design delivers powerful home theatre sound in a smaller package.
– Check the Amazon website here for more information on this product.
---
Polk Audio Monitor 40 2-Way Speakers Offer Great Sound
These speakers provide an outstanding opportunity for music enthusiasts to enjoy a full spectrum of quality sounds that's delivered clearly without noise muffling.

Polk Audio Monitor 40 speaker systems set the standard for audio enjoyment because they deliver not only a clear mid-range tone that's backed up with bright highs, but also mid-range tones that are warm and fluent. When these dual speakers are used with any sound receiver, they provide a wide spectrum of musical tones that are clear and concise.
The dual speakers in the Polk Audio Monitor 40 sound system provide a powerful range of high tones that are amazingly clear and surprisingly natural. The sound qualities provided by the Polk Audio Monitor 40 bookcase speakers will deliver crisp and clear vocals that are never harsh. Also, they'll work very well even in large-sized rooms.
The Polk dynamic balance drivers deliver sound quality that's quite suitable for any surround sound movie theatre systems available on the market today. The Polk Monitor bookshelf speakers can be placed around any television since they're enhanced by magnetic shielding. I really love how you can enjoy these speakers in many different ways.
The Polk speaker system provides a balanced sound through dynamic balanced drivers. These drivers offer low distortion and sound that is smooth. They also have responsive sound return that's clear and precise.
The powerful sound components offered in Polk Monitor 40 speakers offer a surprisingly resonant bass that allows movie dialogue to be heard in ultra crisp detail, but some consumers might want to add an additional sub-woofer to help bring out the lower tones in music and video. The acoustics offered with the Polk Audio Monitor 40 speakers are stellar in small living spaces.
The vented openings in the rear of the Polk Audio Monitor 40 speaker system will not only extend the speakers life span. They also provide an additional rear exit for music to pour into a room and create a surround sound effect that's very nice to hear from bookshelf speakers.
The excellent sound quality that's found in the Polk Audio Monitor 40 speaker system makes them one of the best choices in their price range.
Technical Info:
Model number: Monitor 40
Tweeter complement: 1 x 1-inch (25-millimeter) dynamic balance silk/polymer composite dome
Driver complement: 2 x 5.2-inch (133-millimeter) dynamic balance bi-laminate composite cone drivers
Overall frequency response: 47 to 25000 Hz
Frequency response (-3 dB limit):57 to 24000 Hz
Nominal impedance: 8 ohms
Magnetic shielding: Yes
Recommended amplifier power: 20 to 125 W per channel
Efficiency: 89 dB
Crossover: 2.3 kHz, second order high and low pass
Inputs: Dual (bi-amp) 5-way binding posts
Enclosure type: Vented via rear panel flared port
Finish: Black
Dimensions: 7 x 15.75 x 12 inches / 17.78 x 40 x 30.48 centimeters (WxHxD)
Weight: 16 pounds / 7.26 kilograms
Warranty: 5 years parts and labor
MSRP: $349.95
See the Amazon page for POLK AUDIO MONITOR 40 2-WAY Review here