Specifications 
DIP/Upsampler Combo Price: $399 (digital interface processor)

Decodes 16 to 24 Bits
Inputs: Opto, Coax, AES/EBU Balanced
Outputs: Coax, AES/EBU Balanced
Upsamples from 44.1 to 48 or 96 Khz (user selectable) Outputs 24 Bits
Specifications
DR-1 Digital Reference Interconnect
Price:$239
This will be a two-fold review of Monarchy Audio products starting with their all new DIP/Upsampler Combo and wrapping up with their DR-1 Digital interconnects. The Former is brand new, in fact I got to test the very first unit produced, while the later has been around for a while now. There are many of you, who I am sure, have already heard of Monarchy Audio. Monarchy Audio has been in existence since C.C. Poon founded the company in 1979. As I mentioned in a previous review (July A$$A) of the Monarchy Audio M150 Dual Isolation AC Supply, I am a big fan of C.C. Poon and his company. I have purchased numerous items from him in the past some of which as still quite active in my current review system today. Luckily for me his shop is only fifteen minutes from my house, if you do not live in the San Francisco Bay Area do not despair as he is only a phone call or email response away from anywhere in the world. It really is great to live in this modern world with the ease of access to almost any company and its products.
I am quite familiar with Monarchy's DIP Classic and Upsampler as I did own both of them way before I started writing reviews for "A$$A". While I enjoyed them both I must say I like the newer look of the DIP/Upsampler Combo as it now sports a silver colored faceplate instead of the black front panel found on the older models. While slightly larger than either of the older DIP and Upsampler models it is still quite small and easily fits on my self with plenty of room to spare. On the front you will see two small toggle switches. On the left side is a switch for the input source. Flip this switch to its left and your optical input is now active, flip the same switch to the right and you may use either a digital coaxial or balanced cable as an input feed. On the right side of the faceplate the Combo has a switch for selecting upsampling with settings of either 44.1 or 96 KHz. You no long have to open the case to switch the upsampling settings as was necessary on the older unit. By switching either toggle switch a very small light on that particular side will light up to inform you all is well and your selection has been properly made. Both the lights and the toggle switches are small in size and their style fits the unit perfectly as larger ones would look inappropriate for this diminutive device. As you will discover as you read on in this review, the only thing small is the unit itself and definitely not the sound it produces. Looking around to the rear of the Combo there is an IEC connector and the appropriately labeled inputs and outputs for the various cable connections to be found on the front panel. For input the options are for a digital cable with an RCA connector, a AES/EBU connection for balanced mode or for an optical cable. The output on the other hand offers only two choices for either an AES/EBU (balanced) cable or for a digital cable with an RCA connector. For those of you familiar with the DIP Classic you will note that the new Combo has both an XLR output and XLR input where the Classic only had one XLR output. This is yet another nice improvement for those who have a balanced system with which to use this. The new Combo also has an "auto mute" for non-audio data (no spurious noise if CD player goes to sleep).
This new DIP/Upsampler Combo will not replace but rather be offered in addition to the two earlier DIP and Upsampler units. Being that the Combo is now in one slightly larger case, rather than two separate units, there can be a small cost savings that is passed onto the consumer. Yes this new product sells for less than the two previous ones combined. The older DIP Classic at $249 and the DIP 48/96 Upsampler at $299 together lists for $548 while today's new Combo is selling for only $399. Now if you need only the DIP Upsampler because you already own a DIP or perhaps want only the DIP Classic with no upsampler (some people prefer not to upsample) than these separates are still an excellent value with each being individually less expensive than the new Combo. I am told by C.C. Poon that when the new DIP Classic and DIP Upsamplers come out in October there will be some small refinements, one of them being the "Auto Mute" feature found on the Combo. I do not have all the details yet but I would suggest you contact Monarchy Audio for further details. With the Combo you will still have to use a DAC but luckily the Monarchy NM24 is a DAC/ preamplifier combo.
Many of you who enjoy the piano just might like Philip Glass's Solo Piano (MK 45576) CD where I found the song "Mad Rush" particularly to my liking. Placing the Combo into the loop rather than just using my CD player added extra spaciousness with a wider deeper soundstage than just with the CD player alone. There was a longer sound to the decay of individual piano keys being played and the sense of the instrument being more true to life size. This song was quite long at thirteen minutes forty four seconds and as it changed tempo to become a "Mad Rush" the Combo helped whisk me away as it involved me to a greater degree with the music. It did this by giving greater detail to the music and creating a more than appropriate soundstage depth and width that enhance my enjoyment of the performance. This was again clear with the song "Trucking" from the Grateful Dead's American Beauty (WS 1893) CD. Here I could clearly hear distance between performers, as it was quite easy to hear individual instruments and vocals within the soundstage. Both guitar solos and vocals took on a more lifelike feel to them, as details that before were keep silent now shown through with greater clarity. The music seemed to take on almost a magical quality when used with the Combo that gave me greater listening pleasure versus listening with just the CD player.
Turning now to James Brown's James Brown Live (ULT 40122), which has rested in a stack where I place my other hardly ever used CD 's, I wondered if the Combo would enhance my enthusiasm for this recording. The song "Georgia On My Mind" has always been a favorite of mine, yet even that song had failed to get me interested with this particular CD. I always felt as if this recording was lacking something in its presentation of a James Brown live performance. After a few tries I tucked it away where it has sat for years, until now. With the Combo aiding my CD player, now turned transport, I felt as if I had moved much closer to the performers. Background singers as well seemed clearer and closer to my listening area and the sound of the bass seemed less thin and took on extra weight. Soundstage was much improved as there was more depth front to back and the timbre of the saxophone was more accurate. A sense of imagery within the soundstage also increased and with this new sense of weight to instruments I started to enjoy this CD as never before. Feeling confident that I was onto something I now moved to the song "I Feel Good", a James Brown classic. Again all the attributes mentioned earlier, with "Georgia On My Mind", held true here as well. It was not that the Combo did only one thing with which to improve upon a song but rather a host of smaller changes which added up to an increase in my listening enjoyment. I again was impressed with the addition of weight to the overall sound and the clarity it brought to each piece within the soundstage. With this song playing I caught myself forgetting to taking notes as I evaluated and began to slip into this classical James Brown's performance for the pure joy of listening. Of his many talents getting you emotionally connected to the music was one of them and I could feel this, whereas before there was just something missing.
Before ending this portion of the review I decided to listen to yet another singer with the ability to convey great emotion with his performance, Luther Vandross. The Ultimate Luther Vandross (J Records/Epic/Legacy 88697-25687 2) has some exceptionally recorded performances but I will limit my review to mentioning just these two. First there was "Superstar 'Until You Come Back To Me (That's What I'm Gonna Do)" where the Combo brought out more details in his voice and enhanced its intonations which were now more clearly evident. Bass impact was more prominent and there was a bit of extra air in the background singer's vocals. Moving over to "The Closer I Get To You", a duet with Beyonce, there was of course that incredible opening bass composition. Never did bass sound flabby or bloated but rather tight and controlled. With the Combo inserted into my system his voice came across as more emotional in content and hers more powerful and clear. The Combo seemed to add to the vocal strengths of the singer's each with his or her own unique talent. I had been listening at audio levels that were approaching the limits at which I find music to be a little too loud. With the Combo and the music playing just as loud the sound was now quite pleasing and enjoyable to hear. The added silence between musicians and increased soundstage paid off, as I was able to fill the room with music rather than having to run and turn down the volume control knob a few notches.
Being that I own four pairs DR-1 Digital Interconnects I thought to match two of these up with their new DIP/Upsampler Combo. One pair was split to use as Digital RCA Cables, using a single strand from the CD player to the Combo and then the other strand out to the DAC/preamplifier, the other pair went from the preamplifier to each of the mono block amplifiers. A very nice thing about the DR-1 is that they are rather stiff and therefore do not drape down over other interconnects or power cords causing extraneous noise caused by contact with other cables to slip into the system. This of course is a double edge sword as you must be careful where to place individual components as the DR-1's do not bend easily and can lift a small component off the surface where it is resting. I however found this not to be a problem within my system and felt the audio positives to far out weighed any considerations of careful placement of equipment within my rack. They can bend somewhat and when bent stay in place creating an arc effect that is not only desirable for reasons previously mentioned but also looked great in the back of my audio rack as it give it a very clean look.
The DR-1 though is not made to be stiff for any of these reasons; rather that is just a byproduct of its design. Instead it is made with the stiffer Teflon tubing to keep the silver cables inside of it from bending so that the sound remains clearer without a smearing effect. Precisely speaking the DR-1 is a 75 ohm audio/video cable with a ½ inch diameter solid Teflon core insulator. It starts out with silver conductors surrounded by a Teflon tubing fitted tightly to hold it in place, which in turn is covered by a silver braided shield covered again by another Teflon tubing that is then covered by a double layer fiberglass jacket and finally a single nylon jacket. All this is done to bring you clean clear digital sound for only $239 each. You can of course choose to use them in pairs for analog interconnects which I from time to time will do, which is why I bought four of them. The outer jacket of my DR-1's are red in color, but there are a total of three optional outer coverings available, while the high quality RCA connectors at each end are gold plated. The DR-1's connectors are of the locking variety to insure a tight fit that will not easily fall off from the back panels of your equipment as long as they are installed properly, which is a simply enough thing to do.
Using the digital DR-1 cable coming out of the Samsung CD player into the Combo and then again out of the Combo into the DAC/ preamplifier turned out to be a wise choice on my part. Maybe it was a little bit of synergy with the all Monarchy Audio products connected together (DIP /Upsampler Combo-DAC/Preamplifier-Amplifiers with the use of four DR-1 cables and some AC-1 power cords all by Monarchy Audio) that gave it that nice clear sound C.C. Poon products are known to produce. Mr. Poon likes the talented singing voice of Diana Krall and this gave me the idea of playing her CD The Look Of Love (Verve 314 549 846-2) commencing with the song "S'Wonderful". When the DR-1 was placed in the mix imaging locked into place, as instruments were more easily located within the open soundstage in front of me. Her voice while still having a soft texture seemed as if there was more "air" around it . The same can be said for all the instruments in her accompanying band. In fact when using the DR-1's I noticed an increase in volume some of which I attributed to a clearer representation of the music produced by less digital haziness. Within the song "Cry Me A River" I found the DR-1's to produce a more soulful rendition of bass as the drums felt more alive and clear. The added silence in the background allowed for the distinct guitar notes to be heard more easily, while the piano had the illusions of being just the right size. In fact I would say that one of its stronger attributes was in its ability to create a larger soundstage where each musician could play against a background of silence. This was also evident with Eric Clapton on his CD Unplugged (Reprise 9 45024-2). Here the audience in "San Francisco Bay Blue", at the very opening of the song, sounded properly layered and spacious while still remaining clear.
In summation I must say that considering price versus performance both products from Monarchy Audio are a sound investment. As for the new DIP/Upsampler Combo I was extremely impressed. Not only did it perform as well as the previous older models that were housed in two separate casings but the Combo's price is $149 less. Using only one slightly larger enclosure, instead of two, you need now buy one less digital cable and one less after market power cord (for those who choose to add such) which again adds up to savings to buyers of the new Combo. Also being minus that one extra power cord could be the difference between buying a more expensive power strip/conditioner because you ran out of outlets, another potential savings. The difference between listening with the Combo and without was like taking off my loudspeaker coverings, it just brought me that much closer to the music. This was not a one trick pony as it did not just improve upon one area of the music but rather many, which added up to a very enjoyable experience. As for the DR-1 you could spend a lot more for digital cables as they were reasonably price at $239 each and they sounded quite clear as they threw an expansive soundstage into my listening room. If you wanted to spend less you might want to try Monarchy's own AV-1 audio/video Digital cable listing for only $49. The DR-1 being a multilayered cable uses two layers of Teflon tubing which I am sure added greatly to its cost but I surmise also helped to enhance its improved sound characteristics. The DR-1 can compete against more expensive cables and has the added bonus of its unique design that allows for it to neatly be displayed behind the equipment rack without the problems of crosstalk created by cables that hang down over each other at improper angles. The DR-1 comes in three colors, red, beige and a pure transparent Nylon jacket where the Silver braiding is shiny and very visible. Either color you choose are priced the same as the other. I liked this concept as most other cables give you only one option when it comes to color. The point of different colors is not only aesthetics, to help keep it in line with your room decor, but also to keep cables from different sources easily distinguishable from one another. This of course would help to reduce the risk of connecting them to the wrong source when working in a semi-dark environment, an excellent idea. Or if you like you could choose to use red for positive and beige or transparent for negative, which might just be easier even yet. Either way check out their website and give C.C. Poon a call or an email if you like. You just might find out like I have that the quality of his many products seemed to be in line with equipment costing considerably more.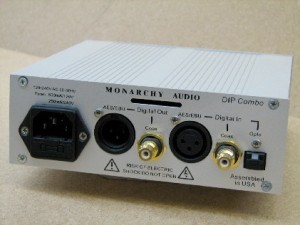 The Listening Environment:
The review room is eighteen feet eight inches long by thirteen feet wide. The loudspeakers and equipment are kept on the short wall. The cathedral ceiling starts at eight feet and sloops upwards to thirteen feet at its peak in the middle spanning across the short length of the room for the full thirteen feet height. The hardwood floor has a nine by six foot oriental rug lying down the long ways toward the system placed dead center in between, yet not under, the listener and the review equipment The room has no doors but two openings. One is in front of the right Legacy Focus 20/20 loudspeakers which gives access to the hallway while the other is behind the listening position and opens to the formal dinning area. The room is treated with two floor standing acoustical panels, one behind each speaker, and the audio equipment is located in a Cherry Synergy Twin S30 Salamander audio rack against and in the middle of the short wall. I have two power conditioners which plug into a PS Audio Power Port receptacle located behind the audio rack. There are also two Blue Circle Audio MKIII Power Line Pillows one on each of two outlets on the long walls next to and behind each loudspeaker. The Legacy's are located about six feet seven inches from the rear wall to their front panel They are also twenty one inches from the rooms side walls to the middle of each loudspeakers. The Legacy's are twelve feet apart from each other to form a triangle with the listening position that is also angled at twelve feet from loudspeaker to listener. In the corner of each short wall behind the Legacy's are a pair of 1989 Klipsch Klipschorn loudspeakers that are sometimes used for reviews. If the Klipsch loudspeakers were used I would then reposition the two acoustical panels to slightly behind the listening position one to the left and the other to the right of it.
Review Equipment:
Monarchy Audio DAC/Preamplifier
Samsung HD-841 CD /SACD /DVD Audio universal player used as a transport
Monarchy Audio DIP/Upsampler Combo
Monarchy Audio DDR-1 Digital cables used for digital cables and as interconnects
Monarchy Audio SE-100 MK2 mono block amplifiers
PS Audio power port receptacle, Acoustic Revive RTP-2 power conditioner
Two Blue Circle Audio Mk III power line conditioner, Power Cords: Monarchy Audio AC-1
Loudspeakers were a pair of Legacy Focus 20/20's finished in Rosewood, Cherry Synergy Twin S30 Salamander audio rack
from affordableaudio, By Anthony Nicosia