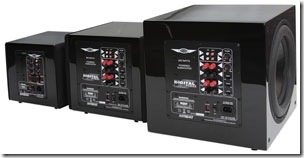 Good news for you to cheer as the Earthquake Sound Corporation has made the announcement of the availability and shipping of its MiniMe-P10 and P12 Powered Subwoofers. Earthquake Sound Corporation is famous for its high-performance loudspeakers and entertainment products and therefore, its new products too are equipped with latest and best technologies. With efficient class J amplifiers and SLAPS technologies these new models will consume little energy and space.
Joseph Sahyoun, President of Earthquake, said, "The MiniMe's are the grooviest subwoofers we've ever created. They're louder, more powerful and definitely more efficient than any other sub we've designed, these subs are pinnacle of home audio".
Specifications found in the Earthquake Sound MiniMe P10 and P12 Powered Subwoofers are:
Utilize a two-driver system called SLAPS
Tiny intricate enclosures with high power premium woofers
Ranges from 320 to 600 watts
Available in 8", 10" and 12" models
A poly injection cone body and a dual-layer aluminum bobbin voice coil
98% efficient class "D" amplifiers
To get a new and lively look to your room the Earthquake Sound MiniMe P10 and P12 Powered Subwoofers will work great with its woofers beautifully polished in the piano black color. Rush to the market now and get the MiniMe P10 in just $1,200.00 and the MiniMe P12 in $1,500.00.