Specifications:
Tube: EL34*4, 12AX7*1, 6N8P (6SN7GT)*2
Output power: 18wpc (Triode), 40wpc (Pentode) THD: 0.2%(1KHz)
Frequency Response: 10Hz~70KHz
SNR: 89dB
Input Switch: 3 Groups Input Sensitivity: 400mV Input Impedance: 50 Kohm
Output Impedance: 4ohm, 8ohm
Consume Power: 300W (Pentode)
Dimension: 358mm (W)*321mm(D)*197mm(H) Weight: 41 lbs (18.5Kg)
Price: $830
Manufacturer: Chengdu Xindak Electronic Co., LTD. China.
Lotus Audio Imports is the exclusive U.S. distributor of Xindak Electronic
Chengdu is the capitol of Sichuan province in the southwest part of China. The fact that it has one of the lowest sunshine rates in all of China, even more so than even London, makes you wonder what people in Chengdu do on such dreary days. Well if you work for Chengdu Xindak Audio & lighting Equipment Factory you might just make Xindak audio equipment. Xindak has been making audio components since 1988 and has a lineup that includes, stereo power amplifiers, mono block amps, integrated amps, hybrid integrated amps, preamps, CD players, dacs, interconnects, digital interconnects, power cords, power conditioners, output transformers, wall outlets, silver fuses, ipod docs, vibration tuning devices and even a moving-coil cartridge transformer module. Now that is enough to make the sun shine through on even the cloudiest of days. .
Xindak offers a wide range of audio gear with prices ranging from the very inexpensive upwards, but with nothing too highly priced. Looking at their website I made a list of products for potential review. When Lotus Audio Imports, their US distributor, sent me their price list I was in shock. No not the type of sticker shock you get when you walk into a new car showroom and realize that you are priced out of the market for that shiny little sports car you saw on the freeway, but just the reverse. For the most part you can buy more than you thought for even less then you were thinking. Still don't be surprised because some of their gear does get pricey as they offer the absolutely stunning CS6.0 integrated amplifier for $3600 or their V60 mono block amplifiers with 2A3C and 6SN7GT tubes for $5000, but these and a few others are the exception. For this review I was considering the V30 integrated amplifier with two 12AX7(ECC83), two 6N8P(6SN7) and four KT88 (6550) tubes for the low price of about $1500. I had also inquired about their XA6800SE and XA6950 integrated amps around $1350 each. Please go check out their website and look into these products to see what I am talking about, they appear to be a very good value. As of yet I have not auditioned the others but I am looking forward to doing so soon. Xindak is well known in China and appears to be spreading its wings around the world. Besides China they have distributors in 23 other different countries worldwide including the one in America (Lotus Audio Imports in Oakland California). Their distributors can be found in places such as Malaysia, Austria, Greece, Australia, France, Russia, Israel and Costa Rica to name just a few.
For a long time their products have sold well in China and have received awards and some very good press in their home country as well as abroad. One thing Xindak is quite famous for is their cable, some of which can get very expensive and innovative. New this year they have come out with a carbon-fibre digital interconnect. Xindak claims that carbon-fibre imparts no "skineffect" and therefore emits a purer sound, that does not change over time, as carbon is stable and does not tarnish. Of further interest is their Gold Series Cables. Yes they actually make cables using different amounts of gold foil mixed with other metals. The more gold involved obviously the higher the price of the cable. The Gold Series cables are made for Loudspeaker, Interconnect and Power Cords. While not low priced per say they are a good bargain price-wise considering the amount of precious metals they use. I was able to get my hands on a pair of the Gold Series interconnects which I was quite impressed with and will been sad to return.
My first review of Xindak products will be the MT-3 tube integrated amplifier. This is an auto-biasing amp by the way to make adjustment a thing of the past for those not so inclined as to bias your own tubes. The MT-3 is a 40 watt tube integrated amplifier that can switch from standard pentode to18 watt triode mode with a flip of two toggle switches (one for each channel), and does it all for only $830. Now of course EL34 tubes are not triodes but they can however be wired to work in triode mode. The EL34's sounds so good in triode because of the sweet natural engaging characteristics of the tube. Xindak states that the reason to go triode is' "decreasing the distortion, widening frequency response and increasing dynamic range". For this review I was able to use the triode mode because of my high efficiency Klipsch Klipschorn speakers. I found that the MT-3 in triode a better match for my Klipschorn's than when used in the pentode mode. Since the Klipschorn speakers have a sensitivity of 104db 18-watts triode is plenty of power for my room. If you want more juice though just switch over to pentode and power up to a full 40-watts. In pentode I was able to drive the Legacy Focus 20/20/s which are high efficiency speakers, but not of course as efficient as my Klipschorns.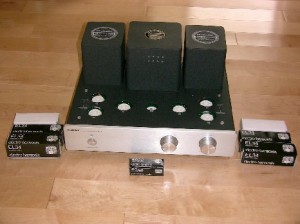 I was immediately taken by the fact that this amplifier was quite heavy (41 lbs). I guess I just did not expect a $830 tube integrated amplifier from China to feel so sturdy. My next surprise came when I opened the box. Sitting on top of the Styrofoam that encased the amplifier were three things. First was a nice cloth tote bag with a string to close off the end, to use if you want to protect the MT-3 during any moving process. Next to that was a pair of cloth white gloves for when you actually need to handle the tubes so as not to get the oil from your hands and fingers on them. It was a nice touch to get these small gifts with the MT-3 especially since it was an unannounced surprise. Thirdly, under the two of these was the owner's manual. This was short, concise and to the point. I liked that. Of course there is the normal warning about what to do and what not to do with the MT-3 so read it before you play.
On the front of the MT-3 is a power on/off button with a blue light indicating when it is on. To the right of that is the source knob and again to its right the volume control. The MT-3 comes equipped with a sturdy cage to protect the tubes. You will also find two toggle switches (next to the EL34 tubes) for changing modes. You need to switch both, one for each channel, to go from pentode to triode or triode back to pentode. I do recommend though that you do so when the amp is off. If the amplifier is still on when you flip the switches it will make a loud noise through the speakers even with the volume turned all the way down. The three transformers located behind the tubes to the rear of the unit were never hot to the touch even though the tubes did get hot rather quickly. Still to be on the safe side always be careful when touching any part of the amplifier after it has warmed up. I ran the amp for seven hours straight, inside my salamander rack with no back enclosure and a front door with a perforated screen, so ventilation was very good. Peaking around to the rear of the MT-3 you will find an IEC connector where you may use the supplied standard power cord or upgrade to your hearts delight with others of your own choosing. Also there are three sets of speaker terminals. One set is for the negative speaker connections and the other two are for 4 or 8ohm speaker connections. Finally there are three inputs for whatever pleases you. I used only two; one for CD and the other for my Whest phono stage so I could spin my vinyl. Since the MT-3 does not have a phono stage you must buy one if you want to listen to records, which of course I hope you do.
The unit that I used for this review was brand new and not a review sample tweaked in any way just especially for the reviewer. It came to me through the US distributor wrapped up inside an unopened factory box. Because of this though I did have to wait a bit to break-in the amplifier, with it's tubes and standard power cord. No problem though because right out of the box the MT-3 sounded just fine. In fact I was quite surprised how good it did sound without any break-in whatsoever. The stock tubes supplied were Electro Harmonix EL34's and 12AX7's as well as two 6SN7GT tubes of Chinese origin.
Using my Whest phono stage, playing through the MT-3, I listened to three different records. Mirror Puzzle is a wonderful jazz record cut on 180gram vinyl with pianist and composer Kei Akagi. It is very difficult getting a stereo to reproduce a full sized instrument, like a piano, in ones own living area yet the MT-3 did a good job of it. On "Lester Left Town" Kei Alago glides through piano scales rather quickly and the MT-3 was able to keep up with him and at the same time providing the listener with just the right amount of decay to each note. The sound of Rick Margitza on sax was pleasing as were Charles Fambrough on bass with Willie Jones III on drums. While I found that the MT-3 did a great job overall I felt it did lack ultimate authority in the lower bass with my system and speakers. Remember though this integrated amplifier is priced at only $830. So I really could not expect everything from a product priced so low. What it did though, it did very well and it certainly was a pleasure to listen to.
I also had on hand my vinyl copy of the Original Master Recording version of Al Stewart's Year Of The Cat. Before you ask, there is no year of the cat on the Chinese calendar. There are twelve animals but the cat did not make it (maybe he overslept?). The title song has a nice guitar and also saxophone solo. The MT-3 had a lot of fun with both of those as it can reproduce single instruments with ease. Listening to Al Stewart's distinct yet clear voice was also a pleasure with the MT-3.
Before leaving my vinyl rig behind I had to listen to my Original Master Recording of Billie Holiday's Body and Soul  album recorded on 200 grams of high definition vinyl. "They Can't Take That Away From Me" is a great song and the MT-3 really gets this blues performance right. One thing this little amp does is let the feeling of the performer shine through. Again nice sax in the background and Billie Holiday's magical voice is reproduced quite well allowing you to enjoy her performance within the feeling of an intimate setting.
Moving forward now to my CD collection we have Dire Straits, Brother In Arms, and their famous song "Walk Of Life". The MT-3 gives us a presentation that is a little bit more 9th row rather than 7th. Things appear relaxed and not thrown at you in your face 5th row, as some solidstate amps have done. The soundstage was nice and wide with individual instruments and performers easily heard within it. This song was fun, as it was intended to be, and the MT-3 made sure you enjoyed it that way.
Alan Jackson has a great big country western voice and I had to hear him sing, "Here In The Real World", from the CD with the same name. I had a feeling the MT-3 would do a great job here and it did. His voice was deep and clear while the guitar and violins were also a pleasure to listen to. The MT-3 with its tube sound took just enough edge off the violins to make it even more pleasurable.
I was beginning to get the feel now for what the MT-3 could do and do very well. It just loved vocals, male or female, string instrument and piano solos. If you want to hear an eerie song listen to Sting's The Dream Of The Blue Turtles CD and the song called "Russians". This has a very haunting message. Couple this song with the MT-3's knack for revealing the essence of a performance and you are in for a real treat. Those of us who grew up with the cold war threat between Russian and America will have a better grasp of the songs meanings. Hearing the words "I hope the Russians love their children too" expresses the hope that Sting believed would prevail to prevent a war between the two countries. You must listen to this song, every line is packed with thoughts that are universal and ring true even today. Once again the Xindak MT-3 did a good job with the musical passages and was a great pleasure to hear.
Next up I put on the CD, Body & Soul, a Time Life Music production with 24 sensual songs by various artists. "Sexual Healing", done by Marvin Gaye was astounding. It starts out with Marvin whispering to his lover "get up, get up, get up, get up, wake up, wake up, wake up, wake up." This song continues to be very popular and for good reason as it playfully expresses the universal emotions that exist between two lovers. Add that to the MT-3's ability to produce intimacy and you have a winner all the way around.
Now it was time to tweak the MT-3 a little. Calvin Tseng, of Lotus Audio Import, the US distributor for Xindak, arranged for me to meet with Dave Kalin. Both Dave Kalin and Jim Pierce are the owners of Solar Winds Audio (solarwindsaudio.com) and are a Xindak dealer located in Milpitas California. Dave Kalin came over to my house bringing with him a stock Xindak MT-3 with upgraded tubes and tube rings. These tubes were cryogenically treated by Cryoset (a company also out of Milpitas California). He used 4 KT77 Reissue Genalex Gold Lion, 2 6SN7 EH ElectroHarmonix Gold Pin and 1 ECC83/12AX7 JJ tube. The tube rings were by Golden Dragon, a total of 7 in all, one for each tube. He sells the MT-3 for $830 and the upgrades are $500 for the tubes and rings, total price $1330 plus tax. This and the fact that you still get to keep the original factory tubes for comparison make this a great way to go if you decide to upgrade.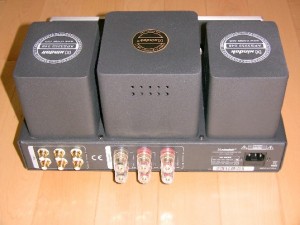 Dave Kalin explained that his MT-3 had over 400 hours on it and since mine had only 70 plus hours that some of the differences I would hear were because his was fully broken in. However most of the changes would be from the upgraded tubes and the addition of the tube rings. He was right when he said it would almost sound like a different amplifier. Everything took on more weight and right away I could tell I was getting more mid bass response from the MT-3 while the sound opened up and was even smoother than before. You can play with your choice of different tubes and tube rings or give Dave Kalin a call and buy his setup. Either way a lot more quality sound can be coaxed from the already wonderful little MT-3 by just making a few changes. Now he and I did play a little with some power cords, interconnects, power line conditioners and speaker cables that he brought over. Once again the sound jumped up a whole other level but at a cost of many times that of the amplifier itself. Still it sure was fun to see what could be done with the basic Xindak MT-3 tweaked to the max. Hey you have got to expect this when you put two audiophiles in a room full of equipment; no way we are not going to take things to the limit.
Xindak has done a great job with this integrated tube amplifier. You cannot expect everything for $830 and yes it does not seem to do the upper or lower octaves the way amps costing much more can. I must tell you though this amp was extremely quiet in my system. I was very impressed by its silence not only because it is a tube amplifier, but whether tube or solid state this still was one quiet amp. Be careful though to match it with speakers that are efficient and to play it in a small to medium sized room for best results. Do this and you will not only be smiling from the sounds you hear but because of all the money you just saved. This amp, even in stock form, competes with those in the $1000-$2000 range and does so very well. Never would I have guessed that it sells for only $830. It is an attractive tube amp with the ability to play in either pentode or triode mode, comes with a sturdy cage and is both an amplifier and a preamp in one box. If this is an example of Xindak product value then I've got to try more. Not only did the Chinese put on an incredible show for the 2008 Summer Olympics, where their athletes were extremely competitive, but they matched this feat by making a highly competitive integrated amplifier in the Xindak MT-3. If you get a chance you should try out the amazing MT-3 and maybe even take a peak at some of their other products as well.
The Listening Environment:
The listening room is 18 feet 8 inches long by 13 feet wide. The room's cathedral ceiling starts at 8 feet high then slopes upward to 13feet at its peak in the middle. Flooring is a soft hardwood covering with an oriental rug placed dead center in between (but not under) the listener and the audio system. There are no doors that open or shut into other rooms also there are two large openings one facing the speakers and the other to its side and slightly in front of the right speaker. I have a nice snug fireplace opposite this opening and in front of the left speaker. As for my audio equipment it is tucked nicely inside of a Cherry Synergy Twin S30 Salamander audio rack.
Review equipment:
Sony DVP-S7700 CD/DVD Player (used as transport only)
Monarchy Audio Dual 20-Bit D/A Converter
Oracle Delphi Mk I turntable with custom made interconnects
Grace 707 tonearm with Denon 301 II MC cartridge Whest PhonoStage.20 + MsU.20 power supply Whest phono stage interconnects
Xindek Gold Series Interconnects Klipsch Klipschorn speakers Legacy Focus 20/20 speakers
Acoustic Revive RTP-4ultimate Power supply box
PS Audio Power Port Receptacle Anti-Cable speaker wire 10 foot pair Anti-Jumpers for Legacy speakers Anti-Interconnects (2 pairs)
Anti-Digital Interconnect single-shielded 1.5 meters in length
Monarchy Audio AC-1 power cord one 6 feet length (2) Blue Circle BC86 MKIII power line pillows (2)
Tek Line PC-8 Signature Power Cords 6-foot length
Mr-Cable Musician power cord 9 foot length Black Diamond Racing Cones (#3 & #4) Audio Prism IsoBearing (Isolation Globes
Cherry Synergy Twin S30 Salamander audio rack
from affordableaudio, By Anthony Nicosia