Specifications:
System: 2-way, direct-radiating system, vented enclosure w/rear port
Finishes: Rosewood (wood veneer) Drivers:
Tweeter = .787" inch (20mm) dome tweeter
Woofer = 5.25" inch (133.35 mm) doped paper cone woofer Crossover point between tweeter and woofer 2000Hz Frequency Response:
Port Open: 50Hz – 20kHz, +/- 3db from 65Hz to 18kHz
Seal port for wall mounting; works with 80Hz crossover point
Impedance: 8 Ohms nominal Efficiency: 86db (@ 1 watt / 1 meter) Grill: Recessed; removable
Cabinet: MDF
Dimensions: 10.5″ H x 7″ W x 10″ D (approx.)
Weight: 11 lbs each. Shipping Weight: 26 lbs. per pair
Additional Info: Video Shielding: No (matters only for CRT/tube TV's)
Price: $229 Available with Gizmo 1.0 amp for $309
What does an audio entrepreneur do when they have a class D integrated amplifier that puts out 25wpc and fits easily on a computer desktop? If you're Craig Chase of Tweak City Audio, you build a matching set of mini-monitors. However, being an audio fanatic meant that Craig wanted something that would actually sound truly good at a computer audio price range. That may sound like a tall order, but Craig had an ace up his sleeve, a relationship with noted speaker guru Danny Richie. The result is the tongue-in-cheek, but appropriately named WAF-1.
Tweak City WAF-1 review
The WAF-1's exterior is a bit of a throwback as well as a nod the minimonitor that started it all, the Rogers LS3/5A, with the grills inset inside the wooden frame. The finish is of real rosewood veneer in a rich wine finish. The driver is a 5.25 inch doped paper cone design matched to a .787inch soft dome tweeter created for wide dispersion. In a nearfield setup the WAF-1's do throw a soundstage far wider than their narrow positioning. The crossover is set at 2000hz, placing a heavy workload on the driver. The lack of any "hole" is a reminder of Danny Richie's talent with speaker design.
The WAF-1's rear port can be plugged for bookshelf, cabinet, or wall mounting. In this setup the roll off occurs at 80hz. For added bass performance in this setup, Tweak City Audio will soon be offering a matching subwoofer. If one chooses stand mounting the rear port should be left open. In this case bass will run down to 50hz. For this review I split time between my office in my town home at 10x 12 feet, and in the great room at nearly twice the size with a vaulted ceiling. For the majority of the review the WAF-1's were powered by the matching Gizmo1.0 class D chip amp at 25wpc along with my 30gig iPod (Apple Lossless encoded files). Though for fun I did hook them up to an Adcom GFA-5400 amplifier just to see what some serious power would do for the WAF-1's abilities. More on that later.
Listening Tweak City WAF-1
I started off with the WAF-1/Gizmo setup in my office, with the speakers approximately 3 feet apart. The speakers were set upon four small isolation pads. The Gizmo amp was plugged into a separate wall socket and circuit than my computer system. At first I had the WAF-1's firing straight ahead knowing full well that adjustments would be made. What I didn't expect was to only need to turn them in to center so little the declared wide dispersion was no sales talk it is very truthful.
Usually, while I'm typing away on work projects I prefer acoustic, jazz, or symphonic music. Heavy rock and roll is too wearing on my concentration; however, I compromised by playing REM's Out of Time disc. Within a few minutes I began to get a definite sense of the WAF-1's character, vocals are the priority. "Shiny Happy People" has always come off a bit nasally when I've heard them thru budget monitors. With the WAF-1's, the nasal tones are all but absent. The clarity and richness of the vocals was very similar to another Danny Richie speaker, the AV123 x-omni's. Further into the disc "Half the World Away" has a wonderful electric piano playing very crisp treble keys, the WAF-1"s were able to keep a clean separation between the notes and the vocals.
With the vocals so clear, I went in search of singers with distinct tonal qualities. Reaching way back I pulled out The Very Best of John Denver. Unlike some of the other singersongwriters of the period, Denver's voice I always considered to have a very clean quality, though he had no problem inserting a bit of twang whenever necessary. Surprisingly, Danny Richie is able to coax out a small dose of richness, something that I didn't expect to hear without a subwoofer.
Moving on to female vocals I stayed with music of the 1970's and dug out a Karen Carpenter song "I Won't Last a Day Without You". Carpenter had a wonderful ability drop into a warm, slow tenor. The WAF-1's easily provided a pleasant reproduction of her incredible talent.
As I moved from track to track on my iPod, it became very clear that sharp, distinct notes were the forte of the WAF-1's. "It Keeps You Running" from the Doobie Brothers has a very distinct snare drum and tambourine rhythm throughout the entire song. When I played the song through a pair of Polk Audio RT25 monitors from my home theater system, the output was much murkier. The same held true for the acoustic guitar in "South City Midnight Lady", the WAF-1's had a far cleaner presentation.
After several days I brought the Tweak City WAF-1's and the Gizmo amp into the great room at 14 feet wide, 21 feet deep, with a vaulted ceiling reaching 16 feet. I didn't expect them to blow me away; the room is just too big with too much air to expect anything spectacular. But for review sake I felt it was important to find the WAF-1's limits. I placed them on stands approximately 10 feet apart and 3 feet away from the back wall and cranked things up. Not surprisingly, imaging just wasn't happening. The distance was just too great. I even brought out the Adcom amp, with only slightly better results at over 100wpc.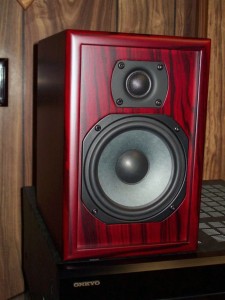 Then, I pulled the speakers in towards one another, at just five feet apart. Bingo! The WAF-1's imaging and soundstage reappeared. Sitting 8 feet back, with a slight toe-in the results were outstanding for such a small monitor. The drums in a variety of songs rolled easily from one speaker to the other and with a bit of a kick when particularly hard hits on the toms occurred.
I did try sitting in increments from 15 to 18 feet back, but at that point the sound lacked impact, the vaulted ceiling in addition to the room size itself conspired to steal away the presentation. The sound became flat, but no shame in that as I've heard $1000 plus monitors suffer the same fate.
I did take the time to setup the WAF-1's as the fronts in my home theater with exceptional results, especially during scenes with a great deal of non-music background sounds. I even wired them up as a center channel, vocals were an easy improvement over my standard center channel, something that may force me to change my home theater setup. What about limitations you ask? Not at this price. Though I do wish they came in a high gloss black piano lacquer, as the rose-wood veneer may not be to everybody's taste.
Final Thoughts
I've been very lucky this year to experience three very different Danny Richie speaker designs with the x-omni's and x-statiks via AV123, and now the WAF-1's from Tweak City Audio. Bluntly, the WAF-1's mini-monitors sound far better than they have any right to for just $229 a pair. Even though they measure out at 86db, they match up extremely well to their brethren, the 25wpc Gizmo 1.0 amplifier. For those matching up lower powered receivers one will have no problem providing terrific sound for the dollar. If you are looking for a mini-monitor for your office, bedroom or small family/living room, do not hesitate to take advantage of the 30-day trial and check out the WAF-1's, you'll be very glad you did.
Review Equipment
Adcom GFA5400
Apple iPod 30 gig (all files in Apple lossless)

Tweak City Gizmo 1.0 class D integrated amplifier
from affordableaudio, By Dan Nielsen