Specifications:
Freq. Response: 26 Hz to 350 Hz (in room). Amplification: 300 watts. Specially designed low noise/distortion unit.
Driver: 20cm (8") cast frame unit, special concave cone and dust cap.
Passive Radiators: 2 x 8" (20 cm) cast frames, special concave cone and dust cap.
Height: 30.5cm/ 12″ Width: 28cm/11
Depth: 35.5cm/14
Component Retail: $1000.00 (Black Ash and Mahogany) $1100 (Cherry and Maple)
Designed and Manufactured in Canada
My introduction to subwoofers came from my very first set of speakers; a pair of Polk Audio RT2000p powered towers. They were monsters, tipping the scales at 90lbs per tower. Each speaker had a bottom section that housed a power amplifier pushing two efficient eight-inch woofers. Between the pair, there were four active eight-inch drivers belting out the low end. From cinema to rock and roll, they never failed to deliver the full-range goods. Yet, things change, and it wasn't long before I found myself with other speakers that, while exceptional, could not even begin to deliver visceral impact of bass that I had once known and felt. Yes, Virginia, in the real world – bass is a fundamental part of music that is rarely ever polite and reserve. Interestingly enough, many audiophiles have come to not only live without this crucial part of the reproduction chain, but have come to loathe just the thought of using a powered woofer in their two channel stereo system. While there are a few affordable speaker systems capable of delivering solid response covering the 20khz-20hz range, most are of the vintage variety. To pull off the same trick with something that has a new-car smell, its going to end up costing you quite a bit of green. Unless you are fortunate to have either/or, the odds are very likely that your system could gain from a bit of low-end reinforcement. After all, there is no replacement for displacement.
Unfortunately, attaining this extra extension can become a troublesome undertaking. Your first problem will be locating a cost effective subwoofer that is able to deliver the musical goods. The second problem comes in the form of integrating the sub into your system, which is never as easy as "drop and plop". This is a process that often takes some audiophiles patience to their very limits. Still, there is at least one manufacturer that believes subwoofers should be both simple to set-up and easy to integrate! Such Idealists! Enter Totem Acoustic.
Totem Storm subwoofer review
Most famous for their high performance mini monitors and slim line towers; Totem Acoustic has left an undeniably huge impact in the twenty years they've been in hi-fi. Along with perking the ears of thousands upon thousands of audiophiles across the globe, Vince Bruzzese redefined what is possible from a small speaker when he introduced the now legendary Model 1. While Totem's speakers have a history of earning recognition and praise; their subwoofers rarely encounter notoriety. When it came time to develop a new subwoofer, Vince decided to start from scratch and use a whole new design approach to create something truly capable and unique.
Creating The Perfect Storm
Two years in the making, the Totem Storm was built to meet a number of ambitious goals. First and foremost, the Storm had to keep true to its Totem of fering the same level of construction and attention to detail as its cousins, including the use of lock miter joints and internal veneering. The sub had to be compact, with the ability to integrate into big and small rooms both visually and sonically. It also had to be capable of complimenting a huge variety of speakers. While the Storm was designed to be musical, it also had to rumble when called upon to do so with satisfying weight and impact. All of this had to be done at the $1000 price-point.
The final result is something that is well beyond ordinary. There is nothing off-the-shelf about this subwoofer. For amplification, the Storm uses a custom 300w BASH amplifier that provides some of the lowest distortion and noise in the market. Every part inside the amplifier is built to strict tolerances per Totem's spec and is assembled in sequential (directional) order. The plate offers the standard array of goodies; variable phase control, volume adjustment, EQ dial (adjustable from 40 to 250hz), low level RCA inputs and outputs along with high level terminal inputs and outputs. Power Cord enthusiasts will be pleased to find an IEC connector allowing you to indulge in cable swapping.
The most notable physical characteristic of the Storm is its unusual trio of identical drivers. This array, boasting of only one active driver with two passive clones, serves a very practical purpose. The left and right passive units are weighted and tuned slightly differently from one another, resulting in more extended and tuneful bass. This configuration gives the user extreme flexibility, allowing the bass to be tuned depending on the direction the sub is facing.
One question many are sure to ask is; "Why doesn't this sub use the typical flat coned passive units"? I asked Vince the same thing. He went on to explain that flat cone passive units cause abnormalities in the wave form that adversely effect the sound wave. To get the correct wave form away from the woofer (avoiding separate waves) and to maintain a more cohesive sound, identical drivers have to be used. While using drivers with the same exact cast, cone, and spider is a much more expensive alternative, Vince justifies the additional cost simply because "It sounds much better". Interestingly enough, the most time consuming challenge during the design process of the Totem Storm was locating an efficient driver that could meet Totem's desired performance. The end result is small high performance sub that is able to reach an average in-room response of 26-250hz.
Setup and First Impressions
When Totem gave me the green light to review the Storm, I made only one request; to send me a sample in either mahogany or cherry. The reason was simple; it's easy to photograph. Unfortunately, the shipping service managed to damage the unit intended for my review, so I got stuck with the regular black model. Oh well. My photos aren't that great anyway. Besides, most people want to draw visual attention away from their subwoofers. On most days, I too am one of those people.
For folks that do not mind a sub being on display for all to see, you will be pleased to find an unusually aesthetically pleasing enclosure featuring subtle rounded edges, a clean beveled rear, and three 8" drivers flanking the sides. The over-all look finds great balance between the familiar tradition and modern flare. Weighing a modest 36 lbs, lifting the Totem Storm was a breeze. Its compact size (12"h x 14"d x 11"w) made it easy to work with.
I hooked the Storm up from the output terminals on the Red Wine Audio Signature 30, which was acting as my main integrated amplifier. Initially, I placed the sub in between the Sttafs, but as time passed, I found myself inching the sub closer and closer to the corner of the room. Finally, I ended up finding the best results with the sub placed into the corner, resulting in proper pressurization along with resolute and controlled bass. As a final touch, I placed the sub atop a two inch marble slab with the sub facing diagonally from the wall with the active 8" driver toed just in front of my listening position. I adjusted the EQ to 45hz, sat down, and enjoyed the marvelous integration!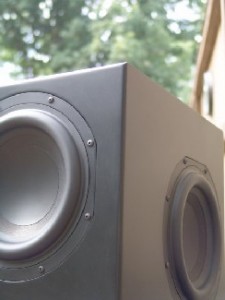 As a reminder; there are no general guidelines to follow when it comes to subwoofer calibration. Where a sub performs best is often a room-by-room case, requiring a bit of play and experimentation.
Performance of Totem Storm
I'm unashamed to admit that my ears always perk in the direction of anything with musical soul. I'm a tone and timbre man. "Its gotta have swing and sing like da real thing" (for use of this phrase, contact me my prices are reasonable!). Unfortunately, powered woofers are usually lacking this rich engaging element, built simply to go "boom" or to satisfy a frequency response graph. Not the Storm. Upon first listen, I immediately fell for its rich and warm character. Yes, I said character!
From the moment it was installed into the system I was treated to bass that did more than just blend into the sonic landscape; it made the system more palpable and whole. I've owned a few high quality subwoofers in my past, and never before could any of them bring the musical goods so quickly, and so convincingly. Instruments had greater separation and impact. The bass never drew attention to itself as if to steal the thunder from the rest of the performance. Instead, it smoothly integrated with the system adding only what was asked of it. At the end of the day, one could ask for little more.
As you would come to expect from a compact sub using only one active 8" woofer, the Totem Storm delivers extremely fast and articulate bass that is able to keep up with most speakers out there. While I expected the Storm to be a superb match with my Totem-made towers, I am pleased to report that it integrated well with every speaker I threw its way, ranging from ultra compact monitors to full range towers. While the bulk of my listening was done using the Red Wine Audio Signature 30 integrated amplifier, the Storm managed to capture the character of the few other amplifiers I threw into the mix a tremendous accomplishment for any powered woofer regardless of cost!
Another virtue of the Storm is its low level resolution. Yes, you read that right – a sub capable of maintaining appropriate pressure, speed, detail, and texture without much applied volume. I found this particularly welcome in my own space, where listening often occurs late at night onto the early morning – when the world is slowing (read: quieting) down. This character could be a Godsend for people that live in a situation to where listening must be kept at low levels. Apartment dwellers rejoice!
Caveat Emptor
As always, no affordable product is without a notable compromise or two. While the Totem Storm is able to fill rooms both big and small with natural sounding and effortless bass – it does have its limits. In this case, that limit comes in the form of bonecrushing, gut wrenching bass. It is not a sub that will re-arrange the picture frames on your wall, nor will it disturb your foundation and impress your friends and neighbors a few doors down the street. Make no mistake, the Storm can hit surprisingly hard and low. Never was this showcased more than when I had a friend drop by the homestead for the evening. Now, this guy is no audiophile. His system is car bound, boasting of just two Polk Audio tweeters and two MTX sub woofers. Clearly, high fidelity is not his bag – but bass certainly was. As the night wore on, he wanted to hear what my system could do. Knowing his tastes reasonably well, I decided to take out the "Speakerboxxx" album by Andre Benjamin of OutKast. I turned the gain on the Storm all the way to 40 percent, being even less liberal with the Signature 30. He sat down, I pressed play. The result was the type of bass that cause uncontrollable smiles, shaking heads, and the knee-jerk reaction spouting of; "Oh my Gawd". Suffice to say, the response was the same when I showed him the tiny box creating all that sound. The Storm may not rumble as loud as my former Sunfire Signature True subwoofer, but what it does with just one active 8" driver is impressive.
There is another unique aspect of the storm that may be more of a vice, than a virtue. Typically, as a woofer begins to reach its limits, you will be able to detect compression as its cone struggles to meet the output demand. This compression can be used like an early warning system, telling you to take the level down a notch or two. The Storm bypasses this step completely – proudly pounding away with squeaky clean resolve until it completely gives up the ghost. With the Storm, there are no early gradual signs of stress. When this sub has been taken as far as it will go, that clean sound suddenly turns into a ball of distortion. According to Vince, altering this behavior would require a thicker driver, which would come at the expense of the character and speed of the Storm. It was decided that maintaining the Storms intended virtues was the most paramount concern. This distortion will not harm the subwoofer provided the user cuts back a bit if it is encountered.
Final Thoughts about Totem Storm
For the final and most crucial test – I removed the Storm from my system completely after having run it for a few weeks. As expected, the bottom octaves along with the extra weight and impact disappeared. What I did not expect was an overall sense of loss in imaging and palpability. Instruments and vocals lost a bit of dimension and air, something my system has always been relatively at recreating. There was also a noticeable decrease in the depth of my soundstage. Guitars weren't quite as ambient, cellos not as rich and involving, and drums were far less convincing. It became instantly clear that the Storm took what I considered to be an already good system, and made it better.
Yet, even at $1,000 there are few small subwoofers on the market that can do what Storm can. When you consider the quality of parts used, quality control, along with its versatility of performance and ability to make great system sound even better, Totem has created something of a bargain. To sweeten the deal, you also get a handsome enclosure built on Canadian soil.
Listeners who are searching for a small subwoofer that is nothing but sheer SPL muscle should look for other solutions. However, those looking for a compact sub that is intensely musical and versatile should put the Storm at the top of what is a very short list. What more can I say? It made every set of speakers I used sound even better. Highly recommended!
Review Equipment
Source: Arcam Diva 62 ; E-MU 1212M Integrated Amp: Red Wine Audio Signature 30
Speakers: Totem Acoustic Sttaf, Mark and Daniel Topaz, Ascend Acoustics Sierra 1, Klipschorns, Polk Audio Lsi-15
Cables: Totem Acoustic Sinew interconnect ;

Totem Acoustic "Tres" speaker cable;
Zu Cable "birth" power cable ; Audio Limits Shield 3.1 power cable
Room Treatments: Eighth Nerve "Adapt" Triangles; GIK Acoustics 242 Panels
from affordableaudio, By Zero