We Open in Montreal, Canada…
….where for the past twenty years, Totem Acoustic has been crafting high quality loudspeakers that reflect their passion and dedication towards fine music and design. Totem's trademark has always been the ability to extract glorious tonality, scale, and a holographic sound from a reasonably priced two-way slim line cabinet.
Vince Bruzzese's recipe perked my ears years ago when I brought home my first set of Totems –the Sttaf. To date, the Sttaf has been the only piece of hi-fi that's remained a permanent resident at my abode. The reason, you may ask? Aside from their addictive musical mojo, they do certain things that no speaker in their class has a right to do. So when the three chiefs at Totem Acoustic, Vince, Nico, and Lucy, sent a pair of Forests for my evaluation, I felt it was only right to honor their decree.
I know, it's a tough gig – but someone's gotta do it.
Product Specifications
Break in time: 100-150 hours
Frequency Response: 33 Hz to 20 kHz +/- 2db
Impedance: 8 ohms (6.4 minimum)
Sensitivity: 87 dB
Crossover Frequency: 2.5 kHz compensated 2nd order
Tweeter: 1" aluminum dome
Woofer:6 ½"
Dimensions: w 8 x d 10.5 x h 36
Designed and Manufactured in Canada
Totem Forest review
Heritage
Rooted deeply within native North American theme, the namesake of every product to bear the Totem emblem is carefully chosen to accurately portray its character. Unlike traditional hi-fi speaker lines, where components are categorized by class and are only differentiated by ascending size, number, and price – each Totem is designed to speak with a unique voice. When I asked Vince about the origin of the Forest's name, he reflected back to his childhood when he often took walks into the woods with his father. During these walks, Vince took notice to how the sounds of forest life surrounded him. The preservation of energy and spatial imaging directly links the Forest with those experiences.
The Forest first entered the Totem line-up nearly a decade ago, replacing their $3000 Tabu monitors. Created to retain all the benefits of a stand mount while simultaneously delivering the gusto of a large tower, the Forest was also designed to perform well in a wide range of applications, electronics, and room configurations. Its simple crossover, friendly impedance curve, and respectable efficiency help to assure a solid match with an array of amplifiers.
On the surface, the Totem Forest appears to have undergone zero changes since its introduction. Though the naked eye concludes that there have been no alterations through the years, there have in fact been many incarnations of the Forest. The last update came in early 2006, when the Forest was outfitted with new components to meet RoHS (restriction of hazardous substances) compliance. Today, nearly all of the parts used throughout the Forest has been specifically selected or built to extract maximum performance from its existing design. This tapestry of parts and meticulous attention to detail has resulted in what Vince refers to as perfect phase, allowing incredible continuity between every part within the speaker. Like any craftsman's work, the latest piece showcases refinements learned through years of experience.
Fit 'n' Finish
There's a lot to be said for consistency. When done long enough, it blossoms into bona fide tradition. Since the late eighties, Totem has maintained their tradition of offering slim speakers with subtle aesthetic flair. From the familiar, accented curves and edges to the four rich earth tones, Totem has remained true to their stripes. This contemporary look enables their speakers to match a wide variety of interior décors.
My evaluation pieces, dressed to impress in rich cherry attire, wasn't the only thing that made a positive first impression. I actually had to heft[???] the speakers from their shipping carton, something I've never had to do before with any Totem product. While most casual observers would rightfully categorize the Forest as compact, its sheer volume is noticeably much greater than its fly-weight siblings, the Hawk, Sttaf, and Arro. Add to that the hefty WBT terminals on the back and the three artistic machined aluminum Claws that secure the Forest to the ground, and you've got the stuff owner's pride is made of.
Positioning Tips
While the Totem Forest can deliver exceptional performance with little effort paid to precise positioning, I encourage everyone to closely examine how Vince sets up his speakers at shows. Due to their exceptional off-axis response, there's no need separate the Forests far from one another. Following Vince's lead, you should place the speakers fairly close together and face them straight out into the room. Perform micro-adjustments as you see fit. I ended.
If you follow these procedures, you'll likely experience the same "holy sh!t" moment that I had. When these speakers are locked in, there's no doubting it, not for one second. 'Pretty good' suddenly transforms into 'amazing.' It's also worth mentioning that I use risers to lift the speakers a good 3-4 inches off the ground, something I've found to be absolutely necessary in my near-field environment.
The Spirit of the Forest
The Blue Circle DAR managed to pull off such an amazing synergy with the Forest that it quickly became my reference amplifier throughout my evaluation. In short, the match was "like buttah." The neutrality of the Forest allowed the Blue Circle to add its slightly warm perspective to the music, while the Blue Circle's musical goods and control let the Forest boogie, albeit in mature fashion. For the buck, it's as close as I've come to enjoying both worlds of musicality and transparency in an affordable system.
Small in size, big on sound, holographic by birthright, and transparent by design, the Forest preserves all of the hallmark attributes I've come to expect from a Totem. When set up properly, the Forest is capable of delivering a huge soundstage that can encompass you with pulsating rhythm, energy, and speed. True to its maker's credo, the Forest can sound completely free from its box and, when set up properly, is also able to create a holographic image that is akin to a full range ribbon or electrostatic panel. Unlike its brethren however, the
Forest also achieves a sense of linear neutrality that never overemphasizes any particular frequency. Although Totem Acoustic has become well known for releasing speakers of distinct sonic color, the Forest may be one of their few products that can truly be considered a neutral player.
Throwing on Michael Hedges Aerial Boundaries, I was welcomed with a slightly introspective insight into his music. The strings from Michael's guitar sang delicately through the air with the occasional burst of strong attacks and quick decay. Never once did the Forest make an attempt to push the music to grab my attention. Instead, it remained on the softer side of neutral, allowing the music to flow freely and speak for itself.
I was also delighted with the Forest's ability to render convincing timbre. The speakers positively nailed the tone, precision, and warmth from Alex De Grassi's Bolivian Blues Bar, a well recorded low tempo solo acoustic piece. They were also able to recreate string, piano, and brass material with aplomb. From the legendary Dave Brubeck Quartet's Take Five to the more obscure yet wonderful piano styling from David Fung's The Piano: Evening Conversations, the Forest was always able to recreate reliably the energy and atmosphere of the musical event.
One of the highlights of the Forest's design is its ability to generate a substantial amount of acoustic energy. While most compact, two-way loudspeakers are severely compromised in the ability to handle dynamic passages, the Forests are uncommonly talented at doing just that. Supremely agile and surprisingly effortless, they had absolutely no problems pressurizing my smallish space with clean, pulsating low end energy.
The Forest is also able to maintain all the benefits one would expect from an aluminum dome: clean and clear articulation, speed, and air. Much to my relief, there is little trace of the artifacts that normally plague most aluminum dome transducers. No thin sound or metallic overtones, just a smooth an unoffending presentation. Female vocals extended beautifully without suffering a case of the sibilant woes. Instruments still managed to sound full without a trace of artificial grain or glare.
Perfectly matching the treble is the extremely agile detailed midrange. While most Totems are known to posses a prestigiously lush midrange, the Forest speaks very clearly and precisely, retaining more of a transparent ebb and flow. This demeanor allows it to recreate the signal without imparting too much of its own character, resulting in a very clean and refined sound.
Anchoring the Forest is bass that was consistently tight, clean, and lacking any mentionable degree of overhang. The bass riffs on Diana Krall's "Temptation" from The Girl in the Other Room were well defined, lusciously textured, and incredibly tuneful. A number of tracks from Loreena McKennitt's An Ancient Muse never once overwhelmed my listening position with bass, as they so often can on lesser speakers. From heavy percussion to hard hitting electronic beats, the Forest always delivered smooth bass that simply allowed the music pass right on through. The only thing missing from its game is convincing, lifelike scale. As usual, there is only so much one should expect from a small loudspeaker.
No one thing is for everyone
If you lust for a loudspeaker that is warm and cuddly, you're best of looking for love elsewhere. If you are the type that seeks an in-your-face presentation that will transport you to the first row of a rock venue, see the above.
While the Totem Forest can project well even into large spaces, the bottom line is that there is only so much air any compact two-way loudspeaker can move. Do not expect the Forest to recreate the chest pounding sensation of a kick drum, or flex your walls during particularly bass intensive passages from your favorite action flick. It's just not that kind of speaker.
Subjectively speaking, although Totem Acoustic did an excellent job manipulating the aluminum tweeter, it did not swing my bias away from the meaty sound of a good soft dome. Every so often, the tweeter would impart just enough character to remind me of its lineage.
"Much to my relief, there is little trace of the artifacts that normally plague most aluminum dome transducers. No thin sound or metallic overtones, just a smooth an unoffending presentation. Female vocals extended beautifully without suffering a case of the sibilant woes. Instruments still managed to sound full without a trace of artificial grain or glare."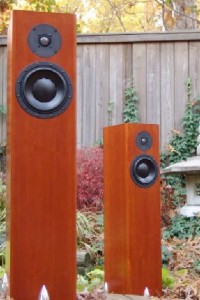 Final Thoughts about Totem Forest speakers
At over $3000 per pair, the Forest can hardly be considered inexpensive. Though the prospect of shelling out that kind of green for a pair of two-way towers may seem outrageous, when you consider everything you get a handsome and well-crafted floorstanding loudspeaker that can deliver first-rate imaging, dynamic range, transparency, speed, and musicality along with the ability to work well in a wide variety of rooms and electronics the Forest is a downright bargain.
In terms of sheer musical prowess, the Totem Forest plays right on up there with the best in the game. A good friend of mine once said that Vince has the keen ability to recreate what is often lost in the mix-down process. That statement captures my own thoughts perfectly. Suddenly, I've found myself smitten all over again with this soul mover. Totem Acoustic has done it again.
Sources: Arcam Diva 62 Pre Amplifier: H2O Audio Fire
Amplifiers: H2O Audio Signature 100 ; Monarchy Audio SE-250
Integrated Amplifiers: Blue Circle Audio DAR ; Vista Audio i34
Cables: Totem Acoustic Sinew interconnect ; Totem Acoustic "Tres" speaker cable; Zu Cable "Birth" power cable ; Blue Circle BC62 power cable
Room Treatments: GIK Acoustic 242 Panels
Component Retail: $3195.00 USD in black or mahogany; $3450.00 USD in cherry or maple
external link: Totem Forest @ official website
from affordableaudio,  By Sean Fowler