For many audio hobbyists the biggest kick comes not from being able to buy something very expensive, (though I do hope to experience this someday) but rather from discovering a really good value. With my enthusiasm growing for headgear the opportunity to find such bargains is turning into a quest. One of the first products in the category is the Topping TP31 and it's sibling, the TP30. The difference between the two is that the TP30 has a USB input, while the TP31 is Coaxial.
Specifications:
Inputs: Coaxial, RCA Line in L/R
Outputs: Line out RCA L/R, Headphone
Jack, Speakers L/R
Amplifier: Class-T Tripath TA 2024 BTL
Configuration
Output Power 2 x 15W @ 4ohm, 2 x
10W @ 8ohm
Signal-to-Noise Ratio (SNR) 98dB
Dynamic Range 98dB
IHF-IM Distortion 0.1% @ 1W, 4ohm
THD Distortion:
0.03% @ 9W, 4ohm
0.1% @ 11W 4ohm
0.1% @ 6W 8ohm
10% @ 15W 4ohm
10% @ 10W 8ohm
Power Efficiency: 81% @ 15W, 4ohm, 90% @ 10W, 8ohm
Input Sensitivity: 200mV
Power socket:
TP-30 DAC: TP30 uses the 2704 with 16 bit 48khz
TP-31 DAC: Built-in high-fidelity coaxial DAC (PCM1793) – support for 32kHz-192kHz 16-24bit PCM format digital coaxial signal
Headphone Output: 3.5mm 16-200 ohm
Face plate: 8mm thick CNC machined aluminum
Connectors: High quality Gold Plated RCA
Size: 4 inches wide x 8 inches deep x 1 ¾ inches high
Weight: Main unit only 720g
Topping TP30 and Topping TP31 review
The TP 30/31 is a handsome little amplifier at 4 inches wide by 8 inches deep and 1 3/4 inches high, comparable in size to the newer standard paperback novels. Build quality couldn't be any better at such a budget-friendly price of $129 via Gateshop, an Amazon distributor. The fact that the manufacturer chose an ALPS volume control says a great deal to me about being a serious unit. The blue LED ring that surrounds the volume knob was just subtle enough to avoid my ire. The rest of the aluminum machined front panel consists of two toggle switches: the left for selecting between the T-AMP, OFF, and HEADPHONE. The right toggle flips between COAXIAL and AUX input. A mini-headphone input is used, with the plug from my Sennheiser HD 650 snapping tight.
The black casing is finished in a handsome brushed semi-gloss piano black with two sets of 5 grooves running from front to back. All edges are completely smooth with the corners slightly rounded, another sign of attention to detail. The back panel holds the COAXIAL (USB for the TP30) analogue RCA input and a pair of mini-binding posts. Finally, there is a jack for the off board power brick, personally a much preferred option over the usually noisier and cheaper wall wort design.
Crack the case and the quality tour continues, easily spotted are capacitors and resistors from Elna and Dale respectively. The 15wpc 4ohm output power to drive the speakers comes from the Class-T Tripath TA2024 BTL setup for both 4 and 8-ohm speakers. The DAC chip is the Burr-Brown 1793 24/192 bit capability (TP30 uses the Burr-Brown 2704 with 16 bit 48khz).
Listening Topping TP30 and Topping TP31
I spent the first couple of weeks of the review giving equal time to both models.
The sound was virtually identical; therefore choosing one model over the other is personal choice of the owner. I went with the TP31 due to sheer convenience and sourced music from my 160-gig iPod with the digital signal being pulled via the Wadia 170 Transport with the coaxial output. Sennheiser HD650's were the headphone of choice for all listening. For those wondering, yes my MacBook immediately recognized the TP30 when the USB was plugged in.
The TP 30/31 offers up a robust performance via its ability to draw current from a wall socket compared to the Audioengine D1, which relies on USB power alone. Impact and depth makes the difference thanks to a/c wall current. The TP30/31 provides plenty of speed and punch. Listening to "I've Seen That Movie Too" from Elton John's Goodbye Yellow Brick Road, the slow ballad-paced drum hits provide ample impact and dissipate quickly. The accompanied piano kept a Rich, textured pace. Moving on to the next track "Sweet Painted Lady", with Sir Elton's lighter touch is very clean, something the iPod struggles with on the headphone out.


Switching over to a live version of Snow Patrol's "Crack the Shutters", one can distinctly feel for the power strumming of the acoustic guitar causing one of the strings to vibrate on its excess length. Taking a listen to their Final Straw album, the TP 30/31 consistently gave appropriate clear power to the bass guitar and percussion. On tracks such as "Wow", the distorted vocals that are rather irritating when coming directly from the iPod, are much more musical thanks the combined efforts of the Burr-Brown DAC and the headphone amp section.
Shifting into symphony music for just $129 one would expect some roughness to appear in the string section. Though I could detect a small amount of grain it was much lower than one would expect at such a wallet-friendly price. Overall, warmth was a bit dry across the orchestra, but it isn't a deal breaker even with material such as Aaron Copeland's "Appalachian Spring".

I did grab some 16-gauge speaker wire from Ace Hardware and connect the TP30/31 to a pair of Paradigm Studio 60v4's just for fun. Paradigm speakers are well known for being quite efficient at around 92-93db. The TP 30/31 did a-ok in this truly unrealistic combination. Typically, the Class T amp chip sounded, well like a T-amp should, quick but lacking in emotional impact. I wasn't drawn into the music compared to the Audioengine N22 amp. Supertramp's "Fools Overture" a song that digs deep personally as I had family that survived the Battle of Britain didn't touch my soul on the TC30/31. Now, in a dorm room with a pair of bookshelf speakers you've got party music ready to go on a Friday or Saturday night it's fine solution. It will play loud in a small room and doesn't easily distort. But the TP30/31's true forte is headphone amplification.
Final Thoughts about Topping TP30 & Topping TP31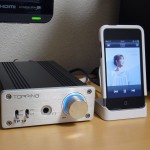 The more I listened and took notes the obvious character of the Tp30/31 was becoming quite apparent, this is one punchy amp that recreated plenty of details from the original work. This amp deserves to be played with lossless material, it performs too good to be stuck with just 128 or 256 mp3 junk. I can't say enough good things about the TP30/31, its value per dollar in construction, parts, and sound quality makes for an easy fixed location buy.
Related video:
Price: $129
Distributor: Gateshop on Amazon.com: amazon.com/gp/product/B0050FHAM6
By Dan Nielsen, affordableaudio.org