Quick review and history of several albums:
Charles Mingus – Charles Mingus Presents Charles Mingus
Thelonious Monk – Monk's Dream
John Coltrane – A Love Supreme
Weather Report – Night Passage
John Zorn – Naked City
Dave Holland Quintet – Extended Play: Live at Birdland 2003
Miles Davis


Charles Mingus – Charles Mingus Presents Charles Mingus
Mingus called his band of this era the "Jazz Workshop". Performances were like live rehearsals where he demanded (at times with shouts and violent threats) nothing but the most honest, creative best out of his sidemen. Obviously, this approach didn't work for everyone, which makes this band (one of the longest running of the Workshop period) all the more impressive. The session, although it was recorded in the studio, was conducted in the same format as their gigs (with Mingus introducing the band, admonishing the "audience" to keep quiet, etc.). Whether this was an attempt to capture the vibe of a live performance or simply Mingus being idiosyncratic, it pays off…performances captured here by this already incendiary band were particularly hot. This is a watershed recording in my own love & appreciation for improvised music. Excellent solos and collective improvisations abound…noteworthy among them is the bass/ bass clarinet duet between Mingus and Eric Dolphy during "What Love", which climaxes in a speech-like "conversation" between the two. Another highlight is the definitive version of "Fables of Faubus", a rant against Arkansas Governor Orval Faubus, who in 1957 used the National Guard to prevent black children from attending Little Rock Central High School. Columbia Records wouldn't allow the vocals on the more mainstream Ah Hum…the vocal version here turns it into the true protest song it was meant to be.
Thelonious Monk – Monk's Dream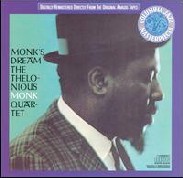 Monk's Riverside recordings are widely regarded as his best, and they probably are…they include some of his most groundbreaking work as a composer, and it was during these years that the jazz community's perception of him changed from "risky avant-garde madman" to "true jazz genius". However, for plain enjoyable listening, I like his Columbias. He had a perfect complement of a sideman in Charlie Rouse, and simply went about the business of putting out album after album of fun, funky bop piano. I'll pick Monk's Dream as my favorite (over 1967's Underground), probably just because it's the first one I ever owned, but also Monk's solo on "Bolivar Blues" just kills me every time.
John Coltrane – A Love Supreme
Everyone knows this is a classic, it routinely tops lists like this, it's an important turning point in Coltrane's music/ compositional development, imbued with spiritual significance, yada yada yada…all of which are perfectly good reasons not to bring it up yet again. Except, of course, for the fact that it is such an incredible thrill to listen to! Not an album I reach for every day, but every time I put it on I think, "why don't I listen to this more often?"
Weather Report – Night Passage
I like Fusion…at least when it's exciting. While a few groups continued to make edgy & invigorating jazz/rock hybridizations well into the '80s and '90s (Chick Corea Elektric Band, Tribal Tech, etc.), for the most part this kind of music has been diluted into the sonic wallpaper known as "Smooth Jazz". Smooth, yes. Jazz? Well, that's a topic for another article. For the most part, Fusion stopped (and started) being a vital music in the '70s. Key players back in the day were (of course) Miles Davis, Return to Forever, Mahavishnu Orchestra, Herbie Hancock, and others. Some of it is starting to sound a little dated, but I find Weather Report's best work holds up well. For me, picking a favorite is a toss up between this one and Heavy Weather, but I give the nod to the looser, more intense Night Passage. Every time I hear the powerful set closer, "Madagascar", it makes me jump out of my seat and pump my fist in the air.
John Zorn – Naked City
John Zorn has made enough albums in enough different styles that anyone could find something in his back catalog to love (or hate), but if a single recording could distill the entirety of his music into one, this would be it. Something for everyone here: solid swinging grooves, unbridled free blowing, spy movie themes, country, punk rock, and a lot more. Zorn will often present disparate musical styles in rapid succession (with an effect not unlike quickly turning a radio dial, or cartoon music) and sometimes at the same time, like in his take on Ornette Coleman's "Lonely Woman", with the back beat of Roy Orbison's "Pretty Woman". Proof the avant-garde can be fun!
Dave Holland Quintet – Extended Play: Live at Birdland 2003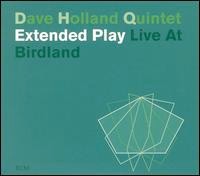 Bass player/band leader Dave Holland's career has had no shortage of illustrious moments, both as a sideman (Miles
Davis' Bitches Brew, Anthony Braxton's Quartet (Dortmund) 1976) and as a leader (Conference of the Birds, Jumpin' In). However, in my opinion his cur-rent quintet (which has enjoyed remarkably consistent personnel since 1998's Points of View) is his crowning achievement to date. Holland's compositions are complex yet eminently listenable, and provide plenty of opportunity for his sidemen to shine. And shine they do. This album, recorded live over four nights in November of 2001, is representative of the music you might hear on any given night by this amazing group… unfortunately, recordings of this quality don't come around nearly as often. After years of playing together, Holland's compositions are familiar territory for these guys, and the level of interaction they share is incredibly high (check out Chris Potter & Robin Eubanks jaw-dropping duet on "Prime Directive"). Performances are lengthy, but never boring…this is one of the freshest, most exciting releases so far this century.
Miles Davis
Miles made too many great records to narrow it down to one for this list, in fact a list like this could be easily done for his discography alone (Hmmm…not a bad idea, watch this space). But just so I don't leave him out, I could enjoy anything from the first great quintet (Relaxin', Cookin', Workin', Steamin') or his modal period (Kind of Blue, Someday My Prince Will Come) at any time of day on any occasion. His electric period isn't my favorite, but when I'm in the mood for a funky jazz/rock stew nothing satisfies like Agharta, Pangea, or A Tribute to Jack Johnson. Heck, I even liked Miles in the '80s (yes, I admit it), in particular We Want Miles and Amandla.