On July 22, the Beach Boys' landmark recording 'Pet Sounds' will be released by Capitol Records on DVD-Audio. Certainly, the possibilities suggested by that event were natural subjects of inquiry for High Fidelity Review, so the advance copy from EMI was put to immediate use. Although it is encouraging to see albums of the stature of 'Pet Sounds' being released in high-resolution surround, this one unfortunately lands in the realm of missed opportunity.
I suppose if I could ask surround engineer Mark Linnett a question, it would go something like this: What exactly do you perceive as the opportunity presented by a surround remix of music, in a 5.1 format? Because if his answer had anything to do with spreading out the front soundstage of the music, and extending the bass that can now be delivered to precise and powerful sub-woofers, the next question would necessarily have to be this: Then what happened here?
'Pet Sounds' on DVD-Audio is characterized by several traits that simply do not make sense to the surround music enthusiast. First, there is a virtual absence of use – not a "judicious" use – of the center channel in all tracks. There is also a virtual absence of low bass, such that the LFE channel sub-woofer is never in play. Finally, there is a method of vocal imaging, often heard, which is dominated by the left front speaker and the surrounds, while the right front is muted and the center is silent.
Before getting too deeply into this discussion, I'd like to suggest an experiment to those who listen to this disc, and to Mark Linnett. Playing the disc's 5.1 MLP track, listen to Bonus Track 14, which showcases previously unreleased background vocals that were to have been used on the song 'Don't Talk (Put Your Head On My Shoulder)'. You'll hear some vocal harmonies that begin from the left and right speakers equally, and then are lit up by the sudden inclusion of the center channel, replete with more vocals. For a few seconds, there is a gorgeous front soundstage from left to center to right, and, if you've already listened to the rest of this DVD-Audio disc, your next words will be "wouldn't it be nice…" (all puns the responsibility of the house). In the Technical Notes, provided as an extra to the disc, Linnett says not to be surprised that nothing is coming from the center, since this was a choice he made to present a "wide approach to the music," and that sound from the center channel "simply isn't needed." While the use of the center channel often differs in surround mixes, there is also the consideration of what the center channel might add.
While all surround music is characterized by sound from all "around" the listener, I hope it is a point of agreement that the quality of the mix is not determined by how aggressively or non-aggressively the surrounds are used. Many great surround mixes use aggressive surround content, some don't, but, in my experience, all the good ones are anchored by a spacious front soundstage that properly relegates the surround speakers to the usual role of accent, and the more occasional role of focal point.
I listened extensively to the dedicated 96kHz two-channel track on this DVD-Audio disc, and in comparison, the 96kHz 24-bit 5.1 MLP mix can probably be best described as a "different," but slightly worse, with aggressive surrounds added. Slightly worse, I say, because, on several occasions, sound that was present on the stereo mix got lost or receded in the 5.1 track, but with the "addition" of some very uncompromising surround content. In fairness, the aggressive surrounds do show moments of adding genuine value, such as filling the room with some orchestral accents, as toward the end of 'Let's Go Away For Awhile'.
There is a 96kHz 'Advanced Resolution Mono' track also on offer. You don't have to listen long to that track to realize that it is of distinctly lower fidelity than the others. It has a thin and tinny quality to it; reminiscent to some extent of a single speaker AM radio. However, that raises a point that is relevant to this review – although Brian Wilson originally developed a technique of recording different instruments on different tracks, the "original intent" was a mono recording. As the notes on the DVD-Audio insert make clear:
However, a mono track was exactly what Brian wanted since, like his main production influence Phil Spector (not to mention The Beatles, who were more concerned with the mono mixes until after 'Sgt. Pepper's Lonely Hearts Club Band'). Brian felt that making records in mono allowed the producer to present the record exactly as he wanted it heard, without any interference from the listener's stereo which could be set up in many different ways that might affect the sound."
For those who would object to tinkering with the original intent of the artist, it should be noted that this was already undertaken in 1996, when the album was remixed to stereo. As mentioned, even in its "advanced resolution" state, the mono track suffers in comparison to the fidelity of the others, but the larger point is that a current surround remix of an older recording should not be strapped with the limitations that existed at the time of the original recording. While I don't think anyone will choose the mono track over the others, this is a good illustration of why changes from the original need not be considered a "deviation," but, rather, an improvement.
This type of review really doesn't require as much a point-by-point illustration as others. Want to know those cuts on the album that don't use the center channel? All of them. Want to know when you're going to hear anything like a separate LFE, or low bass track? Almost never. Frequently, all four surround speakers contain lead vocals, in which case those vocals are likely to be absent from the right front – for examples, listen to 'Wouldn't It Be Nice', or 'You Still Don't Believe In Me' – and as a result, to me, the front soundstage suffered.
I would have guessed differently. The intricate vocal harmonies alone would seem natural material to "surround" a listener judiciously, and there are several tracks on 'Pet Sounds' that I could just imagine benefiting by some powerful bass extension, such as 'Sloop John B'. Actually, this is one track where there is sufficient low frequencies to awaken the sub-woofer, but only barely. I had the same notion for the track 'That's Not Me', but once again bass and LFE were all but absent. And while I'm primarily referring here to the 5.1 MLP track, this state doesn't change with the alternate 448kb/s Dolby Digital or 1,509.75kb/s DTS tracks found on the DVD-Video compatible side of the disc – there's still no center channel, still very little low bass… other than a slight decrease in the fidelity, neither differed greatly from the 5.1 MLP track.
Oddly enough, there are audio playback options on the DVD-Video side for both 'Advanced Resolution Stereo' and 'Advanced Resolution Mono' tracks, but a couple of our machines used to check DVD-Video compatibility (including Meridian's 596), refused to output any S/P-DIF even with their digital output's sample rate set to 48kHz. A Windows XP software player also failed to produce any audio whatsoever from either option. You might be lucky, but it seems likely that in most cases the only way to hear these tracks at their native resolution will be via a stand-alone player's analogue terminals.
During these experiments, another strange oddity presented itself. If one listens to a two-channel downmix from the Dolby Digital 3/2.1 track, one will find that the soundstage is thrown to the far right, whereas a stereo downmix from the multi-channel DTS mix pushes the soundstage all the way to the left. Who knows exactly what's going on, but such issues tend to point to problems either with relative phase or, in the case of Dolby Digital, how the downmix coefficients have been set in the bitstream. While the disc does have a dedicated two-channel track, it defaults to the multi-channel Dolby Digital when replayed on a DVD-Video machine, so if one happens to be listening on a two-channel system or via headphones, the results would be far from desirable, and how many novice users are going to remember to select the stereo mix?
From a DVD-Audio specification standpoint, the first track does play immediately after the disc has been loaded, but unlike discs authored to meet the most recent standards, audio options cannot be toggled via the button on your remote, switching from one to another involves a rather tedious delve in and out of the disc's menu system.
While the fidelity of the disc is adequate from either of the high-resolution tracks, it is not enough of an improvement over the 1996 CD to really make you sit up and take notice. Moreover, there is information in the two-channel version that somehow is muted or lost in the 5.1 track. In 'Let's Go Away For Awhile', there are saxophones and trumpets prominent in the two-channel mix that get muted in the 5.1 version. In 'Wouldn't It Be Nice', the mandolins that are prominent in the two-channel track are buried much deeper in the mix.
What I found, and what I would suggest, is that the best way to enjoy this disc is by playing the two-channel high-resolution version through a surround processor that will convert it to multi-channel via either a Logic 7 or Dolby Pro Logic II matrix. I listened to the disc through both of those modes using a Lexicon MC-12B, and the surround version offered in both cases was far preferable to what was offered up from the MLP 5.1 track.
This is not a slam at the sound engineer, since I have heard several high-resolution discs whose surround "mixes" suffer, at least in the comparison I made, to the two-channel original being processed through either Logic 7 or Dolby Pro Logic II.
There are a fair amount of extras on this disc, beginning with seven bonus tracks (one of which is the basis for my indictment against the exclusion of the center channel in the 5.1 mix). For the most part, they comprise extra session materials that are of some interest, but nothing more. There are some "promo films," circa 1966, which were the equivalent of music videos thirty-seven years ago. You'll watch them once, but they too are pure "fill." What is a significant extra, however, is the 1997 'Pet Sounds Sessions' documentary, which provides some useful interview material with Brian Wilson, other Beach Boys members, and interviews with other musicians on the significance of 'Pet Sounds'. The only difference between the additional material between the two sides of the disc, is that owners of DVD-Audio players can select from two menu schemes while replaying the main body of the album, one with synchronized lyrics and the other an interactive image gallery.
At the beginning of the extras material, we're provided with some quotes, among them from Paul McCartney:
"No one is musically educated until they have heard 'Pet Sounds'.
It was my inspiration for writing Sergeant Pepper."
Obviously, the musical significance of 'Pet Sounds', which is already legendary, forces a certain degree of scrutiny to the issuance of this DVD-Audio disc that a lesser work might not be subjected to. Perhaps the limitations of the original materials (or even the "supervision" of Brian Wilson, who is so acknowledged in that capacity for the surround mix) prevented something different.
Our disc ratings are based upon an average score, the surround mix being no better than 60% and the poor fidelity of the mono track being offset by the stereo alternative, but on the basis of its musical significance alone, the surround enthusiast will likely wind up owning this DVD-Audio disc, and, if only for that reason, it can be recommended. But as an example of good surround music, and of the DVD-Audio format, it is never more than ordinary.
Track list
Wouldn't it be Nice
You Still Believe in Me
That's Not Me
Don't Talk (Put Your Head on My Shoulder)
I'm Waiting for the Day
Let's Go Away for Awhile
Sloop John B
God Only Knows
I Know There's an Answer
Here Today
I Just Wasn't Made for These Times
Pet Sounds
Caroline No
Unreleased Backgrounds [Bonus]
Wouldn't it be Nice (Sessions) [Bonus]
Wouldn't it be Nice (Alternative Mix) [Bonus]
God Only Knows (Sessions) [Bonus]
God Only Knows (Alternative Mix) [Bonus]
I Just Wasn't Made for These Times (Alternative Mix [Bonus]
Summer Means New Love [Bonus]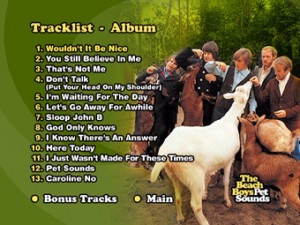 Disc Information:
Disc Primary Format: DVD-Audio
Disc Release Date: 2003
Performance Date: 1966
Record Label: Capitol Records
Catalogue Number: 72434-77937-9-0
MLP Audio:
Channels: 3/2.1
Sample Rate: 96kHz
Linear PCM:
Channels: 2/0.0
Sample Rate: 96kHz
Dolby Digital:
Channels: 3/2.1
Data Rate: 448kb/s
DTS:
Channels: 3/2.1
Bonus Material:
'Pet Sounds' videos, photo gallery, Brian Wilson's message, liner notes, 'The Making of Pet Sounds', track notes, sessionography, technical notes, discography and disc credits.