Specifications
RCA single-ended inputs
USB DAC (accepts 16-bit 44.1/48kHz)
EL84 x 2 output tubes [fitted with 6P14 "Beijing" in current production]
5755 Raytheon NOS driver tube
Self-biasing
Zero global negative feedback
Choke input filter
Total Harmonic Distortion (THD) @ 1kHz, 8 Ohm less than 1% at 4.5 Watts
Frequency Response: 17Hz – 27kHz (-3 dB); 30Hz – 17 kHz (-1 dB) Input Impedance: 47 KOhms
Power Source: 115/230VAC switchable Power Consumption: 80 Watts Dimension: 7 1/2″ (W) x 10″ (D) x 7″ (H) Weight: 13 lbs
Price: $749, currently on special for $398 with free shipping in USA
Confessions
Let me start by stating that I am not a tube guy. It's not that I have anything against the little glass bottles of fire, or that I think sand amps have any inherent sonic benefit. In fact, some of the best systems I've heard have been tube based, not to mention that I love the warm glow when listening in the dark. I've also dabbled with hybrid power amps in the past, specifically the long-gone Counterpoint designs in which their MOSFET solid-state output probably colored the music more so than the tube input stage. I even toyed with a couple of DIY tube preamps, albeit with mixed results most likely stemming from my all-thumbs abilities with a soldering iron. But for one reason or another, I myself have never ventured headlong down the valve audio path.
Bottom line – I'm no tube guru that will wax rhapsodic about topologies, transformers and rolling the lastest NOS finds from Ebay. On the contrary, my penchant for Magnepan speakers has directed me towards monster-power solid-state amps given that I do not have the wherewithal to invest in the kind of tube power needed to drive these hungry, lowefficiency transducers. More recently, I've embraced the new generation of Pulse-Width Modulated (PWM) amps which are more commonly, though perhaps incorrectly, identified as "digital" amps. I love their typically neutral sound (though some may think of it as overly analytical) that is detailed and effortless combined with remarkable bass extension and control. I bring all this up as a point of reference to properly frame the following review.
Tec-on Model "55" review
High-End Audio or Urban-Chic Accessory?
Tecon positions the Model "55" as both a high-end single-ended tube audio amp as well as a stylish accessory for the most upscale of modern big-city lofts. There are two entirely separate websites seemingly tailored to either the "form" (www.urbanchicauido.com) or "function" (www.teconaudio.com) definitions that the Model "55" straddles. Starting with its form, I immediately liked the look and heft of the amp as I pulled it from the shipping box. Though small, it is a stout little amp with a nicely machined transformer cover and contrasting black with brushed aluminum structure. I'd describe it as "refined industrial" featuring integrated handles cut into the top and bottom panels and cylinders at the four corners finished off with cone feet.
Given that is only 7½" wide, real estate is obviously limited around back where you will find high-quality RCA inputs, speaker binding posts and an IEC power inlet. I'm a bare speaker wire devotee, so I was happy that my 10-gauge DH Labs Q-10 wires easily fit through the post holes, though I had to bend the wires a bit to maintain clearance for the RCA inputs. The power switch is hidden behind the front ride side footer cylinder. The real fun begins when you power it up, indicated by a blue LED located under each tube. Gimmicky, perhaps, but the combined cool blue and hot yellow tube glow gives it striking appearance that made me want to keep it out on display.
You may assume that the Tecon Model "55," referred to as the mini "five-five" (not fifty-five), is named for its approximate 5 watts per channel of power. But the moniker actually comes from the NOS Raytheon 5755 driver tube. To quote the Tecon website:
Zero global and little local negative feedback (NFB) ensures the most detailed reproduction of sound. Without global NFB to cover up distortion or other imperfections, all components had to be carefully chosen to achieve the technical specifications. The Model "55" features an innovative and unique 3 tubes design, with a Raytheon NOS 5755 double triode to drive a pair of EL84 type pentodes for an unequaled imaging and spaced reproduction. The current production model uses 6P14 output tubes, sometimes referred to as "EL84 on steroids"! They deliver a rich, punchy but clear sound that will amaze you.

The Model "55" is more than just an integrated tube amp. Like many of today's integrated amps, especially the numerous minisized products coming out of China, it also incorporates a USB DAC for direct connection to a computer-based audio source. The chip is a Burr-Brown PCM 2702 which can process 16-bit 44.1/48 kHz digital signals and is "plug and play" compatible with both Windows and Apple OSX based systems. I'll be the first to admit that much of the Mac appeal is their styling, especially the newer aluminum designs, and the Model "55" made for a very slick visual pairing on the desk … très chic!
Speaker (Mis)Matching
I knew right out of the gate that the Model "55" would not be up to driving my 83db (2.3v/1m) Magnepan MG1.6QRs, and this proved to be the case after a very brief listen. Yeah, I know … DUH! But I had to try it anyway, just as I did with the poor little Sonic Impact T-Amp yielding similar results. It sounded OK at very low levels, but kick it up a bit and everything compressed and just stayed congested between the speakers and rather flat sounding. I also tried the somewhat more efficient 89db (1w/1m) Acculine HT3 speakers for a brief period and the pairing did not exhibit the cool midrange characteristic I noticed with my reference amp, a Cullen-modified PS Audio GCC-100, sounding wonderfully fleshed out on the vocals. However, at just 4.5 watts this amp lacked the power to really do them justice and as I inched the volume upward once again the top end became compressed and took on a dulled "hands-cuppedover-the-ears" sound.
Then I switched to the more appropriate Hawthorne Silver Iris open-baffle speakers. I've got a pair of these coaxial drivers on home-made baffles, which at $145 each including the crossover network represent a remarkable value for the performance they provide. Perhaps I'm just a sucker for the no-box sound, but the Silver Iris has come closest to pushing my Maggies out the door, though the higher-performance Sterling Silver Iris may be a more appropriate competitor sonically and price wise. They are also rated at around 96db (1w/1m) efficient, so I figured these would be an ideal match for the little Model "55." Unfortunately, such was not to be the case and I was about to get a lesson in synergy's dominance over specifications. The slightly restrained and trapped sound, particularly in the upper frequencies, that has kept the Hawthornes from displacing the Maggies was exacerbated by the Tecon Model "55." The music seemed held back by a soft, rolled-off top end and thickened midrange, as if it was struggling to escape from the system.
Bear in mind that I am stating these observations in the context of a "system" and I do not think it is an inherent fault of either component, but rather an anomaly of their combined characteristics. When paired with the GCC-100, there is an extra measure of extension on the top end that does a better job of bringing the music to life through the Silver Iris. The Model "55" is more laid back on the top end with a greater presence in the midrange, attributes which became compounded through the Silver Iris. I also found that the GCC-100 delivered better bass control, but then we are talking a huge difference in damping factor. The Model "55" goes deep but was not nearly as taut and controlled, perhaps a function of trying to manage the big 15" driver of the Silver Iris.
Like Peas and Carrots
When I wired the Model "55" to a pair of Tekton Design single-driver speakers based on the Fostex FE167E, it became apparent even to this Forrest Gump of a tube amp reviewer that here was a speaker/amp combo that just plain belonged together. It shocked me just how much I enjoyed this pairing, even in my larger listening room where the Maggies usually dominate. The music simply flowed from an expansive and deep soundstage. Tonally, it was noticeably and enjoyably warmer than my usual PS Audio/Magnepan setup, but also had the top-end extension and incisiveness that had been overly subdued when pairing the Model "55" with the Silver Iris.
I was a bit concerned that the midrange presence of the Model "55" and forward sound of the Tekton speakers would be a poor match, but it actually made for a very nice combination. Vocals were more emphasized and projected forward in a way that brought the singer right into the room, more so than even the Maggies usually achieve. This was particularly true on tracks like Wilco's "Jesus, etc." (Yankee Hotel Foxtrot) and Jack Johnson's new album Sleep Through the Static. It could be downright shocking at times with the performer seemingly only few feet in front me. Is it a more accurate presentation? Perhaps not, but I found it pleasurable and very engaging nonetheless.
The Model "55" has a very clean and open sound, with no background noise or hiss that I could detect. But it couldn't quite match the added definition and detail delivered by my GCC-100, being less incisive and lacking the crystal clarity of that amp's B&O ICEPower amplification modules. That extra degree of air and expansiveness of course comes at a price with the GCC-100 costing more than seven times the current price of the Model "55." For its price, the little "55" acquitted itself remarkably well when paired up with the right speakers.
As I listened to the Model "55," I found myself digging deeper into my music collection than usual which is a testament to this amp's ability to draw you into performances. It was a much broader range of selections than typical. I found it did a great job of rendering the mellow, other-worldly sound of the Flaming Lips "Ego Tripping at the Gates of Hell" and "One More Robot/Sympathy 3000-21" which can sometimes sound edgy, thin and over mixed with the wrong equipment. The Model "55" gave these tracks a wonderful, enveloping warmth that filled the room and put me in the middle of the action and had a similar effect on Tori Amos' Under the Pink, another recording with occasional warts that become all too apparent through more analytical systems. On less processed performances like that of John Scofield playing his Ibanez AS200 guitar or the vocals of Luka Bloom and Chris Isaac, the "55" imbued the musicians with a sense of fullness that caused them to materialize right in the room.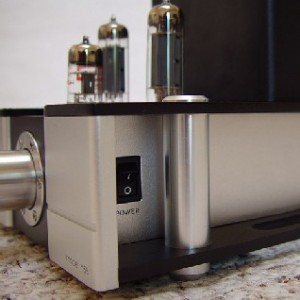 I think a part of this is the result of a pleasurable roundness in the bass of the Model "55." Bass was better defined through the GCC-100 with greater sense of "snap" and control, though not necessary as full and deep sounding with the small Tekton speakers. The Model "55" imparted a sense of weight which, combined with the slightly softer top-end, made many of my less than perfect recordings more listenable. In fact, I spent a great deal of time going back in time to some of my much older '80s alt rock favorites including the Cure and Love & Rockets, which are not know for their quality being at the dawn of CDs.
Swapping in a couple of different amps with Tekton speakers also proved instructive. The Wyred4Sound 200s, another class D amp I've become enamored with, is more comparable in price at $699 but took a back seat to the Model "55." The top-end of the 200s, though more extended, seemed cool and overemphasized with an overall less refined character than the "55." For example, Jack Johnson's "Go On" had a slightly gritty sound with the 200s that drew attention to itself. The Model "55" depicted the music as flowing and more coherent, albeit with a more "in your face" presentation featuring Johnson's vocals forward in the soundstage. The overall result was a much more intimate listening experience with the "55." I also compared it to a stock Sonic Impact T-amp using the Tekton speakers. While it is good for $30, this tiny amp can't come close to the Model "55." The sound was etched and brassy through the Tekton speakers and on complex selections, the T-amp takes the undesirable tact of making them "blat" out (which might be good on quieter passages, but not so when things get tough). The "55" instead tends to slightly smooth and soften the details in a way that doesn't subdue the sound so much as it gives it a flowing consistency.
Valves in the Digital Age
I generally don't listen to music through my computer, but I did give the USB DAC in the Model "55" a try on both my desktop system as well as in my main listening room using a laptop. The first issue I ran into was a connection problem. I do not know if USB cables can affect the quality of sound from the DAC, but they can definitely impact whether or not any sound comes out at all. Swapping the provided USB cable from one of the many in my box of extraneous computer parts got things going right away. Set up was plug and play simple with a functioning USB cable. The next challenge I ran into was a clicking noise between tracks when using iTunes. This came not from the speakers, but from inside the Model "55" itself as a relay switched between the USB input and the analog input during the momentary lack signal between tracks. iTunes must be set to crossfade between tracks in order to avoid this annoyance.
Used as a desktop system, I again ran into speaker matching problems with my homemade Dick Olsher designed Samdhi Kittens (see www.blackdahlia.com for details). With the Model "55," these low sensitivity 4-ohm speakers sounded dull compared to the T-Amp that is typically used, its own foibles aside which I find easy to ignore in a less critical computer support role. Putting the Tektons up on the desktop (though ultimately too big for my office) proved much better in this nearfield situation, perhaps due in part to the crossoverless Fostex single-driver design that has no need to integrate drivers. There are other smaller single-driver speakers out there that I would think the Model "55" could easily be paired with for an outstanding desktop system if you like to listen at the computer.
There is no SPDIF input on the Model "55", so evaluating the DAC was a bit cumbersome and not exactly apples-to-apples. My Cary 306/200 CDP/DAC, does not have a USB input, which required me to use the optical out of my laptop or source the music through my Squeezebox from the basement music server. I found the on-board DAC of the Model "55" to be not quite as strong in the bass nor as expansive and open as the Cary DAC, but still very clear and easy sounding. There was a touch of added brightness and incisiveness using the on-board USB DAC that works well with the amp section. However, running through my standard reference selections from Tuck Andress, Ry Cooder and Nickel Creek I ultimately found it imparted a raspy, etched quality on vocals and guitars with a flattened or shortened soundstage. Voices and instrument simply didn't float as distinctly in space as they do with the Cary DAC and lacked the same impact. But these differences are of course much smaller than the vast difference in price these components represent. As replacement for your computer's stock analog output With the sources that will typically feed the Model "55" through its USB input, most likely lossy compressions, it is an admirable performer.
Conclusion about Tec-on Model 55

When I first received and began listening to the Tecon Model "55" I had some qualms about whether I'd be able to give it a "buy" recommendation at $749. It seemed a bit pricey for such a low-powered amp/USB DAC intended to be used with a computer or as an "urban chic" accessory. But at its new "Special Offer" price of $398 shipped, I can honestly say it is a bargain regardless of whether you plan to use it on an office desktop or as the centerpiece of your primary stereo system. It also makes a great alternative to the ubiquitous one-box iPod players that have become all the rage. Matched to the proper speakers, the Model "55" has a beguiling sound that allowed me to get lost in the music for hours. And that's what it is really all about.
Main System
Tekton Design single-driver speakers (Fostex FE167E) on Skylan stands
Magnepan 1.6QR speakers
PS Audio GCC-100 integrated amp
Cary 306/200 CDP/DAC
Slim Devices Squeezebox 3 digital music streamer
Music Hall MMF-5 Turntable
Monolithic Sound PS-1 phonostage and HC-1 high-current supply
Additional Equipment
Hawthorne Silver Iris speakers on DIY baffle (21"x38") Wyred4Sound 200S power amp
Reference Line Preeminence One passive volume control
Sonic Impact T-Amp
Adcom GFA-535II power amp
Pioneer SX-780 receiver or SA-6500II integrated amp
External link: www.teconaudio.com
Download Model 55 manual in PDF format: tecon-model55-manual.pdf
  from affordableaudio, By Craig Johnson