Specifications
Speakers: MBS-01
Type: Two-way Two-Driver, stand-mount
Tweeter (size, type): 1″, Scan-Speak AirCirc silk dome Woofer (size, type): 6.5″, Peerless Nomex cone Nominal Impedance: 6 ohms
Sensitivity: 84db
Recommended Amp Power (watts): 20–250
Selectable Tweeter Attenuation: 0db or -3db
Frequency Response: 48 Hz – 25 kHz ± 3 dB
Available Finishes: Black vinyl with Gloss Black, Rosenut, or Oak side panels
Dimensions (W x H x D): 10.3″ x 16″ x 13″ Weight (pounds): 27
Price: $948/pair
Subwoofer: PC12-Plus
Connections: Line-level RCA, Speaker Level Binding Posts
Enclosure Type: Sealed or vented, adjustable
Woofer (size, type): 12″, 12.4 Plus Woofer w/ Composite pulp/fiberglass cone
Power Rating (watts): 525 RMS, BASH Crossover Bypass: Yes
Available Finishes: Black fabric Dimensions: 40" (tall), 16" (diameter) Weight: 60 Pounds
Price: $949
SV Sound 877 626-5623
SV Sound has a long and successful history of building American made, world class subwoofers at below reasonable prices; and before this review I had not had the pleasure of hearing that reputation for myself. After a chat with Ron Stimpson, we concluded that an upgraded version of an SVS classic, the PC12-Plus subwoofer, as well as their newer foray into the above 120hz world, the MBS-1 monitor speaker, would make for a nice speaker system and review article. A week later, I came home to two large boxes in my entryway. Luckily, the PC12-Plus is small enough that it does not require freight shipping like the larger SVS models; i.e. PB12-Plus.
After I unpacked the system and finished setting up the PC12-Plus in the front corner, and placing the MBS-01's on speaker stands, I was able to take a step back and admire the speaker system. The PC12-Plus is a fine looking subwoofer covered in soft, black fabric and with a foot print of only a 16″ diameter. The subwoofer is a bit large since it stands 40″ tall, but disappears into the corner of a room pretty quickly with its simple look. It has a top grill which protects its three ports, as well as a flush mounted, BASH 525 watt amplifier plate with more options that you can shake a stick at; i.e. speaker level inputs and outputs, RCA inputs and outputs, gain knob, phase knob, subsonic filter knob, crossover knob and switch, power toggle, and standard IEC power receptacle. Thanks to SVS, the PC12-Plus subwoofer also comes with an 8″ IEC power cord to reach just about any outlet or power-center you need to plug into.
My real attention however was turned toward the MBS-01 bookshelf speakers with their piano gloss black side panels and flat black top and front baffle. The paint combination looked so much better in person than in the pictures that I stood and marveled at them for the first couple minutes they were setup. These speakers are stunning! Their exterior finish has a very simple yet elegant look whether the magnetic grills are on, or off showing off the paired Scan-Speak AirCirc tweeter and Peerless Nomex woofer. Should anyone ever see their back side, the single port and quad of fiveway binding posts look just as refined. I really like SV Sound's M Series of speakers as they have a slightly refined, yet form follows function look. The MBS-01, as with the MTS-011, is a box style speaker enclosure with a rounded top that almost makes them look like a tombstone. Since the enclosures and drivers are of a mirrored design, I opted to place them with the tweeters on the inside of the woofers since they were sitting about eight feet from each other. They are small and sculpted enough to easily fit into your home decor, but large and boxy enough for you to know they mean business. I love the look of the mirrored pair SVS MBS-1 speakers and they make me ready to rock.
The first album that I gave a play to was Hell Freezes Over by The Eagles. I feel that this one of the best live recordings out of a mainstream record label that you can buy, and sounds great on almost any equipment. Plus, it has a great live energy with a lot of punch to get you feeling the music. The first song to get a play was "The Girl From Yesterday". As it began, the guitar came right through to the front and was crisp and clean. It occupied distinct space, and its bit of twang in this song was apparent. When the steel guitar came in right before the vocals started, I could feel its country sadness as the MBS-01 filled my room with its cry. As the song progressed, not only did the vocals come across as very precise, but also with smoothness that made them highly enjoyable and easy on the ears. As the first song faded into "Learn To Be Still", I had decided what my favorite aspect of these speakers was. The soundstage that the SVS MBS-01 creates and envelops the listener with is better than I have ever heard as this price point. The image that these speakers throw during any recording had me not only listening through Hell Freezes Over a few times, but every album I had time for. I know that audio writers can get a little colorful with their words, but I cannot be colorful enough to describe the smile that came over my face when I first fired these speakers up. I credit this wonderful ability to the Scan-Speak AirCirc tweeter and its unique magnet design. SVS could not have chosen a better tweeter to use in their M Series of speakers and they have designed a crossover that takes full advantage of its abilities. The most stunning example the MBS-01's ability to create a great soundstage and listening experience was in any of Jack Johnson's recordings. I will not go into the details as you would have to hear it yourself to believe it, but Jack's singing and acoustic guitar is portrayed as I had never heard before.
After The Eagles, I decided to change pace a little and loaded up Billy Joel's The Stranger. This is a fairly well recorded album and has great songs to boot. While listening through the album, I noticed that same quality of soundstage and imaging as I had noticed with other albums. The instrument and singer separation in "Moving Out" was good for an album released in 1977. Joel's voice comes through in all the songs with a lot of feeling in his well-defined vocals. However, The Stranger did confirm what I was made aware of by other albums I listened to with these speakers; the upper mid range sounded a little thin compared to the rest of the frequency response of the speaker. Once I was aware of this, I was not distracted by it in my listening sessions as the speakers have a very full sound, even when the subwoofer was turned off for comparison. I started by address this problem with the foam port plugs that SVS provides to tune the speakers if you need them. This tweaked the bass response as I though, but did not have an effect on the upper mid frequencies that I had hoped, but not expected. The port plugs are a great option that SVS provides for their speakers. Just like in their subwoofers, this allows the user to custom tune the sound to their room and their needs. I also tried the 3db tweeter toggle switch on a few songs to see if this would affect the upper mid range, but for me it did not. Again, the tweeter attenuation switch can be helpful, like the port plugs, in tailoring the sound of the speakers to your room and your needs. The switch provided a hint of dampening to the sound on the top end, but this was not needed in my carpeted room. The flexibility that SVS provides in their products allows for equipment to be tuned and configured to your particular room for that perfect sound.
During all of my listening sessions, I did employ the use of a SVS PC12-Plus subwoofer to aid the MBS-01 speakers and their bottom end. This subwoofer falls right into the SVS reputation of great subwoofers with great sound. The unit was setup in the front corner of my 12'x16' listening room, and was initially in its ported, factory configuration. I quickly realized that I did not need as much output as it can provide since it was in a corner, and opted to use the three foam port plugs to convert the subwoofer into the sealed configuration. This is again one of the great options from SVS as it lets you tune their subwoofer to optimize your room, which for me translated to trading overall output for a little tighter sound. After the PC12-Plus was tuned, it blended perfectly with the MBS-01 to create a very full and musical sound that reproduced all recordings I listened to with accuracy and life. As a man who is content listening to monitor speakers without the addition of a subwoofer, I found the MBS-01s to have great punch and bass for their size, but obviously the pairing with the PC12-Plus took them to the next audio level. These two SVS products working together allowed my source to present me with a listening experience that I felt and not just heard; physically and emotionally. The PC12-Plus is a great subwoofer that would pair well with any speakers and in any room because of its multitude of tuning options, but paired with the MBS-01 monitors, they were SVS musical magic.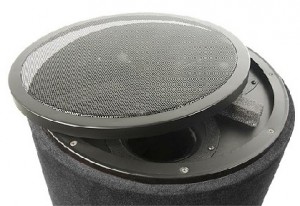 Final Thoughts
The SV Sound's MBS-01 speakers and PC12-Plus subwoofer system made me replay all my old favorite albums like no speakers have in a long time. The breathtaking sound-field and stunning sound stage was something that I was convinced was not available at this price. These speakers create astonishing music and musical presence; and that is before the price tag is factored in. I love to use speakers that truly disappear on the playback of a recording, and the MBS-01
left me loving my music.
Associated Equipment
PC Music Server
Musiland Monitor 01USD Sound Card
Matrix mini-i DAC
Jungson JA88D(09) Amplifier
Forte 1A Amplifier
Luminous Audio Axiom Preamp Esoteric Audio E7 Speaker Cables Skywire Audio SE Speaker Cables Neko Audio XLR Interconnects Skywire Audio SE XLR Cables
Luminous Audio Renaissance II Interconnects
Skywire Audio SE Interconnects
Cardas High Speed Data Transmission Cable
PS Audio Punch Power Cord
Monster Cable HTS 2500
from affordableaudio, By Jake Montzingo