PROLOGUE – My Soap Box
The notion of venturing beyond our comfort zone can be a downright scary proposal. For many audiophiles, it is simply easier to accept common aberrations stumbled across through a path only semi traveled. With heads in the sand and rear's to the wind, true comprehension is forfeit to empty familiar assumptions; tube watts are more powerful than solid state. Ribbons cannot rock. A good piece of electronics requires a massive power supply. You get the idea. Through our journey we all develop a core of beliefs and subsequent bias. What separates the lazy from the curious are those that embrace possibility, vice standing defiant against it through selfappointed knowledge. Anyone willing to give possibility a chance may end up discovering something unique that is a pleasant departure from ho-hum hi-fi. For those daring enough to depart familiar waters to enter un-chartered territory, I present to you two shinning diamonds.
Stone Image Audio (SIA) – A Short Biography
Even the more savvy explorers of the audio under-ground are likely unfamiliar with Michigan based Stone Image Audio. Truth be told, I would have been none the wiser had it not been for late night browsing one summer's eve. What I stumbled across was a company that embodied the very essence of root-like beginnings. Stone Image Audio, or SIA for short, has been silently offering their products, which currently consist of only two compact monitors, for five years. You will not find SIA in trade shows, in dealer showrooms, or on full page colored ads in popular audiophile rags. Keeping committed to "no advertising" styled marketing, SIA relies heavily on word of mouth sales generated from existing customers along with the occasional ad placed on Audiogon. Such a radical approach can be a turn off for some people, but for yours truly, it is exactly the type of uncommon exotica that I love to sink my teeth into.
It wasn't long until I began exchanging riffs with Stone Image Audio's commander in chief, James Rober Strasser or as he likes to be called, "Jimmy". Jimmy is a man of strong opinion armed with both an intimate knowledge of loudspeaker design and an unwavering passion to capture the fundamentals of music reproduction through his designs. A simple hobbyist turned entrepreneur, Jimmy is not just another fly by night DIY devotee working from a garage. Delving into the highly contested market of affordable twoway compact monitors, he set his crosshairs to take the grand prize with the current flagship; the Rothschilde A2.
The Rothschilde A2 – The Design
Designed by ear, a lot of 'luv' was bled into the development of the A2; two years to be precise. Building an affordable monitor that embodies the virtues of the legendary Martin Logan CLS electrostatics of yore into an ultra compact box with two dynamic drivers is a massive undertaking to say the least. Jimmy writes;
"In a good design, realism, clarity, focus, smoothness, response, and speed all play a major role to the music. The design of the Rothschilde A2 did take a long time to create. Our crossover designer took 5 months to complete the initial design. It then took another 5 months of listening tests and selecting the absolute best sounding crossover components. Even the internal wire was A / B'ed. Even then, a year later, we made a couple more very slight modifications to this incredibly minimalist circuit. The Rothschilde monitor was named after my favorite size/length of cigar, the 50 ring-gage Hoyo De Monterrey Epicure No. 2, which is a rothschilde size. It is one of the smoothest cigars to come out of Cuba, smoking one is a very close to a religious experience."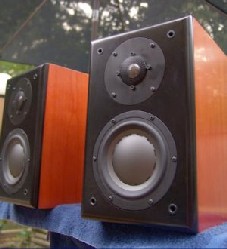 A classic styled monitor if there was one, those of you with a keen eye will recognize the enclosure used with the A2 are the same prebuilt cabs offered at partsexpress.com. While this may take away from their esoteric street cred, worries and woe can easily be forgiven with a quick knuckle test. These things are inert! Measuring only 12" (H) x 8" (W) x 11" (D) the A2's rock the scales with surprising heft at 19 lbs each. I found the cherry veneer on my pair of A2's to be pleasant on the eyes and easy to integrate into areas of varying décor. Handsome looks complimented with low visual factor make the A2's a bona-fide candidate to ease those WAF melancholies.
Since conception, the Rothschildes were designed to compliment the sound of valve electronics. With an easy 8ohm load, minimalist circuit and friendly efficiency of 88.2 db, Jimmy ensured that the A2 could be driven by all but the most dainty amplifiers. He also wanted a speaker that could provide the listener with a wide dynamic range without the use of a sub-woofer. Out-fitted with a 5.5" long throw poly cone woofer complimented by a custom 1.12" titanium dome from Germany– the A2's achieve an impressive anechoic response of 45hz – 30khz (-3db).
The rear of the speaker displays the twin ported bass-reflex design – allowing greater flexibility towards walls. Much to my relief, I also found a full flush-mounted bi-wire terminal plate. Instead of using the common cheap gold-plated jumpers that have become the defacto standard for other monitors in its pricerange – you will find the completely custom and suave Mathura jumper cables. These special jumper cables feature litz configuration, with six nines oxygen free copper conductors brought to you from the gurus at Cardas. The Mathura jumpers are included with your purchase of the Rothschilde A2, but for those of you who would like to give them a whirl, they are available for $39.95 a stereo pair (four).
Having now familiarized yourself with the back-round and tech info of Stone Image Audio and their Rothschilde A2, lets examine what hides just on the other side of the fence.
Audio Concepts, INC (ACI) A Short Intro
For Mike Dzurko, 2007 represents a significant milestone for not just himself, but for his company, Audio Concepts, Inc. The journey began in 1977 when Mike, who was then hardly into his twenties, took his love for transducers and turned it into a successful speaker business that now celebrates its 30th year. Having developed hundreds of designs which have generated thousands of happy customers, Audio Concepts Inc, or ACI for short, is still running strong and looks to expand their facilities later this year. Like SIA, Mike decided that the only way to provide the best value for his customers was to invest his money into the product and not into the pockets of advertisers. There is just one significant difference; ACI was one of the first to do it. In fact, ACI could rightfully be considered one of the founding fathers for the consumer-direct business model; cutting out the middle man long before the idea was fashionable. Now days, this model has become a growing trend in our hobby as more audiophiles begin to discover the sonic rewards. While ACI has managed to evade the industrial whiz-bang paparazzi, they have become widely recognized by the collective virtual community for their first rate products and customer support. Have any questions? Just log-on to their virtual forum or pick up the phone and call; chances are you will be speaking with Mike himself. With all respect to the major brands, this is my kind of company.
It is for those reasons that inspired me to discover what ACI is all about. In short, I found a man after my own heart. Much like my own self, Mike is drawn to anything with musical soul; the kind of products that seduce you into your favorite chair, stimulating your mind with hours of foot tapping rhythm instead of a neurotic break-down of electronic devices. Kicking back for a moment, I will take a short pause and to give you his story;
"Music is my inspiration: I grew up a musician. Built first speakers when I was 12 . . . I've always been surrounded by live music and have wanted to be able to replicate that on my own system whenever I want."

"For the last ten years or so we've leased the upstairs of our building to a recording studio. The studio is headed by one of my teen heroes, one of the best musicians ever to come out of this area. He spent about 20 years in LA doing sessions work, mastering, etc. He records just about everything but rap. Massed choral, solo piano, rock, jazz, blues . . . Some of the guys I used to play with that kept going 🙂 They also do live, on-site recordings, etc. So, anytime I want I can be immersed in the sound of live voice and instruments. All three of my kids were heavily involved in music, and pretty talented, so I was bombarded with a lot more live music .. . all three of my kids are now away at school or on their own, so I need to fill that void of music. Fact is, lots of speakers to choose from, few that really play music."
The Sapphire XL – The Design
When the forces of knowledge, experience, passion, and exposure to live music all mesh together into one product, you can expect something good – real good. While ACI's is most famous for creating award winning subwoofers, they are no strangers to building high quality two-way monitors. Verily, they've been at it for decades. When it came time to develop the seventh iteration of the decade-old sapphire series, Mike knew he wanted to make something special – something the market has not seen before.
It is a vision that is far easier to recite than to execute. The sub 2k two-way monitor market has become a saturated battlefield with hordes of designers fighting to build the better mousetrap. In the natural world subject to the laws of yin and yang, most of these monitors hide significant compromise in one form or another. On the field a designer must chose his preferred weapon and work to hide its inherent weakness. Mike Dzurko sough a different tact; choosing instead to build a speaker that could re-create the musical experience while providing all the strengths audiophiles pine for. It would be a speaker to embrace both solid state topologies along with valve circuits. After nearly two years of development, the Sapphire XL was born.
The XL is an odd shaped rear ported two-way monitor boasting two quality drivers of notable pedigree; a 1" silk dome tweeter from the Scan-Speak 9500 series offset to a complimenting Scan-Speak 5.5" revelator long-throw woofer. Having flirted with the scan-speak revelator in the past with Totem Acoustic's Hawk and Sonus Faber's Cremona Auditor; I reserved a high yet measured expectation of the Sapphire XL's ability to dig deep. A quick glimpse over their literature indicating an inroom response of 38hz – 40khz satisfied my demands. Boasting a modest efficiency of 85.1db with a nominal impedance of 6ohms – it was clear that the Sapphire XL was never destined to share vows with low powered SET's, although Mike assured me customers have tried this combination before and met with surprising success.
Undeniably unique, at first glance the Sapphire XL appears to have a separate box attached to its back. This well endowed rear end has purpose beyond a good laugh; it's there to offer varying dimension in what Mike calls a dual depth design. When combined with thick MDF construction and plentiful cross-bracing, its shape and build serves to reduce internal standing waves. Measuring 12" (H) x 8.5" (W) x 12.5" (D) with a respectable weight of 22lbs a piece, the XL stretches the limits of the term; mini-monitor.
"Appearance is not an afterthought. The physical appearance of the speaker is firmly connected to the performance of the speaker."
On the surface, such commentary can be interpreted as bold with few points of true merit.
Yet here we all are, collectively entwined in an age where slim-line profile speakers are the demand. Can anyone really deny that visual appeal plays a crucial role in the selection process? More-over, can a beautiful speaker subdue your senses into living with an extra compromise or two? One thing is certain; Mike managed to bridge the gap.
Pony up the extra two-hundred clams and you will be treated with a piano-black finish that exudes class and luxury. The reflection, pristine and clear, illuminates the surrounding landscape much like the surface of a pond on a clam day. With a slim front profile accented by rounded edges, the XL manages a compact, suave and elegant look that will instill a major sense of ownership pride.
The sounds of a gem – Sapphire XL Initial Set-Up
Like most speakers that are 85db sensitive, the Sapphires XL is best suited for moderate to high powered amplifiers. Between my eclectic taste in music and the occasional jam session, I set out to match the XL with an ap propriately accommodating amp. Surprisingly, what I ended up with was an inexpensive light weight integrated amplifier, the Naim Nait 5i. While this British classic could not provide the dynamic head-room of the more powerful Classe CA-2200 or Rogue Stereo 90 – its harmonic tone formed a pleasant synergy with the Sapphire XL and had just enough drive to make them sing. Content, I decided to use this piece as the benchmark for the review.
Being far less fussy about exact placement than most other loudspeakers I come across, setting up the Sapphire XL was a relief. After setting both speakers atop 26" solid steel stands with both tweeters facing inward with slight toe-in, I was about ready to go.
To these ears, the Sapphire XL requires little bass reinforcement. Although both speakers come with port inserts, I preferred their tonal balance without them. Still, they come in handy when in tight listening quarters. I found you can fine-tune their performance depending on how deep you push in the foam inserts.
The Sound
Writing about the Sapphire XL is a difficult task. When it comes to affordable two-way monitors, most designs carry with them the standard set of extreme virtues and extreme vices. Yet, here I am with a pair of speakers that present an even sonic balance that does virtually nothing wrong and everything exceptionally well, leaving me with very little to dissect. That folk's, is a good thing – at least for you.
Whether placed in a large open room or in a small and sealed space, the Sapphire XL always managed to fill the area with vivid and engaging sound that never over or under whelmed its boundaries. In short, they never became "lost". They always remained true to their stripes; giving off a lush and palpable sound with more of a relaxed mid-hall perspective. Their sound-stage focuses less on achieving wall to wall sound and instead offers a more mature, insightful, and deep presentation that projects rich harmonics in such a way to where their sound was enjoyable even when outside of the coveted "sweet spot".
One major prerequisite of mine is a products ability to handle a variety of music that extends well beyond the usual audiophile collection of little girls with their guitars. A speakers got to rock when called upon just as its got to get out of the way when its expected to. The Sapphires did not disappoint. In fact, they handled everything I threw their way, whether it was hard hitting Metallica metal or the atmospheric and diverse electronic styling of Dj Tiesto. While the Sapphires never delivered gut wrenching slam, I always felt the impact of every drum strike and bass line. No matter what genre music I threw at the Sapphire, the sound was always beautiful, emotional, and physical.
If there is one thing that I need to make clear, it is that the Sapphire XL does not sound like a tiny speaker. When called upon to play Niyaz's self-titled debut album – a demanding composition of new age music fusing Persian classical with electronica, the haunting vocals of Azam Ali filled the room with eerie and ambient presence. The unique ensemble of instrumentation just hung in the air completely separate and distinguished from the raw intoxicating and powerful beasts. This is the kind of music that begs to be played at levels which fill the space with impact. The Sapphires delivered the fully monty without ever alerting me to their small pedigree.
For good measure, I threw on Eric Clapton's "un-plugged". As expected, the Sapphire's extracted the atmosphere in vivid fashion; capturing tone, separation, and body. Eric Clapton's foot tapping the wooden floor in "Old Love" was distinct and ambient with the slight over-lapping attributed from the venues acoustics. The piano sounded full and less 'honkey tonk' while the acoustic guitar was more warm and less sharp.
The treble on the Sapphire XL will often be associated with the words "laid back" or even "dark". Instead of presenting information in prominently detailed fashion, the high end is passive and non-offensive. The trademark tang of Michael Hedge's guitar lacked that sharp and attention grabbing attack as it fell more into a polite back-round. The trumpet section from Wynton Marsalis's "Baroque for Trumpet" was also more relaxed and subdued than I'm used to. While these are more nitpicks than actual vices, this is the one aspect of the XL that takes some getting used to. Once you are however, it's hard not to become addicted to their lack of bite or edge. Such a mellow high end allows me to listen for hours and hours without the slightest bit of fatigue.
The mid-range is classic scan-speak revelator; Quick, palpable, rich in both tone and texture. This is the exact driver found in speakers costing upwards of 10x the price of the Sapphire XL, and for good reason; it is relatively neutral and reproduces music in an effortless, linear manner. Fans of male or female vocals will love the volumetric and well anchored feel that often attributes to the "they are in the room" illusion. In short, this is the way mid-range ought to be.
Bass response has always been the Achilles heel of compact monitors. In the ultimate sense; there is no replacement for displacement and at the very end of the day, you can only expect so much from something so little. So how much slam can this particular standmount monitor provide? Quite a bit, actually. Digging well into the upper 30hz range, what they lacked in ultimate extension they made up for with a robust and controlled response that hits with authority. Whether called upon to reproduce quick fingered bass lines from bossa nova themed jazz to thunderous power chords from modern rock bands – the XL remained fast and articulate adding no overhang. With the XL, bass is a living and breathing force – which again, is the way it ought to be.
The precious stone – Rothschilde A2
Initial Set-Up
Despite their average sensitivity of 88db, the Rothschilde A2 was designed to match valve components. Personally lacking a variety of triodes, I immediately chose the only fitting electronics I had in my inventory at the time; the Rogue Perseus pre and the Rogue stereo 90 amp. Much by proxy, these components became my default benchmark for the evaluation.
Sitting atop my trusty 26" steel stands – the A2's freed me of positioning woes. Capable of projecting well into rooms both big and small; I never encountered any difficulties even on solid state electronics. I ended up preferring their sound whenever I applied generous toe-in, with the tweeters facing only a few degrees outside the listening chair.
While rated with a -3db point of 45hz, the Rothschilde's seemed to struggle in providing strong output below 60hz. To compensate for this; I took advantage of their bass reflex design and positioned them within 6 inches from the back-wall. This drastically helped 'fill out' their bottom end with surprisingly minimal deteriorating effects to their soundstage. Comfortable with their placement, I sat down and let the music play.
The Sound
If the ACI Sapphire XL is an apple, than the Rothschilde A2 is the orange. Opposite in nearly every aural aspect, the character of the A2 centers around; immediacy, transparency, detail, imaging, and speed. It weaves these virtues together without the aide of oddphasing or materials used to subdue beaming effects often associated with metal domed tweeters. While born of valves, when paired with the over-achieving IRD Purist pre amp and H2O's latest ice-based amp, the S-150; I achieved a degree of transparency rivaling anything I have ever encountered to date, which includes a number of electrostatics and full range ribbons. All of this without the usual caveats of fatigue inducing sharpness.
While the Sapphire XL presents a lush landscape with a mid-hall perspective, the Rothschilde A2 gives you an up-close and personal feel, engaging your ears with pristine clarity, enveloping sound-staging with blazing speed that will make a good number of dynamic loudspeakers sound slow in direct comparison. In many respects, the Rothschilde A2 fits the description of what most enthusiasts call a 'revealing' speaker. They make no attempts to gussy up the imperfections of your room, your upstream components, or the recording. Instead, what you get falls within the classic adage of; "garbage in, garbage out". Or in other words, they will only be as good as what's feeding them. Yet, they still managed to somehow capture the essence-of-rhythm in a way I was simply not familiar with. I had to give it a lot of thought until I finally determined what it was; balance.
As coherent as the Sapphire's were, the Rothchilde's made it obvious that there was a slight disconnect with the integration between the tweeter and the woofer used in the XL. While the A2' are voiced with emphasis on the high end that can become a tad forward in certain situations, they maintained a degree of coherency that I have never experienced before. For the life of me, I could not detect the point when the tweeter cut off and the woofer took over. Perhaps I've simply become so accustom to hearing these aberrations that I've simply accepted most designs so long as they were 'close enough'. In an analogy fitting to the sci-fi classic, "The Matrix"; Up until this point, I've wandered through life blissfully unaware of 'the truth'. Now that I've unknowingly digested the red pill, there's no turning back.
To these ears, the greatest asset to the Rothschilde is its treble; having virtually no peer in its price-class. The titanium dome nearly makes the Scan-Speak 9500 sound rough and disjointed. Michael Hedges "Aerial Boundaries" is a classic acoustic album that was instantly brought his unique styling to life. His trademark guitar 'bite' and instant decay was captured in all its brilliance. Even the subtle harmonic over-tones from the vibrations generated from the fingers slipping over the guitar strings were easily rendered with immediacy and delicacy. The brass section from Wynton Marsalis's "Baroque for Trumpet" was as I remembered it to be, vibrant and dynamic. Never once did I find the A2's to clutter and confuse the sound-stage even when playing back full-tier choirs or orchestras. Each individual voice and instrument is locked into place.
Supporting the treble is a mid-range that is unquestionably the most neutral and quickest I have heard on an affordable monitor. There was never an exaggeration of weight behind the piano, nor was there an extra touch of warmth to a guitar. Instead of imparting a character to the signal that was never there to begin with, the A2 simply prefers to tell it like it is.
By now, it should come as no surprise when I tell you that the bass of the A2 is lightning fast. Following individual complex bass lines will not distract your attention from the rest of the material. Yet at the end of the day, you cannot fight physics. For all that the A2 accomplishes, it sacrifices in the form of low end impact. The main riff from the Led Zepplin classic "Dazed and Confused" showcases the A2's inability to output enough bass to conjure up a full and convincing scale. While Jimmy states that his customers feel no need to use a sub with the Rothschilde, I personally feel that the music I listen to requires a lot more meat on the bone. Not all is lost though, a good affordable sub-woofer like the Onix UFW-10 should do the trick without breaking the bank.
The final word
When you stretch beyond the world of ruby studded and stamp approved commercial hi-fi, you can expect to enter a land full of passionate individuals to where quality is the order of the day. Plainly put; folks like Jimmy Strasser of Stone Image Audio and Mike Dzurko of Audio Concepts, Inc have managed to break down the barrier separating resolution and musicality; packaging both into an affordable pair of monitors that will appeal to the audiophile, music lover, and cheapskate alike. While very different from one another, both have strong appeal that will satisfy even the most discerning listener.
The SIA Rothschilde A2 is a bona-fide champion, bringing to the table a level of transparency and coherency almost unheard from a two-way monitor under the $3000 price-range. The fact that these speakers are now three years old and still maintains a paltry admission fee of $1335 is mind-blowing. Word from the grape fine is that the A2 will receive a major face lift come spring. These changes included completely new custom cabinets wrapped with a unique variety of veneers to include; teak, padauk, and white bamboo. The additional manufacturing costs will hike the retail up to $1600 / pair. If you are a bargain hunter, now would be the time to jump! The ACI Sapphire XL is a music lover's delight. Never before have I listened to music for such extended hours. Never before have I frantically dusted off those old LP's to rediscover music I long discarded upon developing a critical ear. Between their mature presentation and rare ability to integrate with both valves and transistors; I've found a pair of monitors to settle down with for the long haul. Mike, consider me a new card-carrying member of the ACI family.
The tides are beginning to change. Divided aural boundaries are crumbling. Value takes on a new face. – the word is spreading -Viva La Revolución.
Associated Equipment:
Turntables: Rega P1, Clear Audio Champion Magnum 
Digital Sources: Musical Fidelity CD PRE 24, Classe CDP 102, Naim CD5x, Ayre C-5, E-MU 1212M Preamps: Musical Fidelity CD PRE 24, Classe CP-500, Rogue Perseus, IRD Purist
Power amps: Musical Fidelity A3CR, Classe CA-2200, Rogue Stereo 90, H20 S-150
Integrated: Naim Nait 5i , Harman Kardon 3470
Cables: Tributaries 16 awg, Straightwire Rhapsody S speaker wire, Straightwire Sonata interconnects, homebrew diy interconnects w/ eichmann bullet plugs, Naim NACA 5
Reviewed Component Retail Price: $1335 / pair – Stone Image Rothschilde A2 , $1500 / pair ACI Sapphire XL ($1700 in piano black as reviewed)
external link: Audio Concepts website
from affordableaudio, By Sean Fowler