CHEAP, FLOOR STANDING SPEAKERS THAT STILL SOUND GOOD.
These speakers will suit most households just fine, especially since they're very affordable. If, on the other hand, you have extra cash to burn and really enjoy perfect sound, then you may want to upgrade to more expensive models.
– Check the Amazon website here for more information on this product.
---
Sony SS-MF550H 3-Way Floorstanding Speakers
The Sony SS-MF550H 3-Way Floorstanding Speakers are good for their price point, but if you can afford more expensive, higher quality speakers, then I would upgrade.
These speakers are pretty good for their price, and if you're only looking to make additions to your home theater system, they're great. These speakers have been specifically designed to make the most of high-resolution music formats, a wonderful thing as we're seeing more and more of these all the time. The bass reflex cabinets make a big difference in the overall sound. The fact that these speakers can move more air means that the low end output is significantly greater than that of similar speakers. In reality, the sound quality is quite good . . . not perfect, but good. The bass could be a little more powerful, but I found these speakers to be pretty adequate.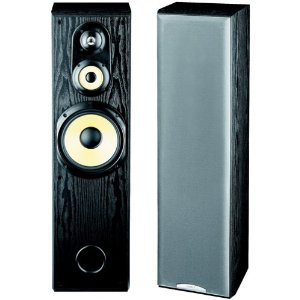 When you take these speakers home and you first open up the box, you'll see several things. First, you'll see the two speakers themselves (hopefully, right?). It's important to note they come in pairs. You'll also get the necessary speaker cable (8.2 feet x 2 lengths), as well as the instruction booklet on how to install them and the ever-so-important warranty info.
The length of the cable is great and hooking these speakers up to your receiver or amplifier couldn't be simpler. The speakers are a little heavy to move around, so try to find out where you'd like to put them before hooking up any wires. Otherwise, you'll risk tangling or ripping them when you try to lug them around while they're attached to the amp. I did, however, like that they're tall and slim, rather than short and squat. This makes finding a place to put them much easier.
While the speakers I reviewed are black (actually listed as black ash), the covers on them are silver. The manufacturers could have stated that more clearly. But, perhaps I'm just nitpicky! The covers are also a little on the flimsy side, so if you happen to have small children, they could probably do a fair amount of damage to them. That's something to definitely be careful of.
Bottom line – there's really nothing wrong with these speakers. The price is right, they look great, and sound just fine. The only thing that may be an issue for you is that they're only just fine. These speakers aren't mind-blowing or outstanding like you may anticipate once you've finished hooking them up. But, for this kind of price, what can you really expect?
Technical Info:
Finish: Black ash
Bi-wirable: No
Directionality: Monopole
Removable speaker grilles: Yes
Speaker drivers: 3
Speaker enclosure type: Ported (bass-reflex)
Speaker terminals: Screw-type binding posts
Speaker type: Floorstanding speaker
Transducer type: Cone
Wall-mountable: No
Weather-resistant: No
THX-certified: No
Frequency response (+/-3 dB): 45 to 50,000 Hz (no range stated)
Maximum recommended power (average): 150 watts
Nominal speaker impedance: 8 ohms
Sensitivity/efficiency (1 watt @ 1 meter): 88 dB/watt/meter
Tweeter (diameter): 1-inch Nano-Fine balanced-dome tweeter
Video shielded: Yes
Woofers (diameter): One 3.25-inch cone and one 8-inch cone, each reinforced with Kevlar/HOP (Highly Oriented Polyolefin, a proprietary Sony speaker cone material which combines high strength, low weight, and low resonance resulting in improved transient response, higher power handling, and flatter frequency response)
Speaker mounts included: No
UPC: 0272426217630
Item width: 9.5 inches (each)
Item height: 33.5 inches (each)
Item depth: 10 inches (each)
Item weight: 24.91 pounds (each)
Warranty: 1 year parts and labor
In the box: 2 speakers, speaker cable (8.2 feet x 2 lengths), instruction booklet, and warranty info
MSRP: $210
See the Amazon page for SONY SS-MF550H 3-WAY FLOORSTANDING SPEAKERS Review here

These are highly affordable floor standing speakers that can easily compliment most rooms. You can listen to any kind of music with these (from jazz to heavy metal) and the speakers will still sound pretty good. They can also make a great addition to home theatre speakers you already own.
They won't sound as full or rich as some of the more pricey brands. The covers are weak and there are some issues with the bass.