A basic, well built tuner in with that gorgeous Sansui finish. Not exactly a herald of the BPC craze to follow during the 1980's, the TU-7900 is simply elegant. A white background with tasteful black lettering illuminated by a soft sea-foam green glow. The gloss black finish of the front panel is accented on either side by a banding of chrome. The off-white lettering and silver knobs provide a nice aesthetic contrast, and the green colored lettering of the model number is also
a nice surprise.
The signal meter, with the flip of a switch, will also display relative multipath interference to assist in providing optimal antenna placement.
The tuner utilizes a simple and effective 4-gang, FM vari-cap and make use of FET devices. The backend of the tuner is also simple and effective and uses a good audio amp for the output for great musical performance. The power supply is well filtered and regulated, and the transformer is capable of international voltages.

The rear panel is well laid out with contrasting white on black lettering. In addition to standard stereo outputs, this unit also provides H & V outputs for connection to an oscilloscope and Dolby FM outputs for connection to an external Dolby NR unit. The built-in AM ferrite bar provides adequate AM reception, but an unbalanced AM antenna can also be connected. For FM, the TU-7900 provides both 75ohm unbalanced and 300-ohm balanced connections.
Being a unit meant for international use, removing the rear nameplate will give you access to the voltage selector. It provides 4 voltage ranges from 100V AC to 240.
The TU-7900 provides overall great performance, especially when compared to the tuning units built-in to today's integrated receivers. It even holds its own when going against the very good tuners found in 1970's "monster" receivers. If it receives a strong enough signal, there is only minimal background noise evident. Speaking of signal strength, the tuner front-end is sensitive enough to tune almost all my local stations perfectly with only a cheap, twin-lead wire antenna. It even receives distant stations from 60+ miles away with finesse, despite the fact that I live slightly in a valley and in a very iron rich area. Musically, it is the best separates tuner I have. It provides clean sound with just a hint of warmth that makes listening to over-compressed and processed FM signals bearable.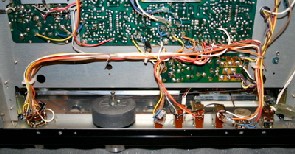 Today, the Sansui TU-7900 is a nice budget tuner for someone looking at getting into separates gear. It competes very well with other tuners in its price range and provides much of the performance of its more expensive cousins without the extra features and cost. With an average price of US$100-$150 for units in excellent condition, you get a great tuner, elegant, classic looks, and a bargain.
from affordableaudio