Tradition is a big part of the audio experience with audio buyers. Certain companies have a specific "sound" that buyers go back to as their personal reference point. For my money the traditional Polk Audio sound is their RTi lineup. It reminds me in many ways to the original monitor sound from the late 1970's-80's. In the past few months Polk has updated the RTi lineup, using a new teardrop cabinet while keeping their well-regarded Powerport design. The result is the RTi A series for 2008. Having owned a pair of the RTi 38's a few years ago I was intrigued by what its newest incarnation could do. After a few emails to find the contact person for review models since Paul DiComo left Polk's operation to join the mother ship of Definitive Technology, I was rewarded with a pair of the cherry veneer RTi A3's in short order.
Specifications:
Mid/Woofer: 1 – 6-1/2″ Diameter (16.51cm) Polymer Composite Tweeter: 1 – 1″ Diameter (2.54cm) Silk Polymer Composite Dome
Overall Frequency Response: 40Hz-27kHz
Lower -3dB Limit: 50Hz Upper -3dB Limit: 26kHz Nominal Impedance: 8 ohms
Recommended Amplifier Power: 20-125 w/channel
Efficiency: 89 dB
Crossover: 2.8kHz, 12dB/octave high and low pass
Inputs: 5-way binding posts
Finish: Brown Cherry or Black Oak veneer Dimensions: 14-3/4″ H x 8-7/16″ W x 14″ D (37.47cm H x 21.43cm W x 35.56cm D)
Enclosure Type: Vented with PowerPort and Arc Port
Product Weight: 16.00 lbs. (7.26kgs) Shipping unit: Pair
Total Shipping Weight: 35.00 lbs. (15.88kgs)
Warranty: 5 years parts and labor (original purchaser) Designed in USA, Manufactured in PRC
Price: $459
Polk Audio RTi A3 review
Design of RTi A3

First, I was a bit wary that Polk had given up the golden goose by walking away from the spectacular reddish cherry stain of the previous series of RTi's. I was quite pleased with the new, more brownish stain. Though not as stunning, it is very appealing and probably an easier match with other wood finishes. The veneer itself is visually seamless and beautiful.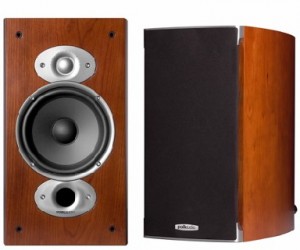 Those of you who have followed speaker design in the past few years have noticed the growing trend towards the tear drop design of such companies as Era and Warfdale to name a few. It is an elegant look and fits in with 21st century style. The surprise is how lightweight the RTi A3 feels. They are 3.5 pounds lighter than what I remember the RTi38's being, even though the teardrop design creates added depth. The real shocker is the knuckle rap test. The sound is thin, almost plastic upon contact of bone and wood. I believe this is due to the 6-layered MDF laminate process that Polk states was designed specifically for them and reduces resonances. Using the thin layers allowed for the bending needed to create the teardrop shape.
The front face hasn't changed from the previous series. The 1 inch silk/polymer tweeter and 6.5 inch mid driver return, as does the front port below the driver. The grill still uses a lattice design under the black fabric. This is a bit controversial to a few, but I didn't feel as though the music suffered from its usage. The backside has the now signature Powerport bass venting cone, with the keyhole for hanging on a wall. Below that is the five-way binding post of serviceable quality. Finally, on the bottom corners are two bumper feet to assist in wall hanging, a very nice touch IMHO.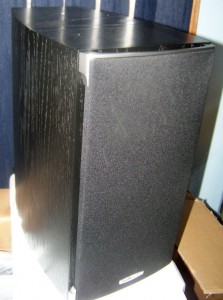 Polk Audio RTi A3 Sound
While at Polk as sales director, Paul DiComo like to "condition" review speakers (his term for breaking in) before sending them out. I was informed that the same occurred with the RTi A3's. But, just to be fair, they went into a closet for a week of continuous playing. I do need to disclose that in April I managed to find a minty pair of Polk LSi9 monitors on Craigslist at a fine price. Therefore, to be fair I didn't listen to music on my main rig with the LSi9's for a few days. I wanted to let the less expensive RTIA3, to stand on their own without any unfair influence. After placing the speakers in the main rig I started with Trisha Yearwood's Songbook cd. My first impression of the RTiA3's, is that of an airy speaker, very light and nimble. Yearwood's vocals came out smooth, the upper treble was quite pleasant yet still full.
Over several days as I listened to my demo cd certain characteristics of the RTi A3 become quite obvious. First, they were definitely designed for receivers as the performance didn't improve dramatically when moving up from my Harman Kardon 680i receiver to the Onix SP3 integrated tube amp. After all, they are 89db and 8ohm nominal. Plus, they are sold in chain stores where home theater receivers are the power sources.
The best vocal performance from my collection thru the RTi A3 was presented by way of Natalie Meanes and the Dixie Chicks in "Wide Open Spaces". The edgy passion of her performance is outstanding. I caught myself in a head nod in appreciation of the Polk's efforts. The timbre and spacious presentation was dead on.
Male vocals across the board were pleasant but not dramatic or attention-grabbing. Both James Taylor and Dan Fogelberg lacked the last wave of richness that I'm used to, but once again I'm accustomed to a doubling of price in my monitors of choice. A perfect example is Mark Knopfler's vocals in "Skateaway" from Making Movies cd. The hint of his British accent didn't quite make it thru. However, the clarity of all vocals (no nasal or fuzziness) makes for an easy and non-fatiguing listening experience.
One area where the RTi series does well is in presenting a large soundstage. The A3's are no exception, the farther apart they were up to 12 feet, the better they performed. Even when facing straight ahead in this wide stance, the RTi A3 had no difficulty finding a respectable center stage point. With an appropriate toe-in, the results improved even more so in placing instruments from left to right.
Wanting to challenge the RTi A3's, I pulled out a classical presentation of Gerswin's magical An American in Paris. I was pleasantly surprised by the clarity of the woodwinds, in particular the oboe performance. The bottom base was lacking, but these are monitors with a healthy roll-off at
50hz. The term "roll off" is not a negative term, it's the nature of speakers, and when done correctly it is considered a strong point of a speaker's characteristics. The RTiA3 when properly placed gets this positive check mark.
Since the Polk Audio RTi A3 can be wall mounted, how good do they sound in that type of configuration? I can't give an exact as I wasn't willing to put a couple of screws in a newly painted wall. I did do the next best thing; I placed them against the wall while on the Celestion Si stands. The results were mixed, mid range vocals became richer, but at the same time the bass lost its tight, punchy effect for a boomy response. Imaging also suffered with a blending of instrument placement. If the RTiA3's are to be your main speaker in a two channel, or the fronts in a 5.1 or 7.1 system, get them on stands and a few feet away from the back wall.
Caveats and Limitations
At under $500, there are significant tradeoffs in monitor performance. The key for any manufacturer is in accenting the strengths so they overwhelm the weaknesses. The clarity of the RTi A3's do a fine job of masking the fact that richness and depth are lacking. The depth that make an audio enthusiast stop in their tracks don't exist, but if they did, then the A3's would be playing in Polk's LSi7 arena, and that would be foolish.
Another caveat is that as good as the left to right accuracy is, front to back depth is lacking. Punchy, impact bass is limited even with the Powerport unless, as mentioned above they are placed against a wall. On the good side, my wife wasn't asking me to turn it down from hearing the "boomy" bass traveling thru the walls. To me, this is a good thing for those of you in apartments, condos, or townhomes where common walls exist.
Being monitors some will ask about near-field listening. In one instance in my family room while doing some wall repair work after having our home re-piped, the RTi A3's were playing and the couch was only 5 feet or so in front of the A3's, and the speakers just 4 feet apart. The result was a boomy and undefined presentation. Therefore, those of you looking for a near-field monitor may wish to do some AB comparing against potential monitors.
Final Thoughts about Polk Audio RTi A3

One of the Goals of Polk Audio in updating to the RTi A line was to reduce unwanted resonance that a traditional cabinet creates. Having owned a previous series of the RTi's I can say conclusively that I heartily agree that they have done a fine job in this area. The A3's give off clarity in bucket loads. Matching up a pair with a receiver will yield quite favorable results without having to empty the wallet for mega-wattage home theater receiver. I found that 60 wpc made for a fine pairing. In a home theater setting, the RTi A3's clarity would make for a fine set of front speakers. Overall, the Polk design team gets a solid nod of approval for improving upon the RTi 6 into the tear-drop RTi A3 with smoother upper frequencies and fine imaging without increasing the cost.
Review Equipment
Onix SP3 int. tube amp
Underwood modified PS Audio Trio C100 int. amp
Modified Jolida JD100 cdp Harman/Kardon 680i receiver Onix CD88 cdp
Celestion Si stands
Promitheus DAC
AudioArt Cabling/Interconnects
from affordableaudio, Mark Marcantonio