Specifications:
Type: Integrated amplifier with remote in Class A/AB, hybrid circuit with input tube stage, bridgeable
Output Power: 2 x 70W @ 8 Ohm, 2 x 130W @ 4 Ohm, 270W in bridged mode (mono)
Inputs: 5 line, including one balanced (XLR) Frequency response: 2Hz ÷ 100kHz
THD: <0.05% Signal/noise ratio: 90dB Input impedance: 100kOhm Retail Price: $2995
Warranty: Three years parts and labor (check with manufacturer for details)
U.S. Distributor:
Musical Surroundings
5662 Shattuck Ave. Oakland, CA 94609 phone: 510.547.5006 fax: 510.547.5009
Italy is well known for its Ancient Roman architecture, rolling hills, fine wines, exquisite paintings, exotic cars, movie directors, clothing designers, incredible cities, romantic language, and friendly down to earth people. You may now add Pathos Acoustics to that illustrious list. Since I'm Italian, my wife has been after me for years to take some time off to fly our family over to Italy. When I do I will try my best to visit the city of Vicenza and hopefully meet with Gaetano Zanini, Gianni Borinato, and Paul Andriolo, the founders of Pathos Acoustics. They are building a new factory that will be five times as large as their existing one. The research laboratory will now be much larger allowing for the various production departments such as woodworking and metal craftsman to have their own spaces in which to work. The city of Vicenza is in the northeastern part of Italy 50 meters above sea level surrounded by hills and mountains. It has a population of about 119,000 people and is less than a one hours drive from Venice's Marco Polo airport. Vicenza is well known for its ancient churches, palaces and other buildings as well as a wall that is still partially standing and at one time surrounded the entire city. If you get the chance go online and see the many beautiful pictures of the city of Vicenza. Peder Beckman of Musical Surroundings, their US distributor, sent me this picture of the Teatro Olimpico or "Olympic Theatre", designed by Andrea Palladio. This was his last work, built in 1585, and is today the oldest surviving Renaissance Theater. I mention all this to give you an idea of the environment of a longstanding tradition of excellence in which Pathos Acoustics is working under. Knowing this it should be no surprise when you see this glorious integrated amplifier that is not only functional but also created with an eye towards beauty as well. Pathos Acoustics produces audio gear with looks that are magnificently inspired like an ancient palace, or an old stone church done in the tradition of the old renaissance masters.
About Pathos
The company was founded in 1994 when Gianni Borinato had an idea for a new amplifier circuit and asked his two friends Gaetano Zanini and Paul Andriolo to help him. At the time he owned a high-end shop in Vicenza, giving them the necessary environment in which to work. The three were amazed at this new amplification circuit they called INPOL (Inseguitore a Pompa Lineare = Linear Pump Tracker) for which Pathos now holds a Worldwide Patient. The following is a quote taken directly from the Pathos website:
"The PHILOSOPHY that accompanies the Pathos brand, "the unorthodox approach", effectively created the benchmark of the business philosophy: the Pathos approach to the reproduction of music does not know any dogmas or rules, but the goal is clear – to reproduce music in the most authentically way. To make products similar or equal to existing on the market does not fit with the Pathos philosophy: every machine planned and constructed by Pathos must contain technological innovation, not innovations as technical exercise, but something capable of offering real advantages for the realization of the original aim "faithfully reproduction of music".

Beyond the technical innovation, of similar importance comes the design and high finish of the products. For many years it seems to be the idea within the audio business – the more ugly the looks the better the sounds. Pathos proved them wrong. Pathos products speak to more of your senses – it is some of the very few products that one appreciates every day. One look at a Pathos product confidence the customer, that he/she has purchased something unique. Sometimes it is better to listen with the eyes open.

All Pathos products are handcrafted in Vicenza Italy. Following a long tradition of Italian craftsmanship. Using only the finest hand selected components to ensure a peerless quality. All products are taken through a carefully test-program to guarantee the quality. Unique products deserve unique treatment."
The above statement speaks volumes about Pathos Acoustics and their design approach. But now it is time to go directly to a discussion of the Classic One MKIII, which is the particular product from Pathos that I am pleased to have visiting with me today.
Pathos Classic One MKIII review
The Classic One MKIII integrated amplifier has both preamp and amplifier sections in a single chassis. This amp is auto biased so there is no need for lengthy adjusting. Inside the chassis, amp and preamp are completely separated from each other with each having their own individual power supplies. The tube preamplifier runs in balanced Class A, while the amplifier is a solid-state high bias current design operating in Class A/AB. This tube/ solid-state hybrid integrated amplifier has a volume control that is both motorized and remote controlled. The remote control unit itself is made out of solid wood that matches the wood trim on the front of the Classic One. This remote is rounded on top, has a flat-chromed surface on the bottom and matching chrome buttons for controls. The remote adjusts both volume and muting while allowing the listener to switch between different source components. It did not take me long to get used to it and after only two or three minutes I found it a joy to use. Being made mostly of wood and slender in design it fit comfortably in my hand. Other manufacturers should take heed when designing their remotes and look to the Classic One for inspiration.
Gazing down at the unit, from front to back, you see two E88CC tubes for the preamplifier section located inside two separate beautiful chromed cages. Situated just behind them are two large attractive red polyester capacitors, followed by an even larger gorgeously chromed cage, where the solid-state output stages are housed. Directly behind this is the power supply transformer, which is accented nicely with chromed top, and matching screws. To the left and right of the transformer are the speaker terminals which are protected by see through plastic caps in order to help avoid short-circuiting. All of this sits on top of a shiny black acrylic plate like a piece of fine art work. On the front of the Classic One going from right to left is a toggle switch that when pushed into the upright position powers on the unit and obviously when pushed down turns the Classic One off. Next is the knob to select sources and again to the left of that another knob for the volume (both which of course can be controlled by the remote control). Finally on the far left side of the front of the Classic One there is a small LCD display that when first powered on displays the letter P. Thirty seconds later the LCD displays a 100-step volume indicator going from 0-99. Anytime the LCD is in use the display brightens until one second after its use when it then subsides. There are five inputs on the back of the unit, which the LCD displays as A1, A2, A3, A4 or A5 depending on whichever input you are using at the time. You must however remember where the CD player, phono stage and the like is connected, as it does not light up and say CD or Phono just A1, A2, etc. If you forget what is where just listen for the music to start as you switch through input selections. It was quite easy really.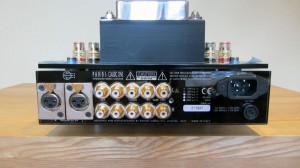 Going around to the rear of the Classic One there is of course the obligatory (at least in this price range) IEC connector for those of use that wish to play with power cords. You will also find one tape out, four RCA inputs, a set of balanced inputs and a fuse holder. Please do not forget to look under the unit, as that is where the switch is located to change the amp to either mono or stereo as desired. Yes the Classic One can run in mono block form so that you may purchase two if one is not sufficient in power for your particular application. Who knows even if you do not need the power of two you may just find the Classic One so beautiful you just must have more than one. For those not too familiar with tube identification, the Europeans use the model number E88CC to identify what we call our 6922 tubes. It is the same tube just either made in Europe or America respectively, while the Chinese typically call these tubes 6N11's.
I started out with the standard power cord and stock tubes but later switched them out experimenting with other power cords and a change in E88CC/6922 tubes. Since I have cords to spare and extra tubes I might as well have some fun. Beside you never know where a change of tubes will take you. That is after all part of the fun of owning a tube or tube/ hybrid amplifier. The stock tubes though were some very good JJ E88CC's (made in the Slovak Republic). This particular review sample was one that had just been returned from another reviewer and therefore completely broken-in by the time I received it. That being said I can bypass the usual break-in process and comments that normally accompany it.
Pathos Acoustics has an assortment of products to choose from. One such product, which is built to perfectly match the Classic One in shape and size, is the Digit CD player. Both the Classic One and the Digit are narrower and longer than most components. They are designed to fit on one shelf, side by side, taking up space normally used for just one standard sized component in width though slightly longer in depth. Space saving, I like that approach. If for some reason that is not enough CD performance for you than you may step up to a higher level with the Endorphin CD player. Pathos also has a mono block power amp called InPower as well as their InThe-Groove MKII phono stage.
Three other more expensive integrated amplifiers are the Logos, T.T. and InPol-2. As for a preamp they designed one appropriately named InControl. Those of us with home theater in mind should not feel left out as they also make the Cinema-X, a remote controlled 5-channel integrated amplifier.
I decided to start with a session of vinyl recordings; after all we are talking tubes here. I pulled out Muddy Waters, The London Sessions, which stars of course Muddy Waters and an all-star cast alongside him. Glancing at the credits I see Steve Winwood on piano and organ, Mitch Mitchell on drums (before he joined the Jimi Hendrix Experience) and also drummer Elvin Hones who did some work with B.B. King. These and others help make this album memorable. Muddy Waters unique vocal talent and incredible slide guitar are certainly the star of the show here, but the others come forth and display their incredible talents as well. With "Walkin' Blues" we are treated to a band-less duet of guitar solos by Muddy Waters and Sam Lawhorn. One thing the Classic can do in spades is to allow one to connect with the performers on a very real level. You can easily sense if they are just going through the motions or are really into the session. This group of English rock musicians and Chicago blue stars seemed to be in perfect sync for their performances and the Classic One shows us so with its ability to produce intimate details. Listening to "I'm Ready" the Classic One does a great job of keeping up with the quick guitar work of Sam Lawhorn. Also of note was the ability of this Italian beauty to reproduce both horns and harmonica found within this song. It is always clear to the listener whether they are playing Trumpet, Trombone or Tenor Saxophone even if they just play softly in the background.
I like Billie Holiday and her "Body and Soul" album found on vinyl is indeed a gem. Here on "Comes Love" the Classic One gives us an ultra smooth horn solo while the drums play softly in the background. The guitar solo is clear yet sharp while the texture of her voice is nicely captured. I felt as if Billie Holiday had shut down the club and was performing after hours for a small intimate group of friends. In contrast listening to "Gee, Baby, Ain't I Good To You" which shows that she can belt it out with plenty of soul when needed. With this the Classic shows its ability to play softly with its tube influence and still have the ability to power it up with the solid-state amplifier section when needed. Piano, guitar, sax and trumpet solos are again distinct and very life-like.
If you have not heard the 200-gram vinyl recording of Traffic's, The Low Spark Of High Heeled Boys, with Winwood and Capaldi it is a must listen to album. With the song "Rainmaker" the drummer gives you bass so powerful that you can feel it in your chest. Again stereo separation was another strong point especially with the duet in the beginning. On "Rainmaker" the Classic One controlled my three 15 inch speakers quite well, which was a pleasant surprise as that is not easy task to accomplish. "Hidden Treasure" is a song where the Classic One seems to float both vocals and flute in the air in front of us as the rest of the band plays gently in the background. We are talking major tube style smoothness here.
I have mentioned before that I like James Taylor's brother, Livingston Taylor, and his CD "Our Turn To Dance". Never have I quite heard it portrayed so nicely as I have with the Classic One. The background was silent and Livingston's voice appeared seamless and smooth. In this song I noticed the Classic One's ability to display great stereo separation. The female vocals in the background, while soft, were very clearly defined. Here the Classic One gave me a different emotional experience that I had not felt when listening through other amplifiers. It was like I had never before quite understood the emotional content Livingston Taylor was trying to impart with this song. It wasn't in the details but rather the emotional impact within the words that made the difference.
Moving onto the Rolling Stones hybrid SACD/ Redbook CD, Beggers Banquet, the song "No Expectations" with its two simultaneous guitar solos playing out of the left and right speaker respectively was fabulous. Mick Jagger's voice was dead center between the two and all three were clear and well represented. Even when playing guitar slides or those very high notes the music did not sound shrill or etched. As good as the Classic One was with vocals and solo instruments you could still get up and dance when listening to the Rolling Stones Let It Bleed SACD/ Redbook CD performance of "Midnight Rambler" with it's fast and powerful beat. The French horn and guitar solos in "You Can't Always Get What You Want" were clear and you could hear each one distinctly from either speaker. Stereo separation with this integrated amplifier was always excellent. Even when the entire band joined in the Classic One had no problems with placing the individual performers clearly on stage.
I just could not resist playing my favorite Italian tenor (Andrea Bocelli) through my favorite Italian integrated amplifier the Classic One. I thoroughly enjoyed these two Italian masters of their craft expressing themselves through the universal language of music. Bocelli's CD, Amore, was such a great joy and with each song I felt connected to the singer with the help of the Classic One. Andrea Bocelli was born in 1958 in Lajatico, Italy located in rural Tuscany about 200 miles from Vicenza where the Pathos Acoustic factory sits. Listening to Bocelli with the Classic One I could close my eyes and imagine myself outdoors at a large table with three generations of family eating soulful Italian dishes, drinking wonderful Italian wines while conversing in Italian, as Bocelli would be heard singing in the background in his incredible tenor voice. Why this magnificent imagery alone has just saved me a trip to Italy and thousand of dollars that could now be spent to actually purchase a Classic One or its companion the Digit CD player. Luckily for us we don't have to speak Italian or go to Italy to enjoy Bocelli, just buy the Pathos Acoustic Classic One MK III and let Bocelli whisk you away to a magical Italian scenic countryside whenever you desire.
Towards the end of this review I experimented with difference tubes, power cables and interconnects just to make sure I had heard the Classic One MK III at its best. My cables of choice turned out to be PS Audio Transcendence Silver Interconnects for CD playback and the Anti-Cable Digital IC between transport and DAC. The Oracle Turntable was connected to the Whest phono stage with some homemade cables then to the Classic One with Xindak FA Gold interconnects where they worked superbly. Speaker wires were Anti-Cables while power cords plugged directly into the wall via a PS
Audio powerport was surprisingly enough the over achieving Monarchy Audio AC-1 listing for only $89. The AC-1 did not dig out the lowest bass notes that some more expensive power cords could but it was quick and smooth while allowing for a nice open soundstage. The original power cord though was already a good match for the Classic One and should also not be overlooked. The tubes that I found to be best suited within my system, were the Amperex 6922 PQ Gold Pin White Labels made in the Holland factory. The Amperex 6922's were just glorious in that they added depth to the soundstage as well as details at the higher frequencies. The Amperex's did all of this while still retaining all the glory and impact from the bass. The Classic One was now showing us its full potential were as before we had only glimpses of the full scope of what it could really do. Naturally Pathos Acoustics' cannot supply all its customers with these NOS tubes, as they have not been made for over 40 years, yet one can still find them on the Internet if you look carefully. The choice of JJ tubes was a very good one by the manufacturer as they are inexpensive, reliable, good sounding and much more readily available. You can do better though with the Amperex or other NOS tubes as you custom tailor the sound to your liking while complimenting your particular room and associated equipment.
Final Thoughts about Classic One MKIII

I for one would love to own the Classic One, as it has been a joy to listen to in my main system over the course of this review. The Classic One commands a powerful 70-watts at 8-ohms/130 at 4-ohms and can be matched to a CD player of similar size (the Digit). It has the power of solid-state yet retains the smoothness of tubes. It does all of this yet is housed inside a visually stunning design with a very unique and compact footprint. I want to thank all those at Pathos Acoustics for making this possible as I'm not sure what else one could possible want, except for maybe the matching Digit. Buy the Classic One and have fun or if you must, buy two.
The Listening Environment:
The listening room is 18 feet 8 inch long by 13 feet wide. The room's cathedral ceiling starts at 8 feet high then slopes upward to 13 feet at its peak in the middle. Flooring is a soft hardwood covering with an oriental rug placed dead center in between (but not under) the listener and the audio system. There are no doors that open or shut into other rooms also there are two large openings one facing the speakers and the other to its side and slightly in front of the right speaker. I have a nice snug fireplace opposite this opening and in front of the left speaker. As for my audio equipment it is tucked nicely inside of a Cherry Synergy Twin S30 Salamander audio rack.
Review equipment:
Sony DVP-S7700 CD/DVD Player (used as transport only) Monarchy Audio Dual 20-Bit D/A Converter
Oracle Delphi Mk I turntable with custom made interconnects
Grace 707 tonearm with Denon 301 II MC cartridge Whest PhonoStage.20 + MsU.20 power supply Xindak Gold Series Interconnects
Legacy Focus 20/20 speakers
Acoustic Revive RTP-4ultimate Power supply box
PS Audio Power Port Receptacle Anti-Cable speaker wire 10 foot pair Anti-Jumpers for Legacy speakers
Anti-Digital Interconnect single-shielded 1.5 meters in length
PS Audio Transcendence Silver interconnects Monarchy Audio AC-1 power cord one 6 foot length (2) Blue Circle BC86 MKIII power line pillows (2)
Mr-Cable Musician power cord 9 foot length Black Diamond Racing Cones (#3 & #4) Audio Prism IsoBearing (Isolation Globes)
Cherry Synergy Twin S30 Salamander audio rack
External link: Classic One MKIII @ Pathos website
from affordableaudio, By Anthony Nicosia