Introduction: I have owned various AV123/Onix products over the past several years. Recently had the honor and distinct pleasure of meeting Mark Schifter, President, CEO and founder of AV123 when I hosted an AV123 Chicago Get Together (GTG) in December 2006, where the Mini was brought in for the GTG as one of the featured items. I was also lucky enough to have the Mini's for the evening after the GTG was over for some one-on-one extended listening time before they had to be returned to their rightful owner.
Mr. Schifter (MLS), continues to push the envelope with products like the Strata Mini with an unbelievable price tag of $1,995. It is refreshing and inspirational to meet someone so passionate and genuine about his work to provide true hi-end audio at a price that people like myself would otherwise not be able to afford.
Onix Strata Mini review
Let me preface this review/impression by saying that I'm a newbie as far as reviews go. I know what I like in a loudspeaker when I hear it, but putting impressions, nuances, and general sound quality interpretations to paper with enough clear expression that elicits the feelings of the reviewer is very difficult to do in my opinion. With that in mind……
Onix Strata Mini – These speakers are simply stunning. The fit and finish is stellar and far exceeds the asking price alone in terms of their artistic beauty.
Onix Strata Mini Setup
The setup of the Mini with the powered woofer provides different options for hook-up. These different options are highlighted in the Strata Mini Enjoyment Guide (owner's manual) where the connection options are clearly explained. The Guide also provides tips on speaker placement and integration. I also found useful tips from other end-users on the AV123 Website Forum for setup. After a little trial and error/ experimenting with distance of the Mini from the wall, toe-in and the amp plate settings, the Mini's were ready to rock. The settings I ended up with included the Guide's "recommended" connection method -Freq. at ~120Hz, Phase at ~90 degrees, and volume just a hair past 12 o'clock. I had the Mini's placed approximately 24 inches from the wall with toe-in at approximately 10 degrees.
My critical listening was performed with several SACD's played full range stereo and in source direct mode on the DMC-1. Music included: James Taylor – Hourglass (Gaia – one of my particular favorite reference tracks); James Taylor – October Road; Norah Jones – Come Away With Me; Eric Clapton – Slowhand; John Mayer and Ray Charles. Then I hit a few harder tunes from Pink Floyd – Dark Side of the Moon; and Alice in Chains – Greatest Hits.
Listening/Sound of Onix Strata Mini
My first impression and what I came away with when I queued up the Mini's after dialing in the settings was simply an amazing listening experience!
Midrange and Highs – Dynamic, yet refined. The music just floated in the air, no directionality to the sound (from the speakers), except for instrument placement, as it would be in a live jam session. I felt at times that the music was coming from behind me and on several occasions I had to check to make sure that I had not mistakenly put the player into multichannel playback mode. I heard subtle nuances in music passages that I had not heard before with traditional driver loudspeakers. The planar midrange driver and tweeter just sang so effortlessly. The imaging and soundstage that the Mini threw was huge and had great depth yet was spot-on when representing the placement of a particular instrument or vocal in the band be it right in front of you or in the background. The balance of the mini from top to bottom was smooth as silk, flawless! This is where I think that this speaker really kicks it into high gear and surpassed all my expectations. Obviously, much detail was given to the balance and presentation of this speaker and how the planar tweeter and planar midrange drivers blended with the mid-bass and powered bass drivers. My first thought was, this is what a speakers is meant to sound like when implemented correctly, perfect balance – the speaker and separate diver components effectively disappeared.
Bass – well, the Mini plays fast, deep and crystal clear with an emphasis on fast and clean. Listening to James Taylor's Gaia, about four minutes into the song there is a drum riff that hit me by surprise in the chest. I had to replay this passage a few times to "feel" every aspect of the music and it was as much emotional as it was physical – an adrenaline rush! Oh, and did I mention that the Mini is fast and clean!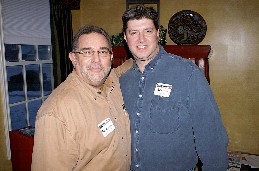 The Mini's excelled in all aspects of music reproduction, especially for a twochannel system setup. I also wondered about them being used in a home theater application since they sounded so pure and clear and seemed to have the base to back it up. My questions were answered when the Mini's held their own when I put on Pink Floyd and Alice in Chains – rock the house and enveloping! If balanced detailed fullbodied sound is what you are after then, in addition to the obvious 2-channel application, the Mini should definitely be considered for HT and multi-channel music listening applications.
Conclusions about Onix Strata Mini
This Strata Mini is the real deal! What an experience being able to hear such a high-end speaker in my own room. By far the best sounding speaker I have listen to on my system, not to mention that they are just simply unbelievable looking……a beautiful work of art!
If I only had the space for a dedicated 2-channel setup, I would have a pair of Strata Mini's for sure. When I upgrade my current HT system, the Strata Mini will definitely be on my short list, especially given the price…..simply amazing!!!
Associated Equipment:
Emotiva DMC-1 Preamplifier/Processor
Onkyo DV-SP1000 DVD-Audio/Super Audio CD Player;

Classé Audio CAV-180 Power Amplifier
Richard Gray RGPC 400 Power Conditioner
(picture: left Mark L. Schifter, EricPowley right)
from affordableaudio, By Eric Powley