Budget USB-powered outboard DAC's seem to be coming all the rage. At a recent meeting with a client at a coffee shop in a rather bohemian-style section of Portland, Oregon I counted four people using such devices. Even before then I would spot one among all the customers using smart phones for personal music. The size of these units goes from that of a memory stick, to the size of a deck of cards. The Musiland Monitor 01 US/USB is equal to the latter.
Specifications:
High Speed USB Connection
Independent APU MU6010 for 24 bit/192kHz audio processing
Optical toslink digital output
Stereo RCA, 3.5mm headphone analog output PLUSE high quality digital power management Support 24bit/192kHz digital output
Specialized ASIO driver – support Windows XP, Windows Vista and Windows 7
Aluminum alloy chassis for minimum interference
Interface: USB 2.0
Maximum sampling rate: 24bit/192kHz
Digital output: Optical toslink
Analog output: Stereo RCA, 3.5mm headphone
Digital S/N: 140dB (A-weighted)
Digital dynamic range: 140dB (A-weighted)
Distributor: Gateshop on Amazon.com
Price: $107.99
Musiland Monitor 01 US/USB DAC review
Housed in an metallic metal casing that is rounded along one edge, the Musiland Monitor 01 US/USB is a rather easy to distinguish when digging it out of a backpack, or carry bag, the right side edges are a bit sharp, so be careful if you plan on carrying it in your pants pocket. On one short side is the single input choice of USB; an optical output also is found. The opposing side holds the RCA outputs as well as the mini-headphone jack. Volume is controlled via your computer.

Cracking open the case involves the use of a micro hex style screwdriver, then sliding out the board by gripping the top and bottom sides. The Musiland 01 US/USB board has a nice, clean layout. No solder dribbles and all chips and components were securely in place. The RCA jacks had no give when plugging in the interconnects.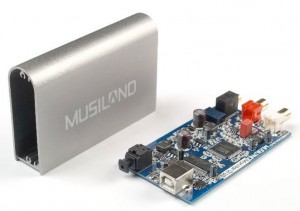 It's important to note that this model is a Windows-only device as purchased. I would bet that some savvy programmer type has created a Macintosh driver, but it's up to you to discover it. Installing the Windows software was straightorward enough for this reviewer on a generic tower running Windows Vista; however, others have reported on various forums that sometimes it takes a few tries. Important to note is that the software provided works differently than typical DAC drivers in this price range. Instead of allowing the DAC to have music "pushed" to it, this software goes and "pulls" the music out, known as asynchronous conversion. The benefit is the DAC gets info at a speed it can process it at, instead of it lagging or having the buffer operating at sub optimum rate.
Listening Musiland 01 US
The Musiland Monitor 01 US/USB is capable of playing up to 24/192 digital files via the APU MU6010chipset and PCM 1793 DAC. Musiland claims an A-weighted signal to noise ratio of 140db. I will say that this unit was not as quiet to my ears as the Audioengine DAC1 that I reviewed in issue 62 that was listed at 110db.
Once operational the Musiland Monitor 01 US/USB does provide an improvement over the straight output from the computer.
More detail is fleshed out from the digital stream. Carly Simon's "The Right Thing To Do", the piano notes have a stronger strike to them with the DAC in place. The chorus later in the same track details a greater separation between Simon and the background singers. The guitar picks that open the song "Anticipation" had more depth to them via the Musiland 01 US/USB. Farther into the song the tambourine shimmer loses it's tinny edge. Once again this DAC takes the first step in improving the listening experience.
Much the same improvement can be found listening to Alan Parsons Project album Pyramid. The opening track "Voyager" combines synthesizer with brush on cymbals and drumstick on snare rim. All three are a bit grating together even with the Sennheiser HD650 headphones coming directly out of the computer's audio out. With the Musiland 01 US/USB the results are a step up from the built-in audio output. Bass punch in "What Goes Up…" gains a bit of tightness, though compared to the Audioengine D1 at an additional $100 still fails short. But once again, over the audio output jack, it's a welcome improvement.
Most of the music we hear comes from the midrange and the Musiland Monitor 01 US/USB consistently improves the listening experience. The saxophone from Pyramid's "One More River" adds in additional detail and gives the instrument some sense of detail. The vocals in "Pyramania" as well as the tapping of the electric keyboard notes loses the harshness that makes one grateful for off­-board DAC's.
Playing the small collection of 24/192 files, once again the improvement is noticeable, but if one has money for purchasing such files, it's only fair that the individual has the necessary funds to purchase a portable DAC a few notches up the performance scale.
Final Thoughts about Musiland Monitor 01 US
As the review process went on I listened to both a variety of jazz and symphonic music. Much like with both Simon's and Parson's work there was definite step up from the standard audio output. Will it make me put my Cambridge Audio DACMagic up for sale on Audiogon? Nope, but as a sub $100 starting point for improving computer audio reproduction on Windows-based computers it's a definite option. Now, if Musiland would just develop a driver for Macintosh owners.
By Dan Nielsen affordableaudio
external link: Gateshop on Amazon.com
external link: Official website of Musiland in China