Features And Specifications:
4 x Stereo Line RCA Inputs TRIODE -UL Switching RECORDING OUT SUBWOOFER OUT TAPE LOOP (Insert) with Bypass switch
Passive Noble Volume and Balance Controls
All-Vacuum Tube Lo-feedback Stereo Integrated Design Output Tubes: 8 x EL84 Ships with Russian NOS EL84M (aka 6Pi14Pi-EB) (We are out of Ei 6BQ5)
Driver Tubes: 2 x 6414 Ships with GE or RAYTHEON JAN NOS USA or 6414W
Input Tubes: 2 x 12AT7EH Ships with: 12AT7EH large plate Electro-Harmonix Russian
Maximum Output Power UL mode: 40 Watts x 2 channels
1.5% THD @ 1kHz
Maximum Output Power TRIODE mode: 20 Watts x 2 channels
Frequency Response: 15 Hz -40 kHz, -1dB Gain: 37 dB at max Volume
Input Sensitivity: 185 mV in = 50 watts out into 5 ohms Input Sensitivity Triode: 66mV in = 1W into 8 ohms Input Sensitivity UL: 53mV in = 1W into 8 ohms
S/N Ratio: typically 87 dB A-WGT, 20Hz-20KHz
Input Impedance: 50 Kohm nominal
Optimum Speaker Load: 5 ohms
Actual Output Impedance at 20Hz: 2.8 ohms at 100Hz: 2.6 ohms at 1KHz: 2 ohms
Damping Factor: 5
Power Consumption Idle: 200W
Maximum Power Consumption at Full Power: 370W MAINS Fuses:
100~120VAC operation: MDL 3 AMP / 250 Volt SLO-BLO
220~240VAC operation: MDL 1.5 AMP / 250 Volt SLO-BLO
B+ FUSES (2): MDA 1/4 AMP, 250 Volt SLO-BLO, Ceramic. (Located internally)
Power Supply: is factory set for 100V, 120V or 220-240VAC operation for original destination country's mains voltage.
Operating Mains Voltage: changeable with power transformer re-wiring on PCB and fuse value change. Mains Voltage Frequency: 50~ 60Hz
Power Cord: Detachable IEC standard.
Appropriate power cord supplied for destination country
Dimensions: W= 19″, D=14″, H=5 ½" Shipping Weight: 30lbs.
Price: $2250
Here I go again putting on my diving gear so I can take a playful romp with my friends in the ocean. In the October I wrote about the Manley Labs Shrimp tube preamplifier ($1880) and what an amazing journey it is to browse through their online website. I was so taken by the Shrimp that EveAnna Manley, the President of Manley Labs, offered me up another one of her friendly sea creature products for review. This time instead of the Shrimp it was the Stingray. The Stingray is a tube integrated line level tube amplifier (phono stage not included), priced at only $2250. As of late I have been reviewing quite a lot of integrated amplifiers. I find that they are a great alternative for those who do not want to pay the bigger money for separates. Couple this with taking up less space in our audio cabinets, the need to buy less interconnects, power cords and the ability to use smaller power conditioners and you wind up saving a good deal of your hard earned money.
On your amazing journey through their vast website it is in the Manley audiophile hifi gear page that you will find the Stingray and other home audio equipment. Once there you will notice that Manley Labs just loves tubes, which is quite evident by the amount of tube gear they are offering to the public. The great thing about a manufacturer that has so many tube pieces is that they understand how to design and to build them. Tube equipment is their bread and butter, not just an afterthought to fill in the product line so they can say that they have a little bit of something for everyone. Their confidence in the finished product is evident when Manley Labs stands behind the Shrimp with a 90-day limited warranty that is extended to a full five years (The warranty is to the original purchaser and must be accompanied with proof of the date of purchase.) and all you need to do is to fill out the warranty card and send it in before 30 days expire. Five years, you've got to love it in an era where one to three years is quite common.
Manley Stingray review
Unlike its counterpart dwelling on the ocean floor, EveAnna's Stingray is comfortable in your homes and on dry land (In fact please do not get them wet). When I reviewed the Manley Labs Shrimp Preamplifier it came in an attractive box style setting yet the Stingray is a different matter altogether with its distinctive shape. Just to remind us what an actual Stingray looks like there is a sketch of one on the very front top of the amplifier. EveAnna's Stingray sports eight EL84's, two 6414's and also two 12AT7EH tubes. Twelve tubes in all for more of that magical "glow" that us tube lovers find so exciting.
Located in the shipping box sent with each Stingray is of course an owners manual and a six foot IEC-3 conductor power cord that the manual says you will probably replace with an expensive audiophile cord anyway (which is a good idea if your budget will allow). The good folks at Manley Labs will also include a meter to help you with the biasing of your tubes on your new amplifier. You will notice that the Stingray's on/off power switch is located in the rear of the unit next to the power cord inlet. It is a rocker switch that turns on by flipping it away from the power cord and off by flipping it toward the power cord. On the front panel are balance and volume knobs made of high quality ALPS products. EveAnna told me that they scrutinize the pots so hard and match them up for best tracking "to the point of taking them apart and matching the individual channel elements for best best best channel to channel tracking". While these knobs are not as large as the one found on the Shrimp preamplifier they still had the same shape and feel that felt so comfortable in my hands. In between both knobs is a backlit panel that lights up the words, "Manley Stingray". This panel uses super bright LEDs, not incandescent lamps, for longer life. I would also like to mention that on the bottom of the Stingray are four built in cones with the points all facing downward. It is nice to see a manufacturer who understands that people have an interest in devices that help alleviate vibration from our systems and provide that nice finished touch included in the price.
With the Stingray in a dark room with its tubes glowing you will notice that the eight EL84's form a V shape starting with the outward tubes nearest you and moving into the center where they are farther away. Four tubes on each side nothing dead center. This I found to be visually appealing and quite different. Then there were the two 6414 tubes one on each side near the center of the EL84's behind and partially hidden by two 12at7 tubes located in the very front. All the tubes gave off a nice glow that tube lovers are sure to appreciate, all except the 12at7's, which seemed barely lit yet worked perfectly.
Looking once again towards the rear of the unit you will notice a "sub out" output. Those of you who wish to use a subwoofer to coax more "bottom end" out of your system will find this a joy to have. Hook this up to the subwoofer and the Stingray's volume control will now also control your external powered subwoofer. One note from the owner's manual about this, "Remember this is a LINE LEVEL output, not a speaker output. If your subwoofer only has speaker level inputs on it, then you need to drive it with the speaker outputs on the Stingray."
Two more switches on the rear of the unit, which should be discussed before we move on, are the Loop Return and Triode/Ultralinear Switches. The loop return switch can be used if you want the Stingray to be used as a stereo power amplifier. To do this just set the switch to Loop Active. Set this way both the Volume and Balance knobs on your Stingray still function but now you can connect it to an external preamplifier or a Home Theater surround sound processor. The triode/ultralinear switch can be used to suit your speakers/audio system but Manley Labs warns never to switch it up and down rapidly as the high voltages on this switch might blow something up rather quickly. Basically speaking you can get around 20 watts of triode power, which tends to be delicate and refined as apposed to about 40 watts of ultralinear sound, which is more dynamic or aggressive. The strong point of running the amp in triode mode is to get a mid-range magic sound, provided your speakers are fine with 20 watts of power. For the purposes of this review my results were attained in triode mode, as my Legacy speakers are efficient enough with a sensitivity rating of 96dB/2.83 V/m.
As I have said before, always read the owner's manual first, for safety reasons, and in the case of the Stingray also because there are a lot of great ideas inside. This manual is very detailed and my guess is if you are not certain or have questions about anything you can just call Manley Labs, as they will gladly try to help. This manual consists of 22 pages with even a chapter on "Optimizing Your Sound System" which talks about speaker placement, room acoustic treatments and room decorations to help tame your rooms acoustic properites and make your equipment sound better. I have got to tell you I like this manual, as it is both fun and informative.
Moving on to an older Tracy Chapman CD (Tracy Chapman) I started with the song, "Mountains of Things" I found the Stingray to be quite musical. It had a nice naturalness and depth to the music that made it very unique for integrated amplifiers in this price range. Not having heard Tracy Chapman in years revisiting her with the Stingray made me realize what was so special about her voice and why I initially liked her. There is something magical about her singing voice that people like immediately upon hearing it. With the song, "Mountains of Things", the soundstage is wide and imaging within it is excellent. Percussions sound particularly good with the Stingray and once again her voice retained its unique ability to draw you into the music. With the hit song, "Fast Car", her acoustic guitar is detailed but not too analytical, rather it is more euphoric in a good way.
I like James Taylor and his New Moon Shine CD is packed with Taylor's unique talent. One of my favorites from this CD is "Shed A Little Light", a song about the great humanitarian, Martin Luther King. With the chorus, both male and female, the layering of voices is a joy to listen to. Clarity and midrange magic galore abound in this song and the Stingray does a nice job of capturing it all.
Herbie Hancock does a song with John Mayer called "All Stitched Up". This song is musically satisfying with great pace and timing. When listening through the Stingray, the word magical comes to mind. Threedimensional depth within a nice soundstage, a great upper bass drum performance and the ability of the Stingray to layer the sound makes this song one you will want to hear over and over. With both male vocals singing simultaneously it is very clear where they are on stage as the singers voices take on a holographic tone.
Weather Report's Heavy Weather CD showed how the Stingray excelled at imaging, soundstaging and depth. When listening to the song "Paladium" the part when the live audience was applauding, in the very beginning, it was extremely three-dimensional and spacious. The Congo solo also had a depth to it that many solid-state amps costing much more could not get right. This really is one good sounding integrated amplifier.
Taking a small break from my CD collection I decided to spin a little vinyl. How your Stingray will sound with records will of course be very dependant on your phono preamp as it is a line-level only integrated amp. Still I felt obligated to test it out, as I am quite confident that the purchaser of a Stingray will naturally have a record player, what tube aficionado would not? If not initially hopefully you will buy a turntable sometime down the musical road. Rickie Lee Jones's Pirates album is not as famous as her first but one that I like nevertheless. Here her voice goes from soft to loud without any apparent strain. While the line from "Pirates" talking about," a 57 Lincoln" reminds me of the days when tubes and vinyl went hand in hand, those pre CD days of yesteryear. With the Stingray playing vinyl the horn section was more subdued, smoother and more enjoyable then with CD's. This, of course, was a good thing. Not to dwell too long with my record player, but I had to play a Bob Dylan classic, "A Hard Rain's A-Gonna Fall". The sweetness of the EL84's softened Dylan's voice just enough to take some of the hardness out of it. Instead of giving the song a biting edge the tubes helped him sound more compassionate, a change I liked. With the Stingray you got the feeling he was emphasizing the compassion he felt for those that life has given the hard road to rather than the distain he felt for those who did not care for the misfortune of others.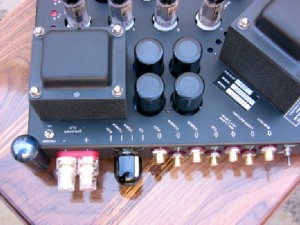 Now getting back to CD'S, those of you who read my reviews know I just love Buddy Guy and when he sings, "Now You're Gone" his voice is alive. Guitar is detailed yet slightly euphoric and the background vocals layered nicely to give you that you are there magic. The Stingray really is excellent for Blues and Jazz as it makes you connect with the performers, to cry or be sad right along with the best of them, which is what that musical genre is all about.
Judd and Maggie singing the song "Perfectly" is a pleasure to hear. With this the Stingray shows how to handle the decay of guitar notes or voices as they are left floating in the air for just the right amount of "hang time". When singing "Can't you see me I am right in front of you?" it reminded me of the Stingray. This amp/preamp package, while not large in stature or weight, certainly shouts out to let you know all its sonic virtues and I for one am glad it does.
All the good people at Manley Labs have really got to stand up and take a bow for what they have put together for only $2250. Here you have an integrated twelve-tube amplifier that really should be selling for way more of our hard earned dollars. The magical way it layers individual voices and instruments on a wide, deep soundstage coupled with a strong mid-bass presence is more than you should expect for this type of money. You could easily spend more for a separate tube amplifier plus tube preamp while then being required to invest in extra interconnects and having to find more space within your audio rack (which might necessitate you buying a rack with more shelves thusly spending even more money). The Stingray gives you a great performance at a reasonable price, while coming with a five-year warranty from a reliable and very knowledgeable manufacturer of excellent tube equipment. Couple this with the fact that you just might be saving Stingray's from becoming an endangered species, by not buying them, and you have another reason to purchase yours today. Once again I have discovered a product form EveAnna Manley that I am going to find difficult to return to sender.
The Listening Environment:
Ok I know, Anthony when are you going to add some acoustic treatments to your listening environment? I am seriously considering this and hope to get a manufacturer to allow me to treat my room for a review. The theory being that once my wife hears how well the sound has changed she will run to the bank to pay for all this. Well maybe she won't run but I might once I get her ok. Until then the listening room is still 18 foot 8 inch long by 13 feet wide. The room's cathedral ceiling starts at 8 feet high then slopes upward to 13 feet at its peak in the middle. Flooring is a soft hardwood covering with an oriental rug placed dead center in between (but not under) the listener and the audio system. There are no doors that open or shut into other rooms also there are two large openings one facing the speakers and the other to its side and slightly in front of the right speaker. I have a nice snug fireplace opposite this opening and in front of the left speaker. As for my audio equipment it is tucked nicely inside of a Cherry Synergy Twin S30 Salamander audio rack.
Review equipment:
Sony DVP-S7700 CD/DVD Player (used as transport only) Monarchy Audio Dual 20-Bit D/A Converter
Oracle Delphi Mk I turntable with custom made interconnects
Grace 707 tonearm with Denon 301 II MC cartridge Whest PhonoStage.20 + MsU.20 power supply Whest phono stage interconnects
Xindek Gold Series Interconnects Klipsch Klipschorn speakers Legacy Focus 20/20 speakers
Acoustic Revive RTP-4ultimate Power supply box
PS Audio Power Port Receptacle Anti-Cable speaker wire 10 foot pair Anti-Jumpers for Legacy speakers Anti-Interconnects (2 pairs)
Anti-Digital Interconnect single-shielded 1.5 meters in length
Monarchy Audio AC-1 power cord one 6 foot length (2) Blue Circle BC86 MKIII power line pillows (2)
Tek Line PC-8 Signature Power Cords 6-foot length
Mr-Cable Musician power cord 9 foot length Black Diamond Racing Cones (#3 & #4) Audio Prism IsoBearing (Isolation Globes)
Cherry Synergy Twin S30 Salamander audio rack
from affordableaudio, By Anthony Nicosia