Specifications:
POWER OUTPUT: 30 watts per channel @ 0.3% THD?
VINTAGE: ~1977
INPUTS:
PHONO 1 & 2 (both moving magnet) TAPE MONITORS 1 & 2
AUXILLARY FEATURES:
PREAMP/POWER AMP JUMPERS BASS & TREBLE CONTROLS LOUDNESS & HIGH FILTER BUTTONS MODE: MONO/STEREO (with FM muting) VOLUME & BALANCE CONTROLS
SIGNAL STRENGTH & CENTER CHANNEL TUNING METERS HEADPHONE JACK
SPEAKER SELECTOR: A,B, A+B
METAL CASE WITH WALNUT ENDCAPS DIMENSIONS:
APPROX. 19 3/4"W X 5 3/4"H X 13" D APPROX. 25 LBS.
Let us observe a moment of silence for Kenwood, a once great company that has since abandoned the American home audio market (I believe they still sell car stereos). From the early seventies to the mid-eighties Kenwood (originally known as Trio) battled toe-to-toe with the likes of Pioneer, Marantz, Sansui, and Technics among others, for marketplace dominance. Oddly enough, while they were known early on for having superior tuner sections, their receivers somehow never garnered the acclaim that their fine integrated amplifiers received. I find this puzzling on two counts: first, I always thought that their receivers in general and this series in particular were among the best looking on the market in an understated sort of way, they were far less ornate than the Pioneer's or Sansui's and less industrial than the Marantz line. Secondly, having rehabbed both their receivers and their integrated amps, I can attest that the receivers were built in the same fashion as their amps.
Kenwood KR-4600 review
This particular model, the KR-4600, was made sometime in the late '70's and was in the bottom half of their lineup. Unfortunately I haven't been able to find more detailed specs on this model. I know the model below it, the KR-3600, was rated at 22 watts per channel and the next model up, the 5600, was rated at 35 wpc, so I'm guessing that the 4600 was rated at about approximately 30 wpc. With all the other ratings your guess is as good as mine. I find it perplexing that even among active companies there are only a handful that maintain archives on their discontinued models.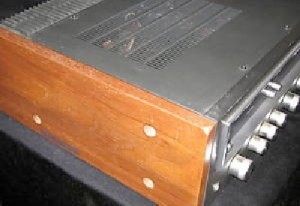 The KR4600 is of the era when stereo construction was all discrete components and completely analog. The build quality is very robust and top-notch, and borrows a trick from its integrated cousins: to minimize the wire run lengths, the 4600 performs all switching right at the source near the back panel and uses long shaft extensions to the front panel knobs. To go to such lengths on a receiver that probably cost around $300 or so new speaks volumes (no pun intended) for the engineering and quality that were built in.
The KR4600 was (and is) a great entry-level component. Because it has preamp and power amp jacks, connected by jumper wires, this allows a pathway to future upgrades. The option is yours you can either add a more powerful amp or simply the connect a powered subwoofer for a nice sonic upgrade. Every one-piece amplifier or receiver should have these features. Especially ones that are relatively low-powered. Alas, it's often ruled out as too much expense. Kenwood did it right. I could recommend this model for that feature alone, but lucky for us it has other things going for it as well.
Another unusual feature, in this price point, is two separate phono inputs. I haven't found any info on that can differentiate them, so my guess is that they're both designed for moving magnet cartridges (or high output moving coil types). There are also two tape monitors (though dubbing is in only one direction) and an aux. Input. All of this makes the 4600 a very versatile for a receiver and slightly higher than "entry-level."
I bought this unit on eBay for about $56 including shipping, a bargain compared to what the more sought-after Sansui and Marantz models go for. It is cosmetically perfect but had the two most common problems of vintage receivers: dirty pots and switch contacts (only one channel played cleanly) and some burnt-out dial bulbs. I haven't yet fixed the latter problem (I don't listen to the radio) but a couple applications of Deoxit on the controls had it singing like new.
The Sound
For $100 or so today you can buy a 2-channel receiver sporting a 100 wpc rating that would seem to be a steal until you crank it and find that they tend to sound edgy and harsh with high levels of hiss. Circuit chips and op-amps bring the cost down, true, but the sound quality usually comes down as well. By comparison vintage receivers like the Kenwood sound smooth and warm, giving vocals and instruments a more full-bodied quality. There are limits to what 30 watts can do, of course, but as long as you match them to a smallish room and an efficient pair of speakers those limits aren't too bothersome.
I have the KR4600 driving a pair of Polk Monitor 4 speakers, small monitors rated at 91 dB and an excellent match. In my small workshop this setup played louder than I cared to listen. I then moved them out to the garage and there the unit could only go so loud before the clipping began (because the space is twice as big). Remember those jumper wires? All I had to do is remove them and add a bigger amp and I'd be back in the head-banging business for a fraction of what a high-end setup could cost. Maximum bang for the buck combined with an aesthetic beauty that's almost impossible to find in today's affordable components – you gotta love it!
In the past, I have had an Akai AA-1125 receiver (25 wpc), a Yamaha R300 receiver (30 wpc) and a Pioneer SX650 receiver (35 wpc) come through my shop and I'd say that the Kenwood is equal or superior to any of them in sound quality and is by far the best looking of the bunch. Match it to a speaker with 90 dB sensitivity or higher in a smallish room and you'll be amazed at how good it sounds. I can also see it providing the grunt for a computer-based desktop system, though the KR4600 has a somewhat large footprint for a tight space like that (all those discrete components, remember).
The bottom line is this: if you come across a KR4600 at a good price grab it! The Kenwood KR4600 is an excellent low-power receiver that I recommend highly.
from affordableaudio, By Bill Tweed