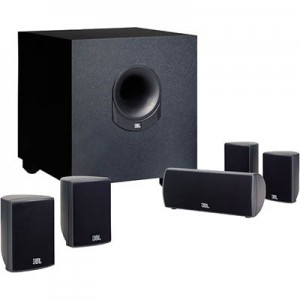 And today, we're going to get acquainted with some of the JBL product line in the form of their JBL SCS145.5 speaker system. You may not have heard too much out of JBL before now, but you'll want to follow their work a little more closely after you read about this system.
The JBL SCS145.5  is a six piece home theater system that boasts four satellite speakers and a central channel speaker that in turn provide up to a hundred and fifty watts per channel of power. You'll also get a one hundred watt eight inch subwoofer, half-inch titanium laminate dome tweeters on the speakers, video shielding to prevent interference on any nearby televisions, frequency response in the range of thirty five hertz clear up to twenty thousand hertz, and eight ohm impedance.
Pretty simple, I admit, but sometimes simple is best. Especially when you're dealing with home theater speakers that put out a pretty solid sound quality like these do. As is often the case with lower tier speakers–and these are on the lower end–you'll get pretty good quality sound, but you'll do so at a fairly low price. How fairly low, you wonder?
Well, you can get your hands on this surprisingly rich system for a hundred and ninety bucks out at Best Buy–that'd qualify as fairly low as far as I'm concerned.
So if you're looking for some solid speaker hardware for your home theater system without spending a whole lot of money, and you don't have to have the absolute best, then the JBL SCS145.5 should satisfy your needs…if not necessarily your wants.