Every high-quality manufacturer has their bread and butter products and their cost-no object flagship line. Ford has Lincoln. GM has Cadillac. Mercedes Benz has Maybach. Harman /Kardon has Citation. Since the mid 1960's, Citation has been h/k's prestige line, components of uncompromising design and quality, yet remaining tastefully discrete and utterly reliable and generally a better value than their more esoteric counterparts. The model Sixteen was introduced in 1976 along with h/k's second generation Twin Powered receiver lineup.
The Citation 16 is available in three different flavors:
the original Sixteen (I.C. input stage, high dynamic power)
the 16A (all-discrete components and lower distortion; less dynamic power)
the industrial 16AS (same as the 16A, but no aluminum trim or output lights)
All versions are bridgeable and rack-mountable. There is also a black-faced European version of both the Sixteen and 16A with multiple voltage capability.
Critical to the design of the Sixteen (and all of h/k's efforts at the time) was excellent square-wave response. It was their view that proper squarewave response was one of the foundations of accurate sound reproduction – at least as much as static sine-wave performance. This specification was followed closely by maintenance of a wide bandwidth, linear phase of the much as static sine-wave performance. This specification was followed closely by maintenance of a wide bandwidth, linear phase of the signal throughout the path, and a high-current design capable of driving any loudspeaker. The engineers took a decidedly KISS approach, achieving their goal using the minimum number of parts needed and the shortest signal paths practical. This is perhaps one of the most-cleanly engineered high-power amps I have seen. Unfortunately, the credit does not go to Nelson Pass or Matti Ottala, as it often does, but rather Bernard Gaines.
The Citation Sixteen uses two power supplies, essentially making the unit two monoblocks that share a common chassis. Each channel has its own 900VA/600-watt power transformer and two computer grade STM 10,000uFd capacitors. Other units and series may use Mallory or Sprague PowerLytic caps.
The input stages make use of an opamp, a circuit that would be eliminated in favor of an all-discrete design in later revisions. This circuit operates in class A mode and provides some degree of offset correction under operation. Beyond the initial gain stage, the circuit is fully discrete and operates in a class A mode up to the output transistors, which are in a moderately high-bias class AB. The output stages are a quasi-complementary design using 4 pairs of RCA 1805 (alt. 1804) NPN silicon power devices.
The RCA 1805 and 1804 are noteworthy, as they are some of the first power transistors specifically tailored toward the audio market. They were designed with attributes that would be better suited to reproduction of an audio waveform than, say, controlling a servo motor.
The quasi-complementary design is essentially obsolete today, but it was necessary during the time of the Sixteen. Complementary pairs of N and P channel transistors were sometimes complementary in name only. If one wanted truly matched output transistors in a high-power design, all N-channel transistors were still the way to go. Even today some highly acclaimed power amplifiers use this sort of design.
The industrial design of the Sixteen can best be described as neo-industrial. The lower 2/3's of the front baffle is made up of a hugely thick plate of aluminum. The two knurled knobs in the center choose the meter range and 4 or 8 ohm sensitivity. The industrial duty power switch is complemented by two red neon lights, one for each channel. The top portion of the front contains the unique power meters. Made up of 8-LED's – LED's were still a new and novel thing when the Sixteen was released. The LED's made up the power output meters for the Sixteen, displaying -30 to 0dB in 8-steps. The response time and visibility of the LED's was greater than conventional analog meters. And in a curiously fashionable way, the lights were arranged in a "V" formation instead of the more conventional twocolumns or rows.
In terms of performance, the model Sixteen was and still is among the best. Conservatively rated at 150 watts per channel into 8 ohms, output at clipping was found to be 170 watts. In to 4 ohms, the unit was capable of 250 watts per channel. When in bridged mode, the Sixteen is capable of a staggering 500 watts into one channel at 8 ohms and 320 watts into 16 ohms. Power bandwidth, which is h/k's term for optimal frequency response vs. bandwidth (usually taken at ½ power into a given load) is 0.5Hz to 110kHz at 75 WPC into 8 ohms. The overall THD rating is a satisfactorily low 0.05%, and is mostly ear-friendly 2nd harmonics.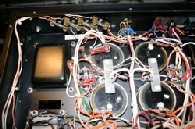 In extended listening, the Sixteen exhibits the characteristic slightly warm/sweet sound of all harman/kardon amplifiers. None of the inyour-face brutishness of other high-power amps from the same era, but all dynamics and punch you would expect from an amp of its caliber. The power of the Sixteen seems almost without limits, especially when coupled with no audible distortion at these higher levels. This makes it an ideal amplifier for hard-to-drive or low efficiency speakers, such as planar or electrostatics. It is also quite comfortable with more conventional loudspeakers and works quite well with my Klipsch KG4 speakers.
With an original MSRP of US$795, the Citation offered great performance, specifications, and made in USA quality, all at a lower cost than many other amplifiers of the era. Today the Citation Sixteen can be found in the price range of $350-$550, depending on condition and amount of restoration, making it an excellent bargain.