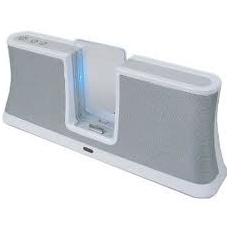 EASY TO CARRY, SLIM DESIGN PORTABLE IPOD SPEAKERS.

Not the best portable speakers on the market. These speakers are not very powerful and the bass is non-existent. They're a nice size, though, and very convenient to use in any room of the house.
– Check the Amazon website here for more information on this product.
---
Bad Bass from the GPX iLive ISPK2806 iPod Speakers
These speakers have poor quality bass reproduction and the sound is pretty distorted at high volumes, as well. The size is great though.

The first thing I noticed when I opened the box was that the system works with AC power only; you cannot put batteries in these speakers and take them with you to the beach or somewhere else where there's no outlet. If you do have an outlet in the backyard, or even just a long extension cord then this really doesn't matter at all. I could see myself taking these on vacation to a hotel room. They are light (under 4 pounds) and you can pack them in your suitcase easily.
I really like the convenient size of this portable speaker system. TheGPX iLive ISPK2806 iPod speakers are slim. The overall dimensions are only 13.5 x 5.3 x 3.3 inches (W x H x D), so you can see how easy they are to take with you on the road.
Now for the bad news about the GPX iLive ISPK2806 speaker system. These are not going to give you big room-filling sound. That's just not possible; the power and quality are just not there. The bass is not rich and deep at all, and the distortion is really bad. If you want to listen to music that's all about the bass then I suggest you not even bother with these because this system will ruin the music.
If on the other hand you want to listen to the radio through your iPod, or listen to music at a low background noise kind of level, then you may enjoy these. Just keep the volume down a bit and keep your expectations low, too.
These GPX iLive ISPK2806 speakers are the kind you'd have around the house for tunes here or there, maybe for when you're washing dishes or tidying the living room, but not for home theater sound. No, not at all.
Technical Info:
Built in amp: Yes
Charges: Yes
Compatible with: Dockable ipods-not ipod shuffle
Auxiliary input: Yes
Stereo speakers are acoustically calibrated for superior performance
Dimensions: 13.5 x 5.3 x 3.3 inches (W x H x D)
Warranty: 90-day
MSRP: $69.99
See the Amazon page for GPX ILIVE ISPK2806 IPOD SPEAKERS Review here