Totem Acoustic Mite 5.1 Home Theater w/ Storm Subwoofer
Specifications:
Mites (Front and Rear)
Frequency Response: 50 Hz -20 kHz ± 3dB (with proper room positioning)
Impedance: 8 Ohms
Sensitivity: 87 db w/ maximum sound pressure 102 db before dynamic compression
Crossover Frequency: 3.2 kHz Recommended Power: 20-100 wpc Woofer: 5.5 in granulated
Tweeter: 1 in. soft dome
Dimensions: 6 x 10.8 x 8.4″ / 153 x 275 x 214 mm
Mite T Center Channel
Frequency Response: 46 Hz -20 kHz ± 3dB (with proper room positioning)
Impedance: 4 Ohms
Sensitivity: 88 db w/ maximum sound pressure 105 db before dynamic compression
Crossover Frequency: 3.2 kHz Recommended Power: 20-80 wpc Woofer: 2 x 5.5 in granulated Tweeter: 1 in. soft dome
Dimensions: 20.6 x 6.1 x 8.4″ / 523 x 155 x 213 mm
Storm Subwoofer
Frequency Response: 26Hz – 250 kHz
Amplification: 300 watts
Driver: 8″ / 200 mm cast frame unit, special concave cone and dust cap. Passive Radiator: 2 x 8″ / 200 mm cast frame unit, special concave cone and dust cap.
Dimensions: 11 x 12 x 13.8″ / 280 x 305 x 350 mm
System Price: approx $2700
As much as I favor two-channel for music, I enjoy the impact that a home theater 5.1 system provides for the movie or video concert. Last fall I reviewed a budget version by Aperion Audio and was favorably impressed. But I recognized that moving up a couple of notches would provide for a tremendous sonic treat. The question became, what company could provide the best experience without having to rearrange the family room as set down in the rules of my better half.
Totem home theater review
The solution came, as I was moving around gear to accommodate new review products. Totem Acoustic offers a variety of home theater systems. Since I already own a pair of their underrated Mites in cherry, an idea began to form. A local audio friend had a pair of black Mites in storage awaiting a room remodel that he was willing to loan out as the rear channels. My pair would function as the fronts. All that was left was the Mite T center channel and the Storm subwoofer. An email to Nico Bruzessi explaining my idea, and a few weeks later the center and sub were on hand in mahogany.
Design
The Mite T center channel is an elongated version of the Mite monitor. It contains two 5.5 in drivers, with a soft dome tweeter between them. There is approximately a three-inch space between the outside edge of each drive and the end of the cabinet. At a length of 20.6 inches the extra cabinet space allowed for Vince Bruzessi to pull another 4Hz from the bottom end, allowing the Mite T center to drop to 46Hz. However, it does make the Mite T a 4 Ohm load instead of 8 Ohm for the fronts and rears.
The Storm subwoofer (reviewed in August) employs an active front mount 8-inch driver and two passive 8-inch cones on either side. Using passive radiators is a great way IMHO to provide more bass without creating a big piece of furniture. A 300-watt amplifier powers the driver.
The Mite mini-monitors are a two-way rear-ported design (reviewed in April). For my money, they still are the best mini-monitors under $1000. All the different pieces are hand built in Canada, using miter-lock construction and veneered both inside and out. The fit and finish is impeccable in a satin sheen.
Placement
With the eclectically veneer finished group assembled, I went about positioning each section. For reference my family room is approximately 20 feet long and 12 wide. The TV sits on the left side of the fireplace. Thankfully, the previous owner left their hidden speaker and RCA sub wires from their HT setup making my life much easier. I placed the sub on the right of the fireplace. The front Mites were set on either end of the mantle. Using Aurelex foam wedges, the fronts were tilted downward towards ear level on the couch. The center channel was the difficult placement as I was under some decorative and space limitations. I finally settled on a vertical placement on the fireplace hearth next to the TV. The rear channels sat on an extra pair of 24in speaker stands in either back corner of the room.
Thankfully, the Mite 5.1 HT system is very non-demanding when it comes to final placement averaging just a foot from the rear walls. The front speakers fired straight forward, while the rears were slightly toed-in. The center channel was turned towards the center point of my couch.
Listening Mite 5.1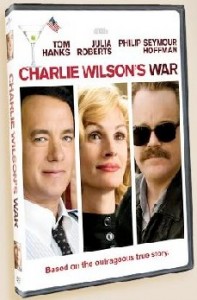 Right off the bat, the Totem Acoustic Mite 5.1 HT system reminded me that I was listening thru cabinets that were engineered for sonic pleasure. The vocal definition in Charlie Wilson's War accurately reflects the upper crust Texas drawl that Tom Hanks and Julia Roberts lend to their characters. Basic 5.1 systems can clog vocals together, limiting such individual distinction. The Mite T center made sure that Aaron Sorkin's screenplay (West Wing, Sports Night) with his overlapping dialogue stayed clear. Equally as impressive is how tight the Russian helicopters sounded. The Storm sub didn't exaggerate the "whomp whomp" of the helicopter blades or the reverb coming off the Afghan mountainsides.
On another evening, my wife and I sat down to enjoy James Taylor's One Man Band DVD. Though the Sony receiver is no match for my Onix SP3, it did a very adequate job of powering the Mite 5.1 HT setup. The Mite T center was at it's best delivering the fine piano work that accompanied JT by Larry Goldings during the performance. Songs such as The Frozen Man and Secret O' Lifeare so clear and the timber is right on target. Just as impressive is that even though the performance takes place in a couple thousand seat Colonial Theater, Taylor and Goldings perform in a very small section of the stage. The Mite 5.1 replicates that closeness very honestly. The soundstage is more intimate than large. The only times it expands is when a mechanical percussion machine is brought onstage. With the expansion comes some very solid bass. Just as important is how quickly the bass dissipates. The acoustic engineer for the theater remodel deserves a round of applause for creating such a clean bass environment.
How does heavy action sequences sound on the Mite 5.1 system? One Saturday morning while my wife was at work I watched Enemy At The Gates, one of the most intense World War II movies ever made. The opening sequence of Russian solders being led to their slaughter at Stalingrad is riddled with the concussion of machine guns of every caliber and chaotic explosions. The ability of the Mite 5.1 system to place these effects properly in the room and with depth and resonance sent chills up my spine. It brought to my attention why my late father, a WWII veteran, who was so emotionally drained after seeing Saving Private Ryan. I recall him telling me it was the sound effects that zapped him of emotional energy.
Final Thoughts
Normally, I have a paragraph or two about caveats and limitations of the product I review. In the case of the Totem Acoustic Mite 5.1 HT system, I have none. The speakers setup so easily, the dialogue is clear, detailed and effortless, the bass tight and dynamic, and finally the quickness and accuracy is stunning. The Mite system is so good is shows the flaws in the inexpensive HT receiver, something I'll need to save funding for an upgrade.
Audio purists can pooh-pooh HT all they want, but when it comes to movie watching the experience can be stunning. My wife, who hates watching movies at any sort of volume above 75db, was floored by how easy it was to hear dialogue, as normally she is flipping the volume up and down. With the Mites 5.1 HT system she never reached for the remote. That to me is the true test of a home theater setup, does the listener/viewer hear everything. With the Totem Acoustic Mite 5.1 HT, the answer is a resounding "Yes!"
Review Equipment
Sony STR-D565 HT Receiver
Panasonic DVD-RV30 DVD Player
Panasonic Veira 42in Plasma TV
 from affordableaudio, By Mark Marcantonio