6N11
From the time I was a kid I was fascinated with vacuum tubes. Maybe it was the filament glow coming from the otherwise darkened cabinet, or the precision of having to set the pins in just the right direction. Whatever the case may be, I could not help to have a passing thought of Thomas Edison going thru hundreds of different filament materials before finding one that actually worked. Move ahead to FDR's fireside chats and the tens of millions of Americans who found hope in the warmly conveyed words of the President thru a tabletop radio-vacuum tubes and their yellowish glow unquestionably bespeaks "Americana."
Specifications:
Frequency response: 10Hz-60KHz +/- 0.25dB
Signal/Noise Ra@o: >91dB
Dynamic range: 84.6dBA(300 ohm) 89.8dBA(33 ohm)
THD: 0.016%(300 ohm) 0.45%(33 ohm)
IMD + Noise: 0.045(300 ohm) 0.42(33ohm)
Dimensions: 79mm (D) X 79mm (W) X 44mm (H) // 3.1" x 3.1" x 1.75"
Shipping Weight: 0.55 kg // 1.2 lbs. read more…
Specifications:
Vacuum Tube: 6DJ8/6922 series or 12AU7 series (exchangeable) Output Stage: MOSFET x 2
Amplification Gain: x3 (for Audio CD/DAC IN) x20 (for Audio PC/iPod IN) Signal-to-Noise Ratio: (SNR) 92dB
Power Output: 3.0 Watts per channel on 33 Ohm Headphone
Frequency response: 15 Hz -100 kHz -1db
Input Impedance: 100k Ohms
THD+Noise: 0.05% @ 10k ohm0.15% @ 33 ohm
Input: CD/DAC IN RCA (Left/Right) x 1 [3Vpp max.] PC/iPod IN RCA (Left/Right) x 1 [0.55Vpp max.]
Output Audio OUT RCA (Left/Right) x 1
Headphone OUT (3.5mm) x 1
Power Socket: (5.5mm/2.1mm) x 1
Power Supply: DC 24V-26.5V (max.) Dimensions: (W) 3" x (H) 1.70" x (D) 4.50" Weight: 13.4 oz
Price: $225
Having had a positive experience with the Trends Audio TA 10.1 amplifier, I was anxious to review the Trends Audio PA-10 Tube headphone amplifier when the opportunity presented itself. With a limited budget, building a respectable headphone system is the most economical way to enter the world of true high fidelity. Just add a Zune, an iPod, or a CD player, some quality headphones and you can assemble a nice sounding affordable audio system for just a few hundred dollars. read more…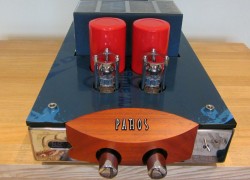 Specifications:
Type: Integrated amplifier with remote in Class A/AB, hybrid circuit with input tube stage, bridgeable
Output Power: 2 x 70W @ 8 Ohm, 2 x 130W @ 4 Ohm, 270W in bridged mode (mono)
Inputs: 5 line, including one balanced (XLR) Frequency response: 2Hz ÷ 100kHz
THD: <0.05% Signal/noise ratio: 90dB Input impedance: 100kOhm Retail Price: $2995
Warranty: Three years parts and labor (check with manufacturer for details)
U.S. Distributor:
Musical Surroundings
5662 Shattuck Ave. Oakland, CA 94609 phone: 510.547.5006 fax: 510.547.5009
Italy is well known for its Ancient Roman architecture, rolling hills, fine wines, exquisite paintings, exotic cars, movie directors, clothing designers, incredible cities, romantic language, and friendly down to earth people. You may now add Pathos Acoustics to that illustrious list. Since I'm Italian, my wife has been after me for years to take some time off to fly our family over to Italy. When I do I will try my best to visit the city of Vicenza and hopefully meet with Gaetano Zanini, Gianni Borinato, and Paul Andriolo, the founders of Pathos Acoustics. They are building a new factory that will be five times as large as their existing one. The research laboratory will now be much larger allowing for the various production departments such as woodworking and metal craftsman to have their own spaces in which to work. The city of Vicenza is in the northeastern part of Italy 50 meters above sea level surrounded by hills and mountains. It has a population of about 119,000 people and is less than a one hours drive from Venice's Marco Polo airport. Vicenza is well known for its ancient churches, palaces and other buildings as well as a wall that is still partially standing and at one time surrounded the entire city. If you get the chance go online and see the many beautiful pictures of the city of Vicenza. Peder Beckman of Musical Surroundings, their US distributor, sent me this picture of the Teatro Olimpico or "Olympic Theatre", designed by Andrea Palladio. This was his last work, built in 1585, and is today the oldest surviving Renaissance Theater. I mention all this to give you an idea of the environment of a longstanding tradition of excellence in which Pathos Acoustics is working under. Knowing this it should be no surprise when you see this glorious integrated amplifier that is not only functional but also created with an eye towards beauty as well. Pathos Acoustics produces audio gear with looks that are magnificently inspired like an ancient palace, or an old stone church done in the tradition of the old renaissance masters.