Hi-Fi Systems Reviews
Listening rooms are a problem; at least my listening rooms have always been a problem. A number of years ago I visited an audio shop where I was invited into a listening room that held components each costing the price of my car. The listening session that followed has always stayed with me. It was the first time I heard the various instruments within my favorite recordings floating individually in space, in fine detail and free of any hint of harshness in the frequency range. While each component that made up the system might arguably have been considered best in its class, I believe the sound I was hearing was due mostly to the listening room itself, which was at least twice the size of any room in my house, heavily damped, with all sorts of odd looking tubes and panels in various places along the walls and corners. read more…
The wonderful thing about the free enterprise system is that so many times new ideas come from the newcomers to an industry. It forces the rest of the industry to stand and take notice. In a few cases, it even motivates a few old school companies into renewing their R & D programs. With the advance of wireless technology beginning with cordless phones, then cell phones, followed by WiFi the groundwork was laid. Some companies such as Apple expanded on this technology with products such as Airport Express. But no company had put the whole package together involving wireless, multi-room sound.
That is until Sonos came out with its Digital Music System. Using the concept of wireless broadcaster/receivers, Sonos took the next logical step, connecting the stereo system to the transmitters. In doing so, Sonos has unleashed the power of audio equipment to points throughout the home, minus a complete umbilical cord of wires. read more…
Over the past decade, SET is an acronym that has evolved from the fringe of the audio world, to become a phrase that even a casual audiophile can recognize. This abbreviation normally stands for Single Ended Triode, but there is an alternate meaning to this term. SET can also stand for Single Ended Transistor, which is an amplifier design that does not get quite the exposure that the tube version does. While most audio enthusiasts will recognize the name Pass Labs, there is another company that has been building single ended transistor amps since the mid 1990's. Monarchy Audio was founded in the early nineties by C.C. Poon, who has been very active in the audio community for many years. Mr. Poon has worn many hats, including being a reviewer, the U.S. distributor for Luxman kits in the 1980's, and now a manufacturer. read more…
It's unfortunate that many of today's engineers are unaware that JBL is a name that at one time was virtually synonymous with studio monitors. In the days before NS10's became ubiquitous, JBL 4311's held that same spot in studios worldwide and they pretty much ruled the roost for large soffit-style monitors. But as most things in this business, the tastes of the production community cycle in unpredictable ways, which means that the once mighty JBL name was reduced to an afterthought in most studios for almost a generation.
The last few years though, JBL has made decisive strides technology-wise in an effort to recapture the glory from years past. Starting with the initial release of the LSR series, JBL has proved that it hadn't forgotten how to make a monitor that engineer's want to use. Now, with the updated LSR6300 series, JBL has once again taken its place among the elite, thanks to evolving technology that features a new twist. read more…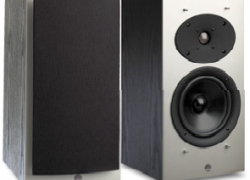 Athena Technologies, a Division of Audio Products International (API)
$149 USD new, $70-85 USD used
90 db, 2.83 V (1 watt into ohms), @1 metre
13 3/4″ H x 7″ W x 9 1/2″ D
60Hz 20kHz +/ 3 dB
125 watts per channel
A couple of years ago my nephew, the drummer was looking for a small "monitor style" loudspeaker, capable of near full range sound in a compact box that could be used for recording monitor purposes. He was also looking at trying a different pair of loudspeakers than his tried and true DCM TF250 loudspeakers. My sister and brother-in-law have always had reasonably good consumer grade systems, so growing up he has listened to some better than typical stuff. He's always hung out at my house too, so he's grown as a listener as I have, and enjoyed many of the same epiphimatic steps toward an "audiophile education" that I have. read more…
Specifications
Type: 2.0 bookshelf-style, powered speaker system
Power output: 45W RMS/ 70W peak per channel (AES)
Inputs: 2 X 1/8″ stereo mini-jack
Outputs: USB Type A (power charging only)
Main voltages: 115/230V 50/60Hz switchable
Size (each): 10.0"(H) x 7.0" (W) x 7.75" (D)
Weight: 6.4Kg/14lbs (left), 4Kg/9lbs (right)
Shipping weight: 12.6Kg/27.75lbs per pair
Amplifier type: Dual Class AB monolithic
Signal-to-noise: >95dB (typical A-weighted)
THD: <0.05% at all power settings
Crosstalk: <50db
Frequency response: 60Hz-22kHz +/-1.5dB
Input impedance: 10K ohms unbalanced
Protection: Output current limiting, thermal over-temperature, power on/off transient protection, replaceable external main fuse
Materials and Construction:
1″ thick MDF cabinet
5″ Kevlar woofers with advanced voice coils
20mm silk dome tweeters with neodymium magnets
Torroidal power transformers
Included Accessories:
AC power cable
1/8″ audio cable, 2 meters (~6.5ft)
(2) 1/8″ audio cables, 20cm (~8″)
1/8″ to RCA "Y" cable
USB power extender cable, 1 meter (~3.28ft)
Speaker wire (16AWG), 3.75 meters (~12.3ft)
Drawstring cable bag
(2) High-density foam protectors/sonic isolation pads
Setup Guide
If you've been reading any of the popular audio online bulletin boards over the past few weeks, chances are you've heard about the new Insignia 6-1/2″ bookshelf speakers available from Best Buy for $50 a pair. If you haven't, let me enlighten you: the internet hype machine has been going wild over these things. Threads on every major audio-related board1 overflow with discussion, photos, measurements, and glorious praise:
"This purchase is the sweetest sweet spot I've encountered to date in my two and a half
years in this hobby."

"I think this speaker compares with those in the $100-$300 range."

"For 50 bucks, nothing I have ever heard will touch it, or even come close."
…and on and on. Well, I never want to miss out on the next big thing…trouble is I usually can't afford it. But for $50 (with a 30-day unconditional moneyback guarantee), I could finally have a shot at running with the "in crowd"! read more…
From the 1970's to the mid-1980's receivers were thought to be the perfect combination for most any stereo setups. The separates market was reserved for the high-enders only. Then, in the mid-80's Adcom rattled the affordable industry with a beautiful, clean design, power, and quality acoustics. A signature of its new vision was the integration of the preamplifier and tuner rather than the standard integrated amplifier. The reasoning was straightforward, the preamp and tuner could easily share the power source without sound degradation and at a definite cost savings. read more…
This month's article is going to tackle one of the more controversial subjects in audio. Yes it's true, this article is going to be all about wire. Earlier this evening my eldest daughter exclaims, "What is so importanta bout wire? Who would want to read about that"! Unfortunately, this is an attitude that is held by many people in the audio world, as well as fourteen year old girls. Quite often a person goes out and carefully selects hundreds, if not thousands of dollars worth of equipment. When it finally comes time to connect all these components, many audio enthusiasts turn into the miser Ebenezer Scrooge. I am not suggesting that everyone needs spend thousands of dollars for cables, but instead they should keep an open mind about how cables will affect the overall sound of their system. Since HFR is about the pursuit of the best possible sound, while staying within a real world budget, I decided to devote this months article to reasonably priced cables. read more…
This month we look into the Sony TA-F444ES. The TA-F444ES was the entry level ES series integrated amp in Sony's initial group of ES products. It is a simple, very high quality 80 WPC unit that sported some very good specifications for the time. Designed to compete with the likes of H/K, Onkyo, and Denon it had to be more than a cut above normal mass-market fair. read more…
SPECIFICATIONS
Dimensions: 41.5″ H x 9.75″ W x 12.5″ D
1″ Audiophile-Grade Silk-Dome Tweeter Mineral-Filled Polypropylene 5.25" Midrange Custom Poly 8" Subwoofer
Weight (each): 57lbs.
Sensitivity: 88dB
Minimum Impedance: 8 Ohms
Nominal Impedance: 8 Ohms
Amp Power (Continuous): 150 Watts Amp Power (Maximum): 240 Watts Frequency Response: 30 Hz to 20 kHz Recommended Power: 50 – 300 Watts Per Channel
Enclosure Type: Rear Ported
Warranty: 10 Years/3 Years on Subwoofer Amp
Price $599 each
No matter where an audio affectionado lives, there is always a sense of pride when a local manufacturer succeeds. In Portland, Oregon one such company is Aperion Audio. Started in 1998 from the simple desire of replacing a dead boom box, Winthrop Jeanfreu jumped into the 21st century direct-to-customer model using the Internet as its delivery vehicle instead of middlemen. This allows Aperion to spend more on high quality components and still meet price/ value points in the market. This model is not without hazard, as without a dealer network, Aperion must stand behind its product, which it does with a 30 day in-home return policy including return shipping. A second trick of the direct model is getting the word out without daily foot traffic of a brick and mortar store. That involves shocking reviewers with quality, and designing a very friendly web site that includes a forum. Needless to say, Aperion Audio has done well on both accounts. read more…
In an ongoing program to provide additional features for their end-users, Lexicon has released several software upgrade options for their popular 960L digital effects system.
The three additional offerings are the Delays and Additional 96 kHz Reverbs Package, Automation Package, and LOGIC7 UpMix Package. The Reverbs and Automation Package will work with V 3.0 system software, while LOGIC7 requires V4 software. The V4 software upgrade is free to all registered 960L users. All three packages were easily enabled on my 960L via individual software System License Keys. read more…
This column has traditionally been about the history of surround sound, but what about its future? If we were to be around in 50 years, *NSync would be old men, and who knows what the economy would be like? With human lifetimes extended routinely, more free time should be available for such pursuits as music and movies. Thus the future of surround sound is bright since it is such an engaging experience, and people should have more free time to engage in it, but just what will it be like? read more…
Frequency response (+/- 3db 50Hz to 20kHz)
8 ohm nominal impedance
4th order (cascaded 2nd order) crossover at 5kHz
Quality crossover parts including air core inductors and film and foil polypropylene capacitors
Oxygen free stranded copper internal wiring
All soldered connections
External dimensions: Upright – 17″H x 9″W x 12″D; Horizontal – 9″H x 17″W x 12″D 100 watt peak power handling 88 db/1w sensitivity
Magnetically shielded for use near televisions or monitors
Grade A real wood veneer inside and out to prevent warping.
Driver 4.5″ Diameter Treated paper cone Rubber surround Copper phase plug Cast frame
Patent pending XBL^2 motor design
Long throw voice coil
Tweeter 20mm diameter
Soft Dome
Nylon resin frame with vibration suppression
Low diffraction face plate
Ultra high frequency response
Pricing: $279 each or $549 per pair
Which piece of equipment in the audio chain has the most difficult task? Is it the CD player? Imagine the complexity of reading all the bits off a disc and keeping them in proper order. What about the turntable? Who must battle
the enemies of vibration, friction, and inertia? Let us not forget about the speaker wire and interconnects. The cables get the thankless job of transferring the amplifier's final output. Quite often they have to cover long distances, while having a minimal part of the audio budget spent on them. My vote goes to the loudspeaker. This component gets the daunting task of reproducing the complex nature of an orchestra, and yet it still must be capable of rendering the subtle nuances of the human voice. read more…