Polk Audio TL150 Home Theater Speaker System Review-Powerful For the Deep Pocketed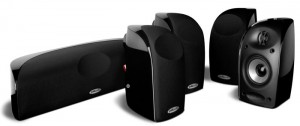 Today we turn our attention over to the folks at Polk Audio, who have over the years provided a lot of great pieces of hardware. Underestimating these guys has left a whole lot of people eating a whole lot of crow, so let's keep that in mind as we check out the Polk Audio TL150.
The Polk Audio TL150 is a five hundred twenty five watt, five channel home theater speaker system that offers one center channel speaker and four satellite speakers, with half-inch silk / polymer dome tweeters, a two and a half inch long throw driver, magnetic shielding, an aperiodic-tuned rear port to reduce distortion on lower frequency sounds, five way binding ports for secure connections and a frequency range of between ninety five and twenty two thousand Hz.
I have some serious problems with this system–while it's definitely got the chops, and the name, sufficient to keep up with most anyone's audio needs, the big problem here is that you just don't get very much for your money.  You get, basically, five really nice speakers that put out some terrific sound, but in order to get those five speakers, you're going to drop four hundred bucks for the lot out at Best Buy.
Seriously–four hundred bucks!  That's eighty bucks a speaker!  And sure, these are great speakers that aren't very big and would fit in most anywhere, but I'm having a tough time seeing the overall value here. I can get some really good whole systems for the four hundred bucks Best Buy wants for these five speakers. Why would I ever go this route?
But that's the thing: they really are great speakers.  And if you don't care about cash, then you'll probably do all right after you have a listen to the Polk Audio TL150 speakers. All those whose pockets are emptier than some, well, you'll do a lot better for a lot less elsewhere.